The Ebola outbreak in Western Africa has fallen to the back pages in recent days, as geopolitical events in Iraq, Ukraine and the Gaza Strip have dominated the news cycle. Even though the front page headlines no longer feature daily updates, it seems that the situation is getting worse in Liberia. A quarantine in the capital was broken into by a group believing that Ebola did not exist in the area and was simply being made up by the West. The patients which were in the quarantine quickly dispersed into the population and continue a trend of infected individuals disappearing into the general population. There is now talk of stricter crackdowns on movement within infected areas, as the government tries to get a handle on the movement of the virus.
While the spread outside of the region appears to have been stopped, the virus has to burn out - something that will be difficult if the local population does not adhere to quarantines and travel restrictions. Nigeria has fared well after the virus popped up in the country and has a fatality rate well below the historical average.
Chart of the Day:
With gold having been stuck in a pretty tight trading range, as the chart of the SPDR Gold Shares (NYSEARCA:GLD) below indicates, centered around the $1,300/ounce level, we are of the opinion that a big move is not far away. Our thinking is that the move shall be lower; however, we do not have the confidence to place a bearish trade with the current geopolitical atmosphere.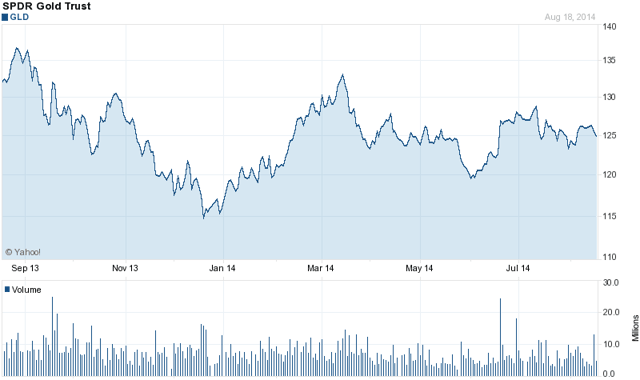 Source: Yahoo Finance
Commodity prices are as follows (at time of submission):
Gold: $1,297.10/ounce, down by $2.20/ounce
Silver: $19.435/ounce, down by $0.20/ounce
Oil: $95.83/barrel, down by $0.58/barrel
RBOB Gas: $2.679/gallon, up by $0.023/gallon
Natural Gas: $3.871/MMbtu, up by $0.079/MMbtu
Copper: $3.1015/pound, down by $0.0075/pound
Platinum: $1,440.50/ounce, down by $5.70/ounce
Kiss of Death for Coal Stocks?
On last night's Fast Money, a nightly show that airs at 5:00 p.m. on CNBC, newsletter writer Dennis Gartman discussed his bullish call on coal (see link here). There was nothing new in his analysis which has not previously been discussed and he did seem to indicate that if nothing else this was a contrarian trade with a view to the long-term.
Time is always important, and given enough of it one usually can make money on any investment with a bit of volatility. We have always said that at some point the coal stocks would once again be buys, but we still remain unconvinced that there is a bullish case for purchasing exposure to the industry at this time. Sure the shares are down significantly from their highs, but until the economics of the business improve there is little reason to buy speculative names such as Alpha Natural Resources (ANR) and Arch Coal (ACI).
For those interested in following Mr. Gartman into the coal stocks once again, we would recommend following him into his basket, but focusing only on the diversified ETFs and largest (and in some cases diversified) miners. To play it safe, one should look to names such as the Market Vectors Coal ETF (NYSEARCA:KOL), CONSOL Energy (NYSE:CNX) and Peabody Energy (BTU). Sticking to the largest names in the industry will minimize downside risk as well as the probability of bankruptcy, but still opens one to the coal market which continues to be oversupplied and would require a lot of international growth to push demand higher in a meaningful way.
Yes, it has been a long and painful road lower, but just because a stock in a bad industry is trading near its lows does not necessarily mean it is a buy... even for a contrarian trade. There has to be a reason for the shares to move higher and we did not hear a convincing thesis from Mr. Gartman.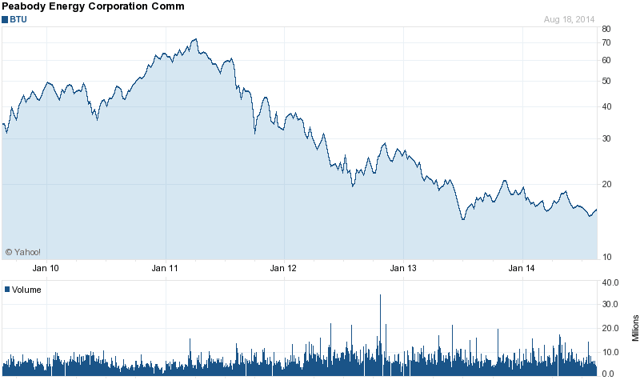 Source: Yahoo Finance
This is not the first time Mr. Gartman has ventured into the coal market or spoken on the matter recently, but with new production coming online around the world and the US and EU cutting down on coal burning power plants, the market still is searching for an equilibrium point. Until that equilibrium point is reached between supply and demand, it is hard to see pricing power return to producers. With major miners looking to exit the coal business (see below), we wonder why investors would want to invest contrary to some of the biggest and brightest in the industry.
New Metals Company
As we have discussed over the past few days (see here and here), the major miners are looking to spin-off assets which do not fit within long-term plans, or make up a small portion of their business. BHP Billiton (NYSE:BHP) announced that their planned spin-off will include a selection of its aluminum, coal, manganese, nickel and silver assets. The new company will trade on the Australian Stock Exchange, with a secondary listing in South Africa.
Shares are down today as investors were looking for the company to simultaneously announce a share buyback or other return of capital. As the company did not announce an update to their plans to return capital to shareholders, our thinking is that BHP will wait until after the spin-off is complete and then begin buybacks or increased dividends.
Disclosure: The author has no positions in any stocks mentioned, and no plans to initiate any positions within the next 72 hours.
The author wrote this article themselves, and it expresses their own opinions. The author is not receiving compensation for it (other than from Seeking Alpha). The author has no business relationship with any company whose stock is mentioned in this article.