I last wrote about Unifirst (NYSE:UNF) back in April, when shares were trading around $96. At that point, I estimated a fair value estimate of $103, based upon assumed pressures on its Specialty Garment segment, as well as revenue growth and margin growth pressures in its Core Laundry segment with additional competition in the corporate laundry space. I wrote at the time:
Very short term, the RSI looks oversold at present, so some short-term gains seem in the offing. That being said, I would not be surprised if the price broke below the longer-term support of $90. I would consider accumulating shares around $75-80, and would consider the stock a buy below $75.
Well, it's a good thing I'm not a day trader. After I penned that first article, shares of UNF decided to do what my patients do: ignore my oh-so-wise counsel, and sit around and do nothing: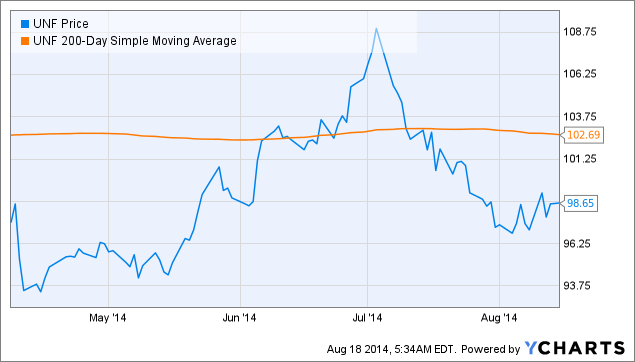 Okay, maybe not exactly do nothing. The steady climb that occurred shortly after I published that first article kept me on the sidelines, as the stock quickly pushed past my FVE by early July. Shortly after earnings were released, though, the stock came back down to earth, and is now trading only about $2 above where it was when I started looking at the stock. Well, there must have been some bad news, either results-wise or guidance-wise. But no: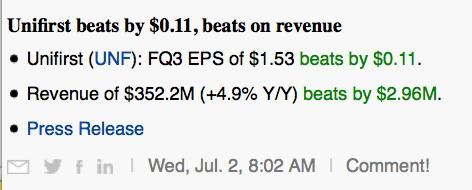 That by itself doesn't sound too terrible. The guidance must have been soft, then:
Based on our results to date as well as our outlook for our fourth fiscal quarter, we now expect our full year revenues will be between $1.382 billion and $1.387 billion. We also expect full year EPS to be between $5.70 and $5.85 per share.
Maybe that was it. Repurposing Mr. Croatti's numbers, management guided to revenue growth of 2.3% and a year-over-year EPS decline from $5.81 in 2013 to an average of $5.78 per share for 2014. So what does that do to UNF's fair value? And now that shares are back where we started (basically), do they offer any margin of safety?
Breaking down the 10-Q:
Overall, performance across Unifirst's segments was close to what I predicted. The core laundry segment mildly exceeded my growth expectations by about 100 basis points, though operating margins were largely flat, increasing by only about 60 basis points to 14.2% from 13.6% on the back of some minor cost reductions. The Specialty Garments Segment actually showed 4.9% y/y growth after a mild spurt in nuclear power plant outages compared with 2013, with margins improving by a similar 70 basis points. This made up for a decline in the First Aid Segment, which showed a disappointing 3.4% y/y decline in revenues and a significant degree of operating de-leverage with margin contraction by over 700 basis points. As the vast bulk of revenues and earnings continue to be driven by the Laundry segment, though, consolidated revenues showed improvement (4.9% y/y) and expansion of operating margins in-line with the Core Laundry segment. As I'd predicted overall growth would be in the range of 4-5% previously as a base case, I found the company's results to be largely within my expectations. Despite performing relatively in-line with regard to earnings, operating cash flows declined by $23 million y/y, mostly due to accounts payable and accrued liabilities.
Revenue:

Operating Income:

The company continues to have a battleship balance sheet, with a current ratio of 3.4, with a NCAV of $272,077,000, or $13.62 / share, and Unifirst boasts essentially no long-term debt after paying back $100 million.
Valuation:
I am increasing my fair value estimate slightly by $3 to 106 / share, based mostly on management's in-line guidance in combination with an expectation for further earnings growth with US employment gains. I continue to model modest revenue growth in the 5-6% range with EPS growing at a 5.8% CAGR over the next 5 years. I model a decline in consolidated overall revenues y/y to $1.36 billion, slightly below management guidance, but improved EPS to $5.87 as employment picks up. As Morningstar's Bob Johnson notes, job openings have been increasing at a faster rate than hires, so some acceleration in job growth should be expected. As Unifirst benefits directly from job growth, the relationship to revenue and earnings leverage should be at least linear, if not better.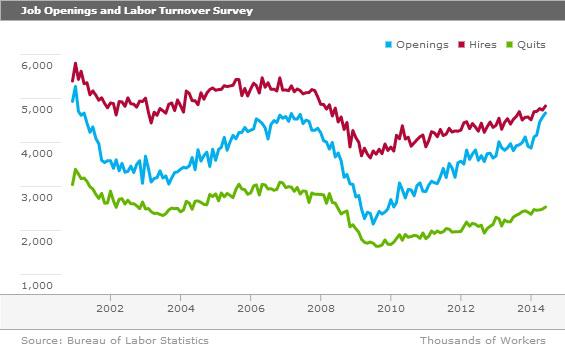 Source: Morningstar
I use a 13% cost of equity assumption, and a weighted average cost of capital of 18% to discount cash flows. My fair value estimate implies a forward price to earnings ratio of 18. A reverse DCF calculation indicates that the market is only pricing in a 10-y EPS CAGR of 3.8%, about 200 BPS below my own estimate. Ultimately, UNF should be able to grow at least in-line with the larger economy, so 4% economic growth ought to at least provide a floor for earnings growth as well. Though I think the company is quite capable of exceeding this estimate, it wouldn't take much in terms of a slowdown in economic growth for the company to miss this target, so I view shares as roughly fairly valued at the moment.
On a side note, Finviz and Yahoo!Finance both quote 1-year targets of $118-122. I personally find these a bit hard to believe, especially as these would imply forward FPE ratios of 19-21 even with optimistic estimates. What makes UNF appealing is the reliability of its growth, which ought to be positively leveraged with economic acceleration-- PE ratios of 19-21 suggest a growth story that probably isn't there.
Conclusion:
Overall, UNF's recent earnings report and guidance were in-line with my prior estimates. A modest increase in my FVE has less to do with the company's fundamentals, (which, though sound, are unchanged), and more to do with the country's economic outlook (which is, believe it or not, slowly improving). Despite this small increase, shares are still only slightly undervalued, and I would continue to hold back on initiating a position in this company, despite the recent pull-back, until a wider margin of safety presented itself. A place to accumulate shares might be in the $90 range, and below $80, I believe there would be considerable upside to the stock-- an upside which isn't there at current levels.

Disclosure: The author has no positions in any stocks mentioned, and no plans to initiate any positions within the next 72 hours.
The author wrote this article themselves, and it expresses their own opinions. The author is not receiving compensation for it (other than from Seeking Alpha). The author has no business relationship with any company whose stock is mentioned in this article.
Additional disclosure: General Disclaimer: This article provides opinions and information, but does not contain recommendations or personal investment advice to any specific person for any particular purpose. The author is not a professional financial adviser. Do your own research or obtain suitable personal advice. You are responsible for your own investment decisions.