I last wrote on Seeking Alpha about Eagle Rock Energy Partners LP (NASDAQ:EROC) in October 2013. At that time I warned that the company was overloaded in debt the $0.88 annual distribution per unit would soon be cut due to rapidly declining distributable cash flow. The next distribution was cut to $0.15, down from $0.22, and the lower rate was paid for just two quarters before distributions stopped after the February payment. When the article published, EROC was at about $7.25 per unit yielding 12%. Currently the unit is trading for $4.34.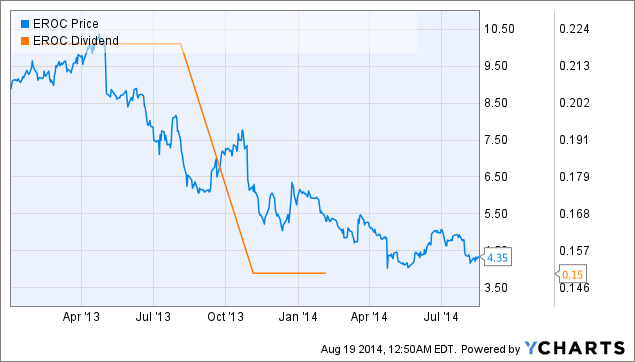 In late December 2013, Eagle Rock Energy Partners and Regency Energy Partners LP (NYSE:RGP) announced that Eagle Rock would "contribute" its midstream assets and business to Regency in exchange for a combination cash, assumption of EROC debt, and RGP units totaling about $1.3 billion. The goal was to leave Eagle Rock as a pure-play upstream MLP with a very low debt load. The EROC distribution was suspended after the February payment until the "contribution" was consummated and Eagle Rock was able to focus on its upstream business. The deal with Regency closed on June 30.
Putting an Estimate on DCF
With its second quarter earnings, Eagle Rock reported adjusted EBITDA for the remaining upstream business, with the midstream portion of revenues and earnings classified as discontinued operations. From various parts of the earnings release, I was able to pull together enough numbers to put a rough estimate on the third quarter DCF. Here goes:
Q2 adjusted EBITDA from continuing operations: $24.9 million
Positive impact on G&A expenses after contribution: +$3.5 million -- Reported Q2 G&A of $12.0 million and forward guidance of $8.2 to $8.7 million.
Minus quarterly maintenance capex guidance of: $13.5 million
Interest per quarter on $250 million of remaining debt at 8.5%: $5.3 million
Result: An estimated third quarter DCF of: $9.6 million
DCF/unit with 160 million outstanding equals: $0.06
Look for Eagle Rock Energy Partners to declare a Q3 distribution of $0.06 to $0.07 per unit. This gives a yield range of 5.3% to 6.2% based on a $4.50 unit price.
Note: in the earnings conference call, management stated it would like to maintain a 1.1 to 1.2 times coverage ratio. My estimate has coverage at 1.0 to less than 1x. For reasons listed below, I think management and the Board will be a little more aggressive when restarting distributions.
Some Extenuating Factors
A big plus Eagle Rock has in its favor are the 8.25 million RGP units, worth $255 million, the company now owns. According to the earnings conference call, the plan for those units is to sell them to fund growth capex spending. In the meantime, the RGP holdings will throw off $4 million per quarter in cash distributions to Eagle Rock. That cash provides a 40% cushion on my estimated EROC distribution.
I looked at the DCF to adjusted EBITDA ratio for several of the smaller upstream MLPs. For Eagle Rock's peers, 50% to 70% of EBITDA falls to the DCF line. In the math above, the calculated DCF is 28% of the estimated EBITDA. If Eagle Rock can grow production and revenue without proportionally increasing the overhead, the company has some room to grow DCF before jumping the market to buy production assets. Management guidance for the second half of the year has average daily production increasing by 2.5% to 9.5%.
Investment Value Needs Significantly Better DCF in Q3
My estimated 5.3% to 6.2% yield when Eagle Rock restarts its distributions is less that the 6.3% the company is earning from the RGP units. With the divestiture of its midstream business, the company has stopped the cash flow hemorrhaging, but what remains is not a compelling investment story. The Eagle Rock management team needs to figure out a way to under guide and over perform. Something on the order of 10% per quarter DCF growth for the next several quarters will be necessary for EROC to be a more compelling investment story than the rest of the 8% to 10% yielding upstream MLP group.
Disclosure: The author has no positions in any stocks mentioned, and no plans to initiate any positions within the next 72 hours.
The author wrote this article themselves, and it expresses their own opinions. The author is not receiving compensation for it (other than from Seeking Alpha). The author has no business relationship with any company whose stock is mentioned in this article.