While innovative companies and exotic technologies get many investors excited, one must be very careful before deciding to buy many of these stocks for the long term. Because if you overpay for growth, more than likely your portfolio with either will underperform or lose money long term.
One such set of stocks is the 3-D space. Year-to-date, Stratasys (NASDAQ:SSYS) is down by 16%, 3D Systems (NYSE:DDD) 47%, The Exone Company (NASDAQ:XONE) 54% and Voxeljet (NYSE:VJET) 60% (as of Friday August 16, 2014).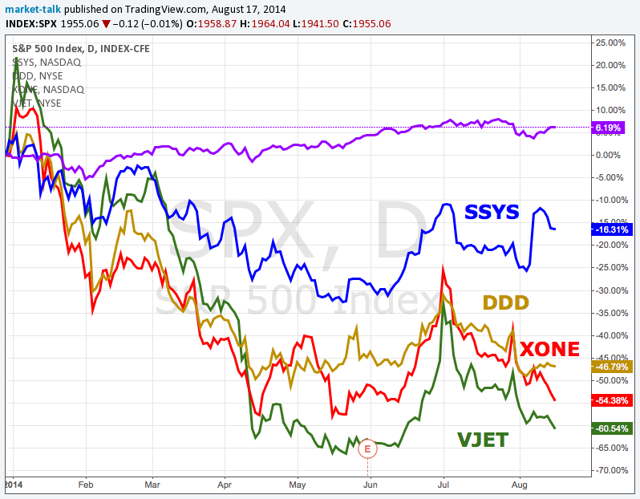 Today's multiple matters over the long term
One of the reasons why Warren Buffett has been able to outperform the market for so many years is because he buys companies at a fair price. When looking at the long-term picture, the multiple you pay today makes a very big difference in terms of performance over the long term.
But when investors overpay for growth, and those growth prospects don't materialize or something goes sour along the way, then stocks either crash or underperform for many years, and it might take years to recoup your initial investment, if you are lucky.
And while trading short term is part of the game - long, short, intraday or any possible combination that makes you money - if you are betting on the long-term picture, many stocks that are too rich should be avoided.
Why is the 3-D space too rich?
As long-time readers know, I place a great deal of emphasis on the valuation of a company by looking at the Price/Sales ratio. And while the Price/Sales does not tell much about a company, it does give you some clue if you are overpaying or not, when a comparison is done with other stocks within the same sector or the market as a whole.
Revenue 2014 (est.)

Revenue 2015 (est.)

Market Cap

Price/Sales

2014

Price/Sales

2015

Stratasys

$758 million

$994 million

$5.4 billion

7.1

5.4

3D Systems

$709

$925

$5.3 billion

7.4

5.7

Exone

$54

75

$400 million

7.4

5.3

Voxeljet

$17 million

$26 million

$277 million

16.3

10.6
(Data from analyst estimates from Yahoo.com)
From the data above, we see that the market seems content to pay about 7 times revenue for the first three stocks of the sector, with Voxeljet still selling at a very big premium to the sector. In fact, Voxeljet has already corrected by about 75% from its high reached in November of 2013. And if you want my opinion, it is still way too rich for any long-term investor, and carries a great premium to the sector as a whole.
In my book, 5-7 times revenue for any stock is too rich. Yes, most of these stocks are profitable and they have a bright future; however, one has to put that in perspective in terms of valuations.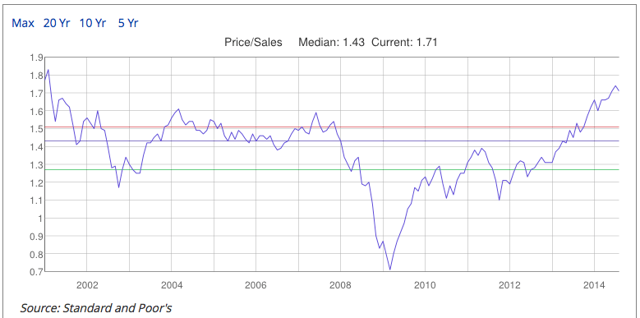 The average Price/Sales ratio of the S&P 500 index, according to data from S&P, is currently 1.71, with the median being 1.41 and a high of 1.81 being reached in December of 2000 (also a sign that the market might be stretched altogether).
Granted, high-growth stocks deserve a premium, however, if future revenue and profit estimates for these stocks come down, then you can expect many of these stocks to either crash or simply underperform for many years to come. And in my book, this is a gamble that a long-term conservative portfolio cannot undertake.
Disclosure: The author has no positions in any stocks mentioned, and no plans to initiate any positions within the next 72 hours.
The author wrote this article themselves, and it expresses their own opinions. The author is not receiving compensation for it (other than from Seeking Alpha). The author has no business relationship with any company whose stock is mentioned in this article.