See, Glentel Part 3: How The Businesses Work, Here
The Canadian cell phone market is an oligopoly, with Rogers (NYSE:RCI) (34% market share), Bell (NYSE:BCE) (28.5% market share), and Telus (NYSE:TU) (28.5%) together controlling 91% of the Canadian wireless market. In Canada the average monthly cell/data bill ("ARPU") is around $58, which is amongst the highest in the world.
Canadian regulators are unhappy about this situation. Recently they attempted to make the Canadian wireless market more consumer-friendly by lowering the maximum permitted length of a wireless agreement from three years to two. This new rule went into effect in June of 2013.
All else equal, this would have meant a reduction in profitability for carriers. The carriers lose money on handsets. The typical smartphone subsidy to the customer is $300 to $400-e.g. the carrier buys the phone from the manufacturer for $500-600 and sells it to you, the customer, for ~$200. With the new wireless laws in effect, the carriers now incur this subsidy loss every two years, instead of every three. The same revenue, but with more costs, equals less profits.
Unsurprisingly, the carriers did not want less profits. So when the new rules went into effect, they responded in lockstep by raising prices, in most cases by $5 per month.
As a result of these price increases, Canadians have been slower than usual to upgrade their phones or enter new plans. The old plans are locked in at the lower ARPU rate, so many consumers do not want to give them up prior to expiration. In other words, fewer Canadians are upgrading their phones, switching plans, etc. The table below shows upgrades and activations for Rogers, one of the big three, by quarter, since 2011: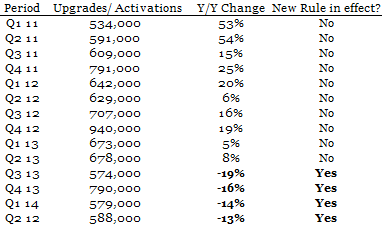 The effect is clear: mid-teens decline. Thankfully the decline is slowing, albeit gradually. And the lost activations actually haven't been a huge deal for the carriers, because the price increases have picked up the profit slack. But they have been a big deal for Glentel (OTC:GLNIF). The majority of Glentel's revenue comes from commissions for upgrades and activations. Here is the same table, but with Glentel's Canadian segment results now included on the far right: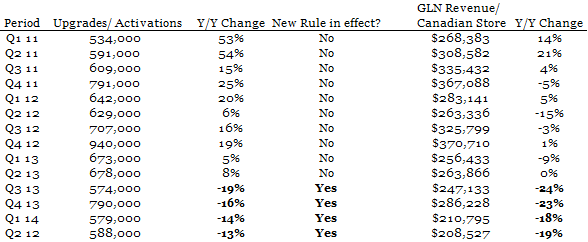 The correlation is clear. It should immediately stand out that Glentel is doing about 500 basis points worse than the activations trend. This is the effect of opening the Target (NYSE:TGT) stores. Putting aside the Target effect, my estimate is that the changed wireless laws have lowered Glentel's non-Target Canadian per-store EBITDA from $170K to about $130K-almost a 25% decrease. I back into this figure by using the ~$20K loss per store at Target, then seeing how much EBITDA is left over for the non-Target stores.
If my estimates are in the ballpark, then Glentel can potentially regain about $0.35 of EPS as the effect of the changed wireless code of conduct wears off:

Will that happen? When? The company's belief-which I share-is that this effect will "roll off" over the three years following the change (which went into effect in June of 2013). If the average Canadian consumer had a three-year cell phone wireless contract prior to June 2013, one third of those consumers will be forced to renew their contracts within the first year following June of 2013, and a second third will be forced to do so during the year following June of 2014, and finally the last third during the year following June of 2016. By June of 2016 at the latest, things should be back to normal.
Canadians also might start upgrading and activating cell phones at the normal rate even sooner than that. There are a couple reasons to think this might happen.
The first is that consumer reaction to the price increase has been a bit strong. You can look at this report and see that the wealthier a country's citizens are, the more often they upgrade their phones (except in countries such as Finland, where phones are not subsidized by the carriers).
What does this have to do with the problem at hand? Well, you can perform a regression on the data in the report and see that for each $350-400 increase in purchasing power, a handset's lifespan decreases by approximately one month. That means that if a Canadian waits an entire extra year to renew his or her contract (and thus upgrade his or her phone), that person would be sacrificing about $4,500 (12 months x $375) "worth" of convenience/modernity just to avoid a $5/month price increase. That seems a bit extreme to me.
Second, there could be other external events, namely popular new cell phone launches, that could speed up the contract renewal cycle. Want the iPhone 6? Renew your contract (at the higher ARPU).
It seems unlikely to me that a $5/month price increase will create a dramatic lasting effect on Canadian phone upgrade patterns. But even if it does and cell phone purchasing patterns in Canada never return to normal-something which I do not think will happen-Glentel is still a company generating a lot of cash as it is, right now. The shares cost $11. That's not a bad proposition.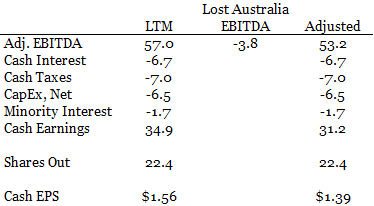 $1.39 is a little overstated due to CapEx under-spending, but you get the picture.
The next post will explore what's going on in Australia.
Editor's Note: This article discusses one or more securities that do not trade on a major U.S. exchange. Please be aware of the risks associated with these stocks.