JPMorgan Chase (NYSE:JPM) struck a deal to sell its roughly 50 percent stake in the portfolio of One Equity Partners. It reached this agreement with investment companies AlpInvest Partners and Lexington Partners.
JPMorgan values the deal at approximately $2 billion, which is close to half of One Equity's $4.5 billion in total investments. JPMorgan intends to retain its position in the other half of One Equity's 30 portfolio firms, and the private equity company will continue to manage those organizations.
Varying Returns
In June 2013, the investment bank indicated that One Equity might become independent, because it continued to deal with varying returns and questions about its role in the bank. Since that time, JPMorgan has held discussions with potential investors of secondhand private equity investments. Several reports surfaces last July that the investment bank was holding advanced talks with AlpInvest Partners and Lexington Partners.
Increased Regulatory Pressure
The attempts to find a buyer came as the banks continue to face increased regulatory pressure in the U.S. and Europe to reduce risky exposure with their own money. However, JPMorgan has stated the upcoming divestiture of One Equity is unrelated to the regulatory changes.
As part of the sale, AlpInvest and Lexington do not plan to raise additional cash for the next buyout fund of One Equity. In addition, JPMorgan has no intentions to buy into any future One Equity ventures.
Founded By Olympic Rower
Founded by Dick Cashin, a former Olympic rower, in 2001, Equity One was originally part of Bank One, where it developed a reputation for investing in quiet but profitable investments in industrial organizations. JPMorgan acquired Equity One as part of its purchase of Bank One in 2004.
The investment bank kept One Equity as an in-house buyout division, spinning off its own firm, which in 2006, became CCMP Capital Advisors.
According to One Equity, its investments range from approximately $50 million to $500 million. Its portfolio includes positions in diverse companies such as Wow! Nutrition based in Sao Paulo, and Genband, an Internet protocol infrastructure company in Plano, Texas.
Declining Revenues
One Equity produced $36 million in revenue for JPMorgan in the second quarter of 2014, in contrast to $410 million the previous year. The bank's buyout operations produced $7 million for the bottom line, versus $212 million the previous year.
"It hasn't earned much money in the last few quarters," JPMorgan chairman and chief executive, James Dimon stated during the bank's second-quarter earnings call with Wall Street analysts.
Significant Deal For Secondhand Private Equity
Lexington and AlpInvest both make investments in secondhand private equity, and the deal is considered relatively significant for that sector, which had only about $16 billion in deals through June.
The market for these types of investment is experiencing an upsurge, and volume may top $30 billion by the end of the year. This would be a first. Generally, these deals offer a faster, cleaner method of producing profits, rather than investing cash in a pool that may take years to invest its portfolio fully.
Moreover, sellers can unload their private equity investments, and currently, they can realize prices close to face value for the underlying securities. Previously, the market discounted early divestitures.
In 2011, Lexington raised nearly $7 billion, and the company is looking for additional investors in an even larger pool.
What Does This Mean For JPM?
JPMorgan has seen declining results in 2014, partially weighed down by its legal woes.
While rivals Goldman Sachs (NYSE:GS) and Morgan Stanley (NYSE:MS) have posted gains YTD, JPM seems mired in past and pending losses.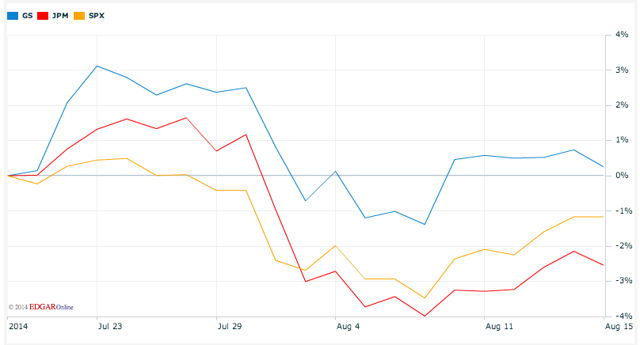 Click to enlarge
(Nasdaq.com)
The firm has missed expectations for earnings six out of the past seven quarters - and most recently, revealed a 8% decline in earnings, slowed down by decreased mortgage lending in particular.
Letting go of its P-E arm could be an even greater loss for JPM in terms of missed opportunities. Smaller rival KKR (NYSE:KKR), for example, is growing and diversifying its deals in a very favorable environment.
We reiterate our negative stance on JPM, moving forward in 2014.
We invite readers wishing to join the discussion on JPMorgan and the greater private equity industry to click the +FOLLOW button above the title of this article -- and those looking for the latest developments to click +Get real-time alerts.
Disclosure: The author has no positions in any stocks mentioned, and no plans to initiate any positions within the next 72 hours.
The author wrote this article themselves, and it expresses their own opinions. The author is not receiving compensation for it (other than from Seeking Alpha). The author has no business relationship with any company whose stock is mentioned in this article.