As we finish out 2010, we would like to take some time to consider the year we just had, and consider what may lie ahead. 2010 has been an extraordinary year for our clients, with our average account up approximately 43% for the year as of December 1st. December has also been a great month for clients, and we are eager to finalize our 2010 numbers for publication (see here) .
Much of our outperformance this year stemmed from our view that the summer pullback was little more than a correction during an ongoing bull market in risk assets (stocks, commodities, etc.). Our research regarding the differential between the earnings yield on the S&P 500 and the yield on the 10 year US Treasury note gave us great conviction in adding to all of our long stock and commodity positions, as well as establishing new positions to short volatility. Our original research can be found here.
We were able to profit greatly from the timely implementation of these positions, but as conditions have changed, the question of whether our logic is still relevant bears merit. While conditions may favor a near-term correction, we believe that stocks and risk assets remain in a long-term bull market.
Since we originally published our article, the S&P 500 has rallied 19% and the VIX has dropped 42%. While we are still bullish on stocks as a group, there are many reasons to be wary of a pullback in the near future.
click to enlarge images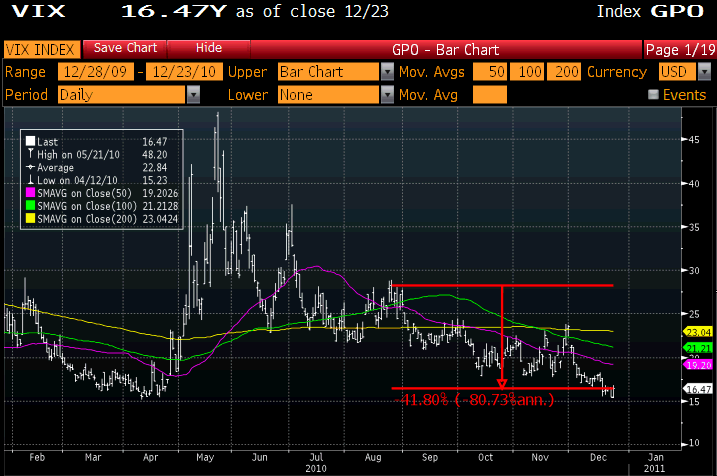 The VIX Index has dropped ~42% since our recommendation to purchase stocks, and its current reading of 16.47 indicates relative complacency among investors. By comparison, the 100-day moving average of the VIX is around 21. While a level in the 20s is historically rare, such a high VIX is a very bullish indicator for stocks going forward, as it indicates a preponderance of skeptics and worriers. As the skeptics are turned to believers, the market rallies and the VIX comes down. The coming weeks or months will most likely see a short-term spike in volatility as stocks consolidate their recent gains.
Adding to the view that complacency may currently be too prevalent is the American Association of Individual Investors' (AAII) Survey.
This weekly survey asks the respondents if they are bullish, bearish, or neutral about the stock market over the next 6 months. Historically, the survey has proven to be a good contrarian indicator, as individuals are usually their most bearish when stocks are about to rally, and vice versa. While the indicator is more accurate in predicting a stock market rally, it is still useful to gauge investor sentiment.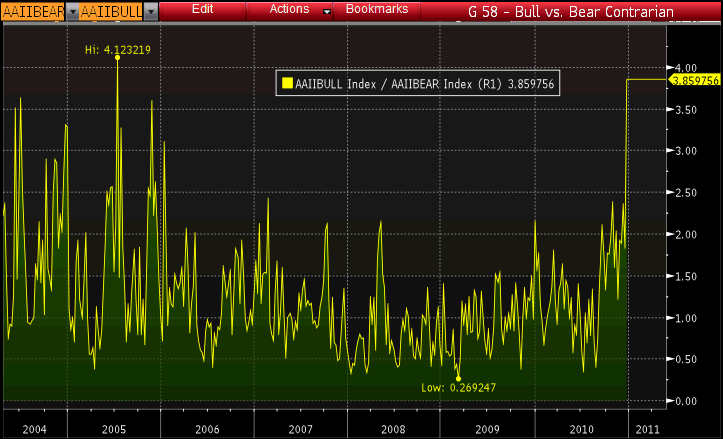 The current ratio of bulls to bears stands at 3.86. This means that bulls outnumber bears by almost a 4 to 1 margin. Historically, this is a rare scenario, with the current reading being the most bullish since 2005.
When the 2005 reading of 4.12 occurred, stocks began a 5% pullback shortly thereafter before continuing the bull market.
Despite the probability of a near-term correction, we remain bullish on stocks. As we discussed in our previous post, the basic premise underlying the earnings yield concept is that equity investors should expect the earnings yield on stocks to be at a level somewhat higher than the 10 year note in order to justify the additional risk taken by investing in equities versus government bonds. This is because the 10 year note is considered the risk-free benchmark, so investors must be paid a certain "risk premium" on top of this yield in order to be enticed to take on risk. Earnings yield is the yield an investor would receive if he or she theoretically owned the entire company that shares are being bought in.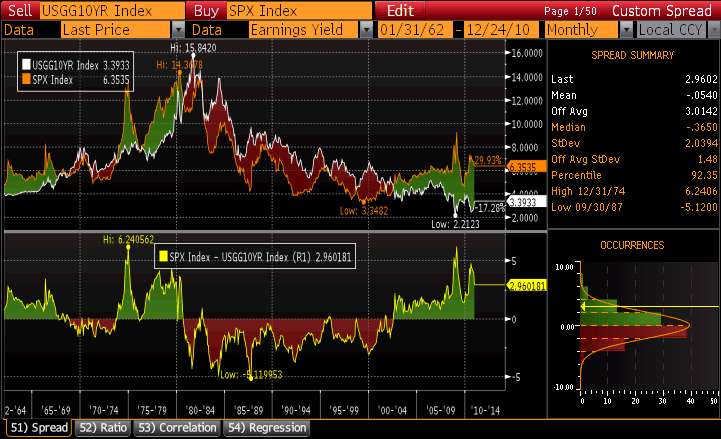 The peaks and valleys of this spread have been extraordinarily good leading indicators of rallies and drops in the stock market. The stock market began the summer rally after the spread peaked at 4.77% on August 31. Since then, the spread between the earnings yield on the S&P 500 and the 10 year US Treasury has decreased to 2.96%. The current reading is in the 92nd percentile of readings over the last 48 years (the longest that data is available).
While the premium is not nearly as attractive as it was during the summer pullback, equities still look underpriced on a long-term basis.
With the yield on the 10 year note advancing quickly, this situation could change quickly, but we still view the current scenario as bullish for stocks in the long-term. While the 10 year note yield has increased from 2.35% to 3.39% in the last 2 months, we do not see 10 year note yields rising unimpeded. Mr. Bernanke and the Fed have indicated an extreme willingness to use any and all available means to keep government bond yields low. While bond bears will rightly claim that QE2 has been largely ineffective, we believe this is more of a "buy the rumor, sell the news" event than the beginning of a steep rise in yields. While we would agree that bonds are most likely entering a secular bear market, we believe the uptrend in yields will prove to be much more gradual than the last couple months' experience. If government bonds are not able to stabilize on their own, look for the Fed to take even more aggressive measures to keep borrowing costs low.
Since the readings of the VIX and AAII indicators are only short-term contrarian indicators, the market may continue to rise before pulling back. However, investors would be well-advised to utilize the next pullback to add to long equity positions, and, if there is a sharp rise in volatility, sell put options on stock indices.
We continue to own many income-producing stocks as well as many technology stocks, and will utilize any pullback to add to existing positions.
Disclosure: I have no positions in any stocks mentioned, and no plans to initiate any positions within the next 72 hours.
Additional disclosure: We are long stocks and commodities.