Medtronic First Quarter Earnings
Medtronic (NYSE:MDT) is the world's largest medical technology company with a market cap of over $63 billion. The company was founded in 1949 as a medical equipment repair shop. The company's first life changing therapy was a wearable, battery powered pacemaker. Now Medtronic's medical technologies are used to treat nearly 40 medical conditions.
Source: Medtronic Investor Relations
First Quarter Results and Growth Opportunities
Medtronic reported first quarter earnings this morning. The company grew revenue 4% on a constant currency basis versus the same quarter a year ago. Medtronic generates 45% of its revenue in international markets. Emerging markets account for 13% of Medtronic's revenue. Emerging market revenue grew 11% on a constant currency basis for the most recent quarter, far outstripping overall company growth. The company divides its expanded operations into 3 groups: cardiac and vascular group, restorative therapies group, and diabetes group.
Cardiac and Vascular Group - 53% of 1st quarter sales
Restorative Therapies Group - 38% of 1st quarter sales
Diabetes Group - 9% of 1st quarter sales
Medtronic delivered solid growth overall, and double digit growth in emerging markets for the company's most recent quarter. Medtronic's future growth will be driven by 3 primary factors:
Robust Product Pipeline
Emerging Market Growth
Aging Global Population
Growth Opportunity 1: Robust Product Pipeline
Medtronic has proven it can reliably create new and innovative products within the medical technology industry. The company has grown substantially over the last 6 decades due to its robust product pipeline. Management estimates that the company currently has about 200 projects worth over $30 billion in revenue over the next 5 years in its product pipeline.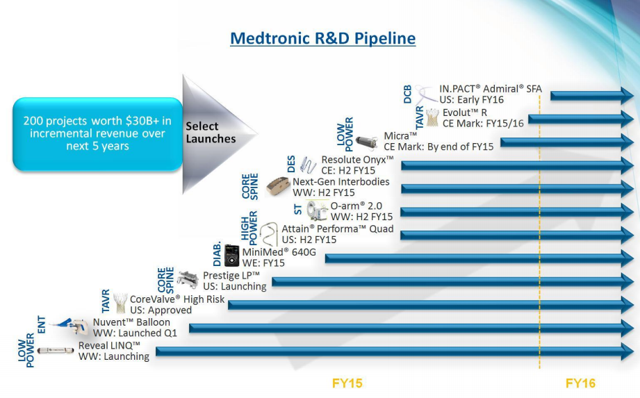 Click to enlarge
Source: Medtronic InvestMNt Conference Presentation, slide 5
Growth Opportunity 2: Emerging Market Growth
Medtronic managed to grow constant currency emerging market revenue in double digits for its most recent quarter. Moreover, the company generates about 13% of its revenue from emerging markets. Medtronic stands to gain from growing emerging market spending on healthcare over the next several years. Emerging markets are expected to grow significantly faster than developed markets over the next several years as more consumers are pulled out of poverty and into the middle class.
Growth Opportunity 3: Aging Global Population
The global population is going through a shift. Better birth control and changing preferences have led to significantly less births in developed (and some developing nations like China) as compared to the size of older generations. As the global population ages, Medtronic stands to benefit.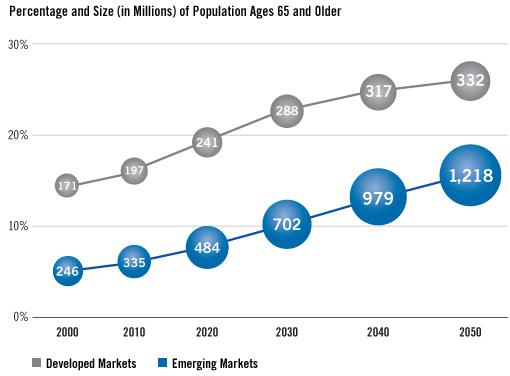 Source: Franklin Templeton Investments
Covidien (COV) Acquisition
On June 15th, Medtronic announced it would acquire Coviden. The acquisition is expected to close in the 4th quarter of 2014, or early 2015. Medtronic will acquire for $42.9 billion. Medtronic will fund the deal with $13 billion in cash and investments on hand, $3 billion in new debt, and $27 billion in Medtronic stock. Covidien shareholders will own about 30% of the combined company when the deal closes. The deal will further enhance Medtronic's position as the world's largest medical technology company, while moving the company's headquarters to Ireland for lower corporate taxes.
Ireland has a lower corporate tax rate (12.5%) than the US (35%). This will only save Medtronic on money it makes in Ireland, as the company would still have to pay the difference between the US corporate tax rate and Ireland's tax rate to the US government. If the company is domiciled in Ireland, then it will pay significantly less taxes because money it will only have to pay additional taxes on profits taxed outside Ireland at less than 12.5%. Most countries have tax rates significantly above this, resulting in tax savings.
Medtronic pledged $10 billion in investments in US health care over the next decade to fight the idea that it is 'unpatriotic' to change the company's domicile in order to reduce taxes. Seeking Alpha is not a political website, and whether it is 'right' or 'wrong' for a corporation to seek a tax advantaged strategy is not relevant to this article. What is relevant is whether congress will enact a new set of restrictions that prohibit Medtronic from following through with its tax inversion plan. Senator Finance Committee Chairman Ron Wyden stated that:
inversion loophole must be plugged ... in the near and long term.
Medtronic has not been passive in attempting to sway government and popular opinion. The company released the infographic below to show the benefits the acquisition will provide for the US.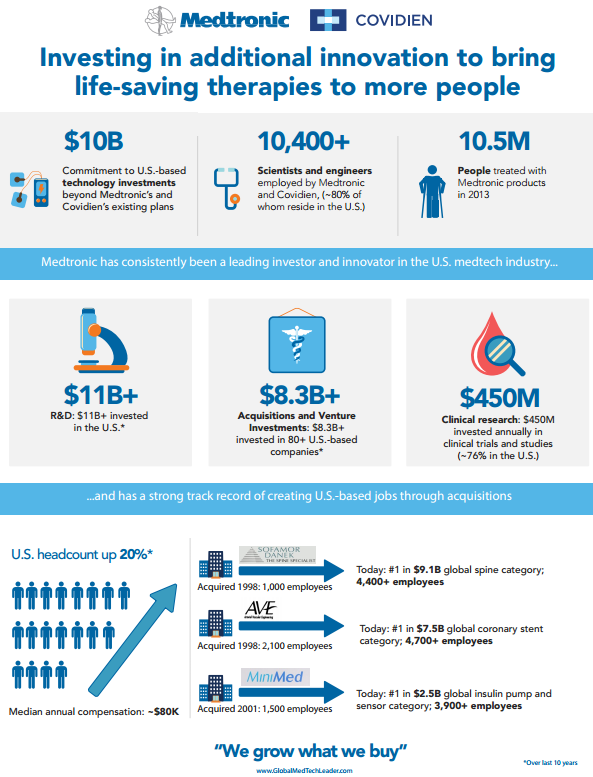 Source: Medtronic Investment in Innovation Infographic
Whether Medtronic will be allowed to changes its domicile to benefit shareholders with more favorable tax treatment is unknown at this time.
The acquisition of Covidien will be accretive for shareholders beyond tax benefits. The company will increase its revenue from about $17 billion to $27 billion after acquiring Covidien. Further, the combined company will have a more diversified revenue stream over a broader range of medical devices and equipment.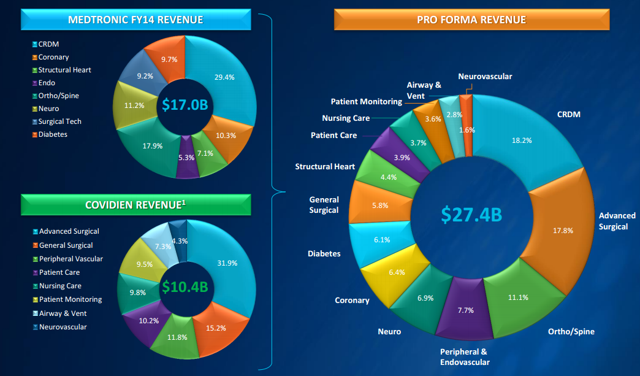 Click to enlarge
Source: Medtronic Investor Presentation, slide 18
Dividend History & Dividend Comparison
Medtronic is a Dividend Aristocrat with 35 years of consecutive dividend increases. Dividend Aristocrats have historically outperformed the market by over 2 percentage points per year.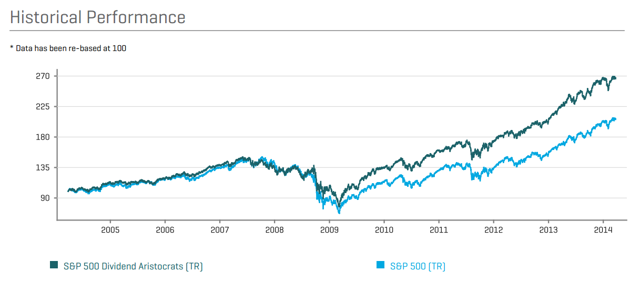 Click to enlarge
Source: S&P Dividend Aristocrats Fact Sheet
The company will be compared to its dividend peers; businesses with 25+ years of dividend payments without a reduction. The comparison will utilize several criteria from The 8 Rules of Dividend Investing along with evidence for why each criteria matters.
Dividend Yield
Medtronic currently has a dividend yield of just under 2%. The company's dividend yield is not particularly attractive. It is the 93rd highest out of 132 businesses with2 5+ years of dividend payments without a reduction.
Why it Matters: Stocks with higher dividend yields have historically outperformed stocks with lower dividend yields. The highest-yielding quintile of stocks outperformed the lowest-yielding quintile by 1.76 percentage points per year from 1928 to 2013.
Source: Dividends: A Review of Historical Returns
Payout Ratio
Medtronic has a forward payout ratio of about 30% according to value line. The company's low payout ratio compares favorably to its dividend peers, ranking at 25 out of 132. The company's low payout ratio gives it ample opportunity to increase its dividend payments in the future.
Why it Matters: High-yield, low-payout ratio stocks outperformed high-yield, high-payout ratio stocks by 8.2 percentage points per year from 1990 to 2006.
Source: High Yield, Low Payout by Barefoot, Patel, & Yao, page 3
Long-Term Growth Rate
Medtronic has managed to grow revenue per share by about 6.5% per year over the last decade. The company's fairly strong revenue growth over the last decade is the 37th highest among the 132 businesses with 25+ years of dividend payments without a reduction.
Why it Matters: Growing dividend stocks have outperformed stocks with unchanging dividends by 2.4 percentage points per year from 1972 to 2013.
Source: Rising Dividends Fund, Oppenheimer, page 4
Long-Term Volatility
Medtronic has a long-term standard deviation of about 24%. The company' standard deviation is the 41st lowest out of 132 businesses with 25+ years of dividend payments without a reduction.
Why it Matters: The S&P Low Volatility index outperformed the S&P 500 by 2 percentage points per year for the 20-year period ending September 30th, 2011.
Source: Low & Slow Could Win the Race
Closing Thoughts
Medtronic is an excellent business with long-term growth catalysts from the possible acquisition of Covidien, its robust product pipeline, strong emerging market growth, and an aging global population. The company is ranked in the Top 20 based on The 8 Rules of Dividend Investing. Medtronic makes an excellent addition to the portfolio of investors looking for global exposure to the medical device industry coupled with growth and current income.
Disclosure: The author has no positions in any stocks mentioned, and no plans to initiate any positions within the next 72 hours.
The author wrote this article themselves, and it expresses their own opinions. The author is not receiving compensation for it (other than from Seeking Alpha). The author has no business relationship with any company whose stock is mentioned in this article.