The homebuilders have had a wonderful run in the last few months with the ITB ETF up 25% from its bottom in August. It has gained the same amount as the S&P over the past year despite housing fundamentals that are in far worse shape than a year ago. This is why I present this short case against the homebuilders. While it's been a popular trade, I think that housing is going to be weak for at least another three years no matter what the government does. This is irrespective of where mortgage rates are. Of course, if rates shoot up, it will make the problem worse but even if rates stay where they are or head south, home starts will not show any improvement.
Click to enlarge: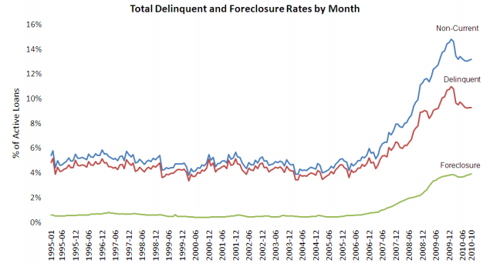 Click to enlarge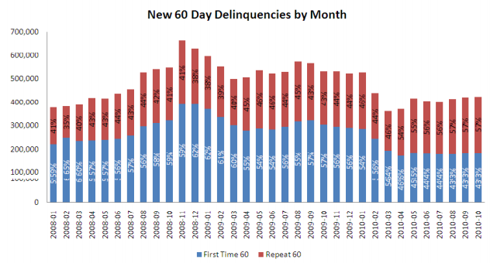 Click to enlarge
Housing has still not found its true bottom because the government has intervened several times whether it is through the homebuyer tax credit or through artificially maintaining low interest rates on mortgages. As an investor I ask myself, would I ever lend someone 4.5% for a 30-year mortgage given that fact that the Fed is telling me that they will print money and get inflation into the economy? Absolutely not. The fact is that most people are hesitating at this point about the economy because no one knows what is going on, what is in the system and what this Fed chairman will do next. After all, if the economy is as great as the stock market is predicting, why did we need QE2? In fact, they can still stop the program.
Click to enlarge: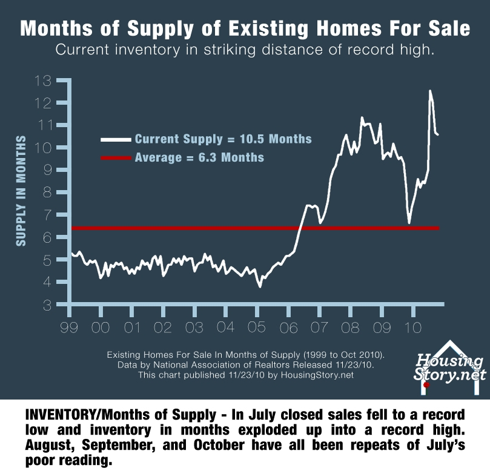 Click to enlarge
Homebuilder analysts have assumed that housing has bottomed and is in for a recovery next year and thereafter. I vehemently disagree with that. In my view, housing will either remain near this bottom or sink further in the next three years. This makes the homebuilders expensive here and provides a nice entry point for a short.
I would short the homebuilders through ITB which is an ETF that gives good access to homebuilder stocks. Alternatively, one can create a basket. One such basket would be Homes (NYSE:KBH), Hovnanian (NYSE:HOV), Mohawk Industries (NYSE:MHK) and Ryland Group (NYSE:RYL).
Click to enlarge: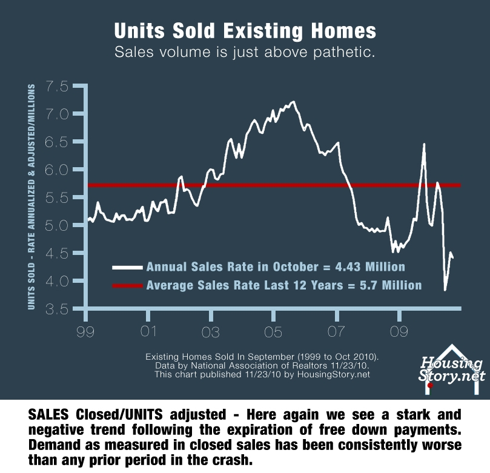 Click to enlarge
The Fed has told us that it is willing to print money and will do more of it. So, I would be long gold with the same notional that I am shorting the homebuilders. I prefer to be short the homebuilders in terms of gold rather than dollars. As the supply of dollars increases, the value of the dollar drops in terms of gold. The value of homebuilders may not drop nominally but in real terms will take a hit and that is what I am betting on. My thesis will be incorrect if the U.S. economy picks up pace, people across all spectrums get jobs and we start building three times the number of houses we are building right now. It's a risk I'm willing to take.

Disclosure: I am short KBH, MHK, RYL.