Under CEO Satya Nadella, Microsoft (NASDAQ: MSFT) is shifting towards a "mobile first, cloud first" mentality, and is changing many aspects of its business model to facilitate this paradigm shift. Digging through its most recent conference call transcript unveils some of Nadella's vision for the future.
The convergence of operating systems
Besides its commercial cloud annual revenue run rate doubling last quarter, the company also saw expanded gross margins related to its cloud business. Commercial cloud revenue grew 147% during the last quarter, driven primarily by Office 365 and Azure. There's also a new vision for Windows.
Nadella stated during the conference call that:
"In the year ahead, we are investing in ways that will ensure our device OS and first party hardware aligned to our core. We will streamline the next version of Windows from three operating systems into one single converged operating system for screens of all sizes."
He elaborated further during the Q&A session, explaining that:
"The reality is that we actually did not have one Windows; we had multiple Windows operating systems inside of Microsoft. We had one for phone, one for tablets and PCs, one for Xbox, one for even embedded. So we had many, many of these efforts. So now we have one team with the layered architecture that enables us to in fact one for developers bring that collective opportunity with one store, one commerce system, one discoverability mechanism. It also allows us to scale the UI across all screen sizes; it allows us to create this notion of universal Windows apps and being coherent there."
This could be a very smart move over the long term, because it not only integrates multiple operating systems into one, but universal Windows apps also give developers more incentives to build with Microsoft.
Expanding coverage and offering developer incentives
Universal apps "aggregate" all of Microsoft's Windows volume. This means that apps that can be used both on a desktop and on mobile allow developers access to "300 plus million units as opposed to just our 4% share of mobile in the U.S. or 10% in some country." This could finally speed up adoption of Windows Phone as it becomes fully integrated with the rest of Windows.
Microsoft has also made other changes such as offering office apps for iPad and making Windows licenses free for any device under 9". Nadella explained that the company could still monetize the seemingly "free" OS on the back-end with Bing integration as well as other attached services.
Speaking of the money-pit that is Bing, the company actually expects it to be profitable on a stand-alone basis in fiscal 2016. During 4Q, Bing saw an increase in both usage and monetization, along with a 19% share of U.S. search queries.
Back to the cloud
Nadella also indicated that Microsoft would continue to bet on the cloud, and even the Internet of Things. The company wants to expand its data center footprint for fiscal 2015, as well as launch new high value, high level services such as Azure machine learning.
For its full 2014 fiscal year, Azure grew rapidly, with storage doubling and compute tripling, according to CFO Amy Hood. She also said that:
over 50% of our Azure customers are now also using higher value services like the Enterprise Mobility Suite, which are seeing strong adoption since the May launch. We're pleased that our customers are enthusiastically embracing Office 365, Azure, CRM Online and our other cloud services, especially considering it's still early in the cloud transition.
Office 365 saw 1 million new subscribers during the quarter, which ended with 5.6 million users overall. Microsoft's CFO also indicated that this business was in a "growth phase" during the Q&A session, which further reinforces the fact that the company has been relatively successful in transitioning its legacy business into the cloud so that it can continue to thrive going forward.
More promising services...
Microsoft has many other cloud-related services up its sleeve both now and going forward.
OneDrive: An app that allows users to access files and data from any device at anytime through cloud storage.
Cortana, a Siri-like search device, and Delve, a smart search tool that utilizes machine learning to intelligently show users documents and messages.
Azure Intelligence Systems Service: Allows users to converge data from a variety of sources. Devices and sensors can connect through Azure to capture and utilize "big data".
New services for legacy products: An example of this is Power BI (business intelligence) for Excel and Office 365, which allows users to capture and analyze live data taken everywhere from the public web to inside a private company, and then put into a report. This facilitates the integration of legacy Office products with cloud computing. It also helps justify the move of these products to a lucrative subscription-based model.
Skype Translator: a real-time translation tool that helps remove language barriers
Galileo: a mini-Windows device for developers to use on devices related to the IoT. May further expand Microsoft's reach into Internet-connected devices over Azure.
Microsoft's CFO has been very good about cutting operating expenses and stated that she would continue to do so going forward, but also said that CapEx related to cloud and also investments in R&D would continue to increase. This is an encouraging sign for the company going forward as long as it is successful in its new strategy. Fiscal 2015 will be a pivotal year for the company.
Fundamentals
Microsoft posted an impressive $23 billion in revenues in 4Q 2014, with $2 billion from its newly acquired Phone Hardware Segment. Excluding the revenues related to the Nokia (NYSE: NOK) acquisition, revenues still increased by 10%, which exceeded even the high-end of the company's previous guidance.
The company missed earnings estimates when it reported $0.55 a share, but would have looked much better without the one-time effect of the Nokia acquisition. Earnings-per-share before the impact of the acquisition grew 12% to $0.66 a share, with gross margin jumping 7%.
The company has an exceptional balance sheet as well: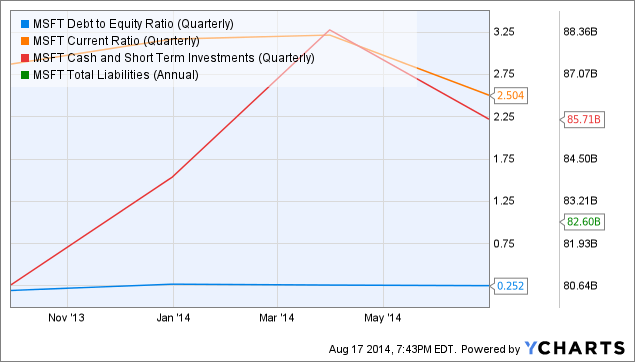 MSFT Debt to Equity Ratio (Quarterly) data by YCharts
As can be seen, the company has more cash than total liabilities. Microsoft is also extremely shareholder friendly, returning $15.7 billion in fiscal 2014 with dividends and buybacks-- an increase of 28% year-over-year.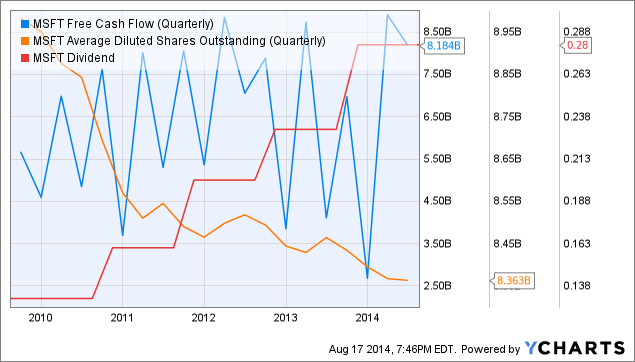 MSFT Free Cash Flow (Quarterly) data by YCharts
Microsoft's last dividend increase was around 22% alone. Shares currently yield roughly 2.5% now, but this yield should jump when it announces its next annual dividend increase. If history is any indication, this will occur some time next month.
Valuations
The company currently trades at almost 17 times trailing earnings and roughly 14 times forward earnings (fiscal 2016). Microsoft will likely report its first quarter earnings for fiscal 2015 sometime near the end of October.
Below I have also added a supplementary discounted cash flow analysis utilizing a Levered Returns interactive model.
I estimate a slightly optimistic, but achievable, 8% growth in sales over the next 3 years. Feel free to input your own growth rate to come up with your own price target.
The bottom line
Microsoft has begun its fiscal year 2015 with a lot of things on its plate. It's carefully and strategically steering many of its legacy products into the cloud, which also transitions them from stand-alone products to cloud-connected, subscription-based models. This should allow the company to continue to milk its current cash cows, which will now provide it with recurring revenue streams.
The company also has a pristine balance sheet and is one of the most shareholder-friendly mega-caps you will find. Shares are more expensive than they have been over the last three years, but are also cheaper than the market. Will the "new" Microsoft's higher multiple be sustainable?
I suspect that Satya Nadella and the rest of management's success in executing their long-term vision for the company will largely determine this. This year (fiscal 2015) should be a major first indicator of their success or lack thereof. So far as a shareholder, I am impressed, especially with the company's CFO Amy Hood who has been cutting operating expenses while the company continues to grow earnings and revenues.
Disclosure: The author is long MSFT. The author wrote this article themselves, and it expresses their own opinions. The author is not receiving compensation for it (other than from Seeking Alpha). The author has no business relationship with any company whose stock is mentioned in this article.
Additional disclosure: Articles I write for Seeking Alpha represent my own personal opinion and should not be taken as professional investment advice. I am not a registered financial adviser. Due diligence and/or consultation with your investment adviser should be undertaken before making any financial decisions, as these decisions are an individual's personal responsibility