Mountain Province Diamonds (NYSE: MDM) is a Canadian diamond exploration and mining company. It owns a 49% stake in the Gahcho Kué diamond mine that is located at Kennady Lake in Canada's Northwest Territories. De Beers holds the remaining 51% interest. Industry experts consider Gahcho Kué to be the largest and richest new diamond mine in the world. Mountain Province projects high returns when production ramps up in third quarter of 2016.
The diamond market is experiencing supply and demand imbalances. Most of the existing diamond mines in the world are reaching their production peaks and mining lives. The ongoing supply shortage in diamonds is fueling prices as retail demand for the gemstone continues to climb in China and India. Mountain Province appears well positioned to capitalize on the favorable market conditions with Gahcho Kué.
Mining at Gahcho Kué
Gahcho Kué is a joint venture project between Mountain Province Diamonds and De Beers, a subsidiary of London-based Anglo American (OTCPK:AAUKY). The mine consists of four diamondiferous or diamond-bearing kimberlite pipes - 5034, Hearne, Tesla and Tuzo - two kilometers of each other. The mine could potentially be a tier 1 asset with an expected mine life of over 20 years. A tier 1 asset defines an asset that has a mineral resource value, or in geologic terms, an in-situ value of $20 billion.
For readers with a non-geological background, kimberlite is an igneous rock that can contain diamond crystals. Kimberlite pipes are vertical carrot-shaped intrusive igneous bodies where miners retrieve diamonds.
In April, Mountain Province released an updated Mineral Reserve study for Gahcho Kué (see Figure 1). The report estimates the Indicated Resources that the company can mine and process under current economic parameters from 5034, Hearne and Tuzo.
Tesla is not included in the Gahcho Kué mineral reserve because of its small size. Mountain Province plans to explore Tesla towards the end of the mine's life.

Figure 1: Mineral Reserve estimates. Source: Mountain Province Diamonds
Highest diamond grade, revenue and margins
The Mineral Reserve study estimates that the kimberlite pipes have an aggregate mineral reserve of 35.4 million tonnes of ore grading 1.57 carats per tonne. That amounts to 55.5 million total carats in diamond content. The key earnings driver at Gahcho Kué is the recovery of high-grade diamonds.
In diamond mining, high-grade diamonds are highly sought-after for their value and in turn, generate big revenues and profits for their respective owners. At 1.57 carats per tonne, that more than doubles the grade of Stornoway's flagship Renard diamond asset (see Figure 2).

Click to enlarge
Figure 2: Gahcho Kué has the highest diamond grade among new diamond mines. Source: Mountain Province Diamonds
Gahcho Kué has the potential to achieve diamond revenues of $174 per carat according to an independent diamond valuation from WWW International Diamond Consultants. At $174 per carat, the company could earn revenues of $273 per tonne, if the diamond grade remains unchanged at 1.57 carats per tonne.
Management expects operating costs to total $73 per tonne, thus yielding an operating margin of $200 per tonne. That marks the highest margin of all new diamond mines, and over 2.5 times more than Lukoil's (OTCPK:LUKOY) Grib diamond mine in Russia (see Figure 3).

Click to enlarge
Figure 3: Gahcho Kué has the highest operating margin among new diamond mines. Source: Mountain Province Diamonds
Investors should note that the company currently has no source of revenue, but the offerings from Gahcho Kué promises a profitable future. High-grade diamonds and solid operating margins are two significant factors that will contribute to free cash flow generation and strong top and bottom line growth for Mountain Province and De Beers moving forward.
Regulatory approvals and funding
Mountain Province appointed three international banks last month to underwrite a senior secured loan. Deutsche Bank AG, Natixis SA and Nedbank Group will arrange, manage and underwrite a $370 million loan facility to help fund the company's share of construction costs. Construction at Gahcho Kué started in December 2013 and is on schedule to finish in late 2015.
Mountain Province received important regulatory approvals last week that will allow construction and operations to advance at the mining site. The Mackenzie Valley Land and Water Board issued a Type A Land Use Permit, while the Type A Water License was sent for final approval from the Minister of Environment and Natural Resources. These permits represent the final regulatory hurdles facing the project.
Production and cash flow projections
The commissioning phase of the diamond plant remains on schedule for the first half of 2016. Commissioning is the last step of a projects process before starting commercial production. Mountain Province plans to start digging diamonds out of the ground in the third quarter of 2016. At this stage, Gahcho Kué will begin to reward owners and shareholders with strong cash flows and profits.
Mountain Province expects to recover 1 million carats of diamonds during the ramp up period (September 2016 - January 2017) and produce on average 4.5 million carats for the first 12 years. However, the company forecasts annual production of 5.6 million carats for the first three years of full production (2017 - 2019) and earning net cash flows of $726 million on a 100% basis, or $356 million attributable to Mountain Province (see Figure 4).
The model below presents what the cash flow value (not discounted) will be in the next five years.

Click to enlarge
Figure 4: A model displaying estimates of net cash flows from Gahcho Kué for the first five years of full production. The model assumes constant production of 4.5 million carats after the first three years. The model uses diamond revenues of $174 per carat, costs of $42 per carat, and margins of $132 per carat to calculate total net cash flows per year, found inside an August 6, 2014 presentation (page 7). Source: Mountain Province Diamonds
On a cash per share basis, $356 million in cash flows for the first three years yields $2.74 cash per share, based on post-financing 130 million shares outstanding, and $2.24 cash per share afterwards. That compares to current cash on hand of $59.3 million, or $0.52 cash per share on 115 million shares.
Mountain Province's strong financial position enables management to make investments in technologies to improve economies of scale, pay off potential project debt, expand the company through other projects as well as reward shareholders with dividend payments.
"We expect that we will pay at least a 10% dividend from the free cash flow during the first five years of the mine," said Patrick Evans, President and CEO of Mountain Province Diamonds in an interview.
These figures could grow larger as global diamond supply stays flat and rising demand provides price upside for the gem over the next decade.
Rising diamond prices amid demand and supply imbalances
Demand and supply levels for diamonds have been in equilibrium at approximately $15 billion per year, but industry experts forecast demand to outgrow supply in the coming years (see Figure 5). Many diamond mines in the world are nearing the end of their mining lives with little diamond recovery. This is creating a supply deficit in the industry when demand is fast growing in mature and emerging markets.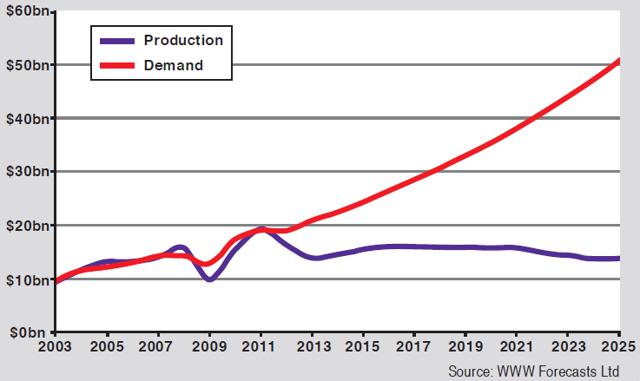 Click to enlarge
Figure 5: Global diamond supply and demand forecast. Source: Mountain Province Diamonds
Future growth in demand will come mainly from retail markets in China and India. Mountain Province projects demand in the U.S., the world's largest diamond jewelry market, to slowdown from 37% to 34% share of the market over the next five years. The U.S. economic recovery has been one of the weakest in decades following the collapse of Bear Stearns and Lehman Brothers in 2008. U.S. retail demand could rebound, however, if the ongoing recovery steadily improves GDP growth and the labour market.
Growing demand in China and India offsets the slowing, but still stable demand in the U.S. diamond market (see Figure 6). Mountain Province foresees China and India to increase their share of world diamond demand to 17% and 14% from 13% and 9%, respectively.
The rise in demand in China and India derives from a fast growing middle class and urbanization. Economic conditions in each region are also improving, leading to growing personal disposable incomes. These are key factors that shape demand trends in diamond jewelry retail markets, Bain & Co. discussed in a 2013 annual diamond report.
Mountain Province expects global demand for diamonds to rise to $20 billion, outstripping supply by $5 billion annually. This fundamental imbalance creates strong price upside, and the company estimates prices to double over the next 10 years. Rising diamond prices adds to the list of key factors to drive value at Gahcho Kué after first production. Higher diamond revenues, operating margins and free cash flows will follow as diamond prices reach new highs.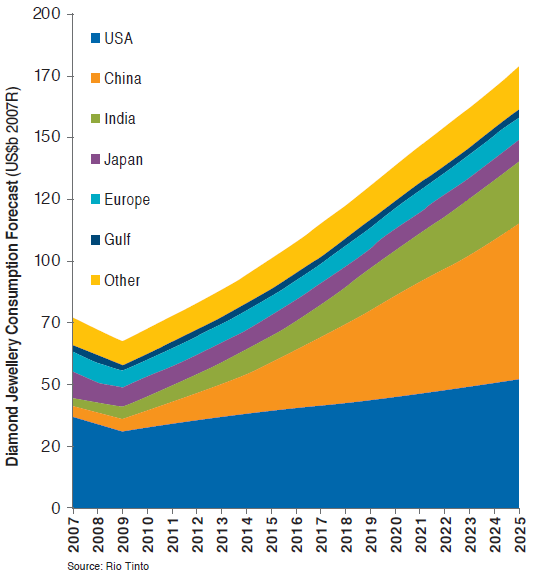 Figure 6: Diamond jewelry consumption for the next 10 years. Source: Mountain Province Diamonds
Conclusion
Mountain Province Diamonds has found an economic diamond-bearing mine in a geo-politically safe and stable jurisdiction in Canada. The Gahcho Kué mine has the potential to become a tier 1 asset with mineral resource value over $20 billion.
The mine bests new diamond mines from industry peers in diamond revenues, diamond grade, operating margins and annual production output. Management expects sufficient free cash flow to pay a 10% dividend to shareholders within the next five years of full production.
Industry experts believe there is a shortage of diamonds as existing diamond mines mature past their mining lives, while at the same time demand is growing at a faster rate. Historically, fundamental imbalances in supply and demand provide a bullish driver for prices in the diamond industry.
An expanding middle class in China and India is one of the main catalysts pushing demand higher for the next 10 years. Higher demand will boost diamond revenues, cash flows and operating margins for Mountain Province and De Beers when Gahcho Kué begins first production in two years.
Institutional investors are gaining interest in Mountain Province as institutional holdings have increased to 16.28%, or 18.75 million shares. Mackenzie Financial Corp. is the recent big stock purchaser of Mountain Province totaling 2 million shares worth over $10 million.
Mason Hill Advisors, Weiss Asset Management and Scotia Bank have also invested over $200,000 in shares in the June quarter, according to data from Nasdaq.com.
Mountain Province Diamonds has a market capitalization of $571.54 million. The stock trades on the New York Stock Exchange Amex Stock Exchange under the symbol MDM, and the Toronto Stock Exchange (TSX) under the symbol MPV.
Disclosure: The author has no positions in any stocks mentioned, and no plans to initiate any positions within the next 72 hours.
The author wrote this article themselves, and it expresses their own opinions. The author is not receiving compensation for it (other than from Seeking Alpha). The author has no business relationship with any company whose stock is mentioned in this article.