eBay (NASDAQ:EBAY) is one of the leading e-commerce businesses and is at the forefront of the rapidly growing e-commerce and m-commerce platforms. Its ability to partner with traditional retailers and merchants is superb. EBAY is capitalizing on the growing trend of shifting from brick-and-mortar retailers to the e-commerce platform. With over 150 million active accounts, EBAY is the world's largest online marketplace. With its leading payment platform, PayPal, EBAY has strong long-term prospects as the global commerce evolves.
Some Challenges on a Long Successful Journey
EBAY experienced a lower growth figure in same-store-growth in the month of July and its growth rate decreased to 9.7% compared to June's same-store sales growth of 12.3%. Auction decreased by 8% in the month. As the transition to e-commerce proceeds, the industry is becoming increasingly competitive and EBAY has to strengthen its competitive position. The fall in matrices was partially due to the data breach in May but EBAY is expected to use it strengths to cope with these bumps along the long road to success.
EBAY is Increasing its Penetration
EBAY is expanding its target market at a rapid pace and is successfully increasing its commerce volumes. In the 2nd quarter of 2014, EBAY managed to increase its enabled commerce volume (ECV) to a record level of 61,639 reflecting a growth of 26% YOY. As mobile commerce's penetration increases, mobile ECV's percentage of total ECV also increases. During the 2nd quarter of 2013, 15% of the ECV was mobile ECV. In the 2nd quarter of this year (2014), mobile commerce's share has increased to 20%. EBAY is in a strong position to capture the exploding growth in the m-commerce platform as this transition continues.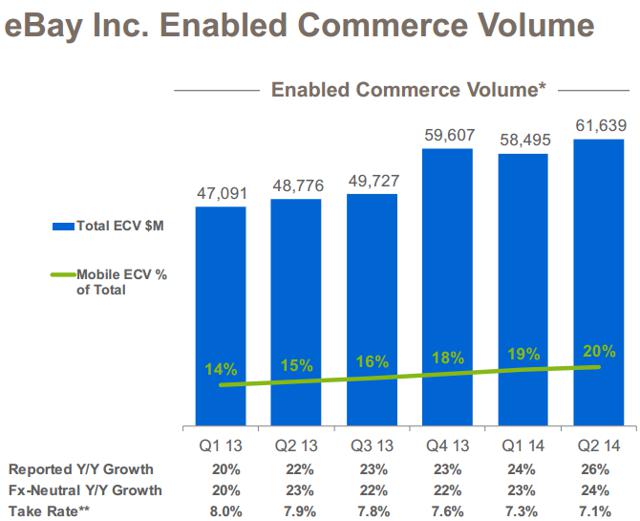 EBAY managed to increase cross-border trade by 26% in the 2nd quarter of this year. EBAY is at an important position to fuel international trade as the world becomes a global village. This important position is expected to give EBAY long-term growth in its top and bottom lines in the coming years as economies become more integrated over time.
EBAY is aggressively increasing the strength and penetration of PayPal to realize the full potential of this electronic payment platform. EBAY is launching PayPal in 10 new countries.
On the mobile-commerce front, EBAY won another 6.6 million new buyers and accounts. EBAY's success with the mobile platform is evident in the fact that about 260 million eBay Inc. apps have been downloaded so far.
Positive Payment Operating Matrices
Payment operating matrices show that EBAY is continuing its growth momentum in key matrices. Global active accounts have grown by a healthy 15%. Net number of payments increased 21% YOY. eBay's global penetration rate increased to 79.8%. Transaction margins have also increased in the quarter compared to previous quarters. These matrices provide evidence of continued efficient operations of the expanding payment business.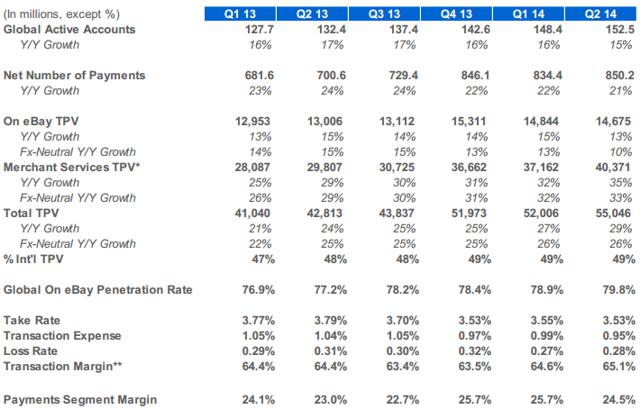 Expanding in the Emerging Market of Latin America
EBAY is focusing on capitalizing on the growth potential of emerging markets. EBAY's launch of the Spanish and Portuguese versions of its popular website is a very important strategic move that will enable EBAY to exploit the large growth potential in emerging Latin American economies. EBAY has also acquired machine translation company AppTek to help the company with its global expansion. EBAY's Spanish and Portuguese websites are expected to generate more business since they include the important features such as availability of local deals and promotions, and the use of local currency instead of US dollars. Presently, Latin America has a rapidly growing customer base of over 2 million customers.
Growth in Top and Bottom Lines
EBAY has managed to grow its top line by a healthy double-digit growth rate. The report from its most recently ended quarter show that its top line grew by 13% compared to the same quarter last year. The top line's growth momentum continues.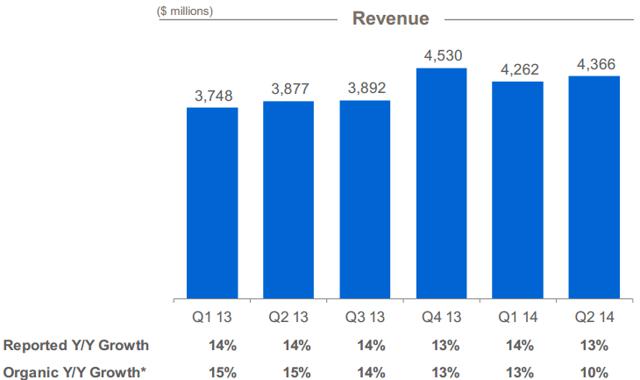 EBAY was not able to maintain its previous double-digit EPS growth. EPS grew by 9% YOY in the latest reported quarter. The operating margin has also declined over the past two quarters but it is still a healthy double-digit figure of 24.4%. EBAY needs to regain the double-digit EPS growth rate. Through its proactive strategy and aggressive expansion to capitalize on e-commerce growth, EBAY is likely to continue to experience significant growth in its top and bottom lines in the coming years.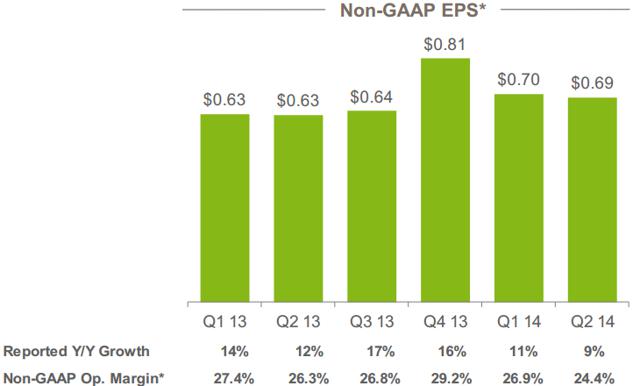 Providing Shareholder Returns through Share Repurchases
EBAY rewards its shareholders through share repurchases. During the last quarter, EBAY repurchased 32.4 million shares using free cash flow of $1.7 billion. There is still $2.2 billion left to be repurchased in the coming quarters. EBAY utilized $1.2 billion of commercial paper to fund the stock buyback and this will help EBAY make its returns and optimize its capital structure.
Attractive Upside Potential at Current Price
Analyses of average target price provided by 36 brokers show that EBAY's stock is undervalued and that upward potential exists. The mean target price is $59.50 with an upward potential of about 12% at the current price of nearly $53. The median target is $60 with an upward potential of 13%. The highest target price is $66 with an upward potential of about 25%. The most conservative target price is $50 expecting a downside of about 6%. The target price estimates show that EBAY is an attractive stock at its current price level.

Multiples Show a Relative Undervaluation
The price/earnings ratio shows that EBAY is undervalued compared to the sector but overvalued compared to the industry and S&P 500. The PEG ratio incorporates the expected future growth in the price/earnings ratio in the relative valuation analysis. EBAY has a PEG ratio of 1.42 meaning it is undervalued compared to the sector and S&P 500. This undervaluation complements the average target price analysis and shows that EBAY is an attractive investment at its current price.

Conclusion
eBay is poised to benefit from the transformation of global commerce. Its key matrices show continued efficient operations. eBay's trade volumes for overseas transactions increased and show that eBay will benefit from the continued integration of economies and growth of global trade. Its penetration into the emerging markets of Latin America will provide it with long-term growth prospects. Consensus target price estimate and multiple valuations show eBay to be an attractive investment at its current price level.
Disclosure: The author has no positions in any stocks mentioned, and no plans to initiate any positions within the next 72 hours.
The author wrote this article themselves, and it expresses their own opinions. The author is not receiving compensation for it (other than from Seeking Alpha). The author has no business relationship with any company whose stock is mentioned in this article.