As we come into the end of the year, let's review where we've been in 2010. For this post we'll take a visual look at a few charts plotting relationships between markets, which often give us more insight than looking at any one price plot by itself. Next week we'll make some general observations and look ahead to the coming year. For now, let's get right into it.
Our first chart shows the broad US stock market, a dotted line representing the Wilshire 5000 index, vs. foreign markets, the solid line representing the iShares Morgan Stanley all World ex US ETF (NASDAQ:ACWX). We can see that while foreign markets were stronger over much of the year, they topped in early November, as the US market has continued to move to new highs. With one week to go, the US stock market is the stronger, and has a larger year to date gain.
(click on charts to enlarge)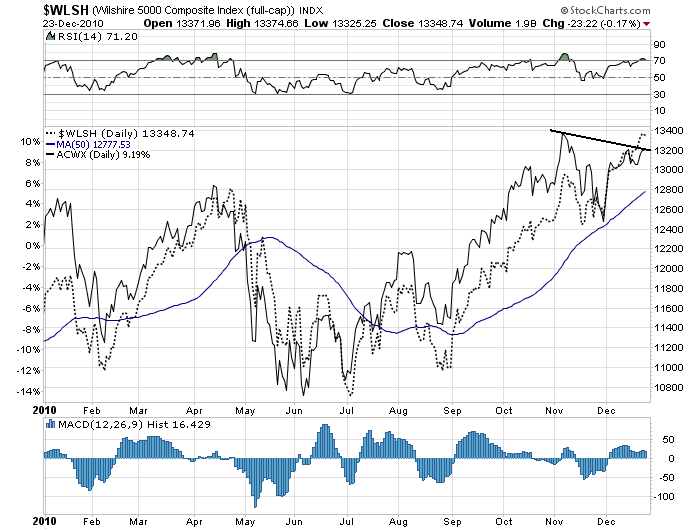 Next, we go abroad and compare developed markets to emerging markets. Developed markets (dotted line) started the year at a higher level, but the eurozone crisis hit them harder in the spring selloff. Since then, they have tracked each other closely. There has been no advantage to being in emerging or developed markets since May's "flash crash." Over the entire year, emerging markets have the larger gain.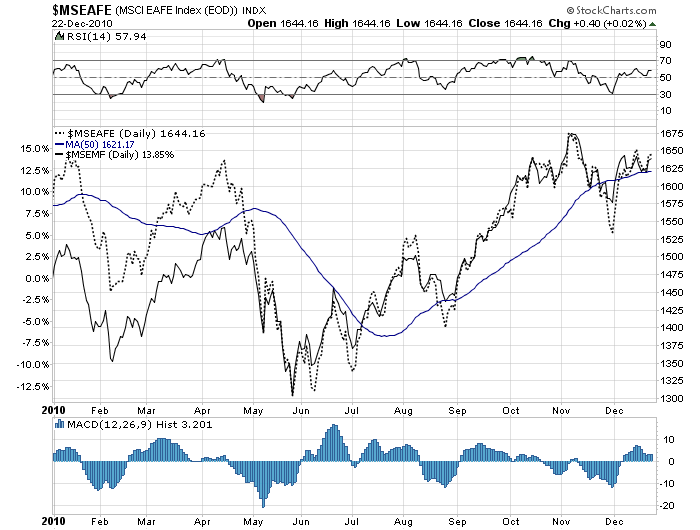 Now we return to the US, and look at large cap and small cap stocks - the S&P 500 (dotted line) and Russell 2000 (solid line) indexes. While large caps have led during large parts of the year, the two have moved together during the Santa Claus rally. Over the full year, small caps have the better return thanks to a lower starting level.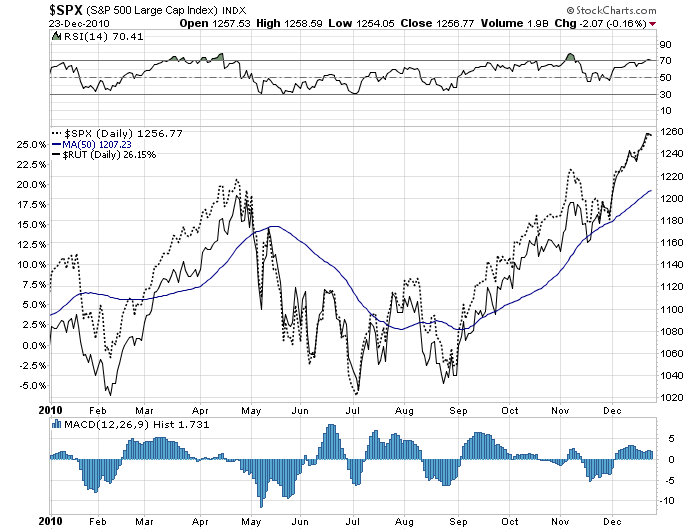 Finally, we look at growth vs. value within the S&P 500 with the iShares ETFs. Growth is the dotted line, value the solid line. While value saw more volatility during the year, both began and ended at nearly the same level; there has been little advantage to favoring a style in 2010.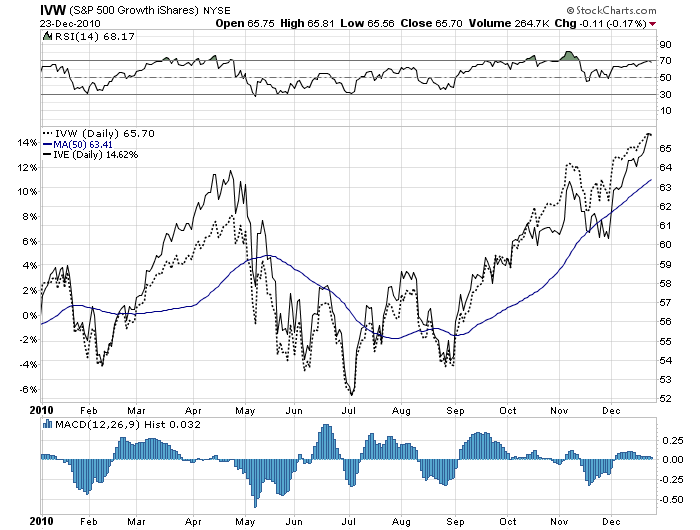 Now we move on to consider other asset classes. First, we look at the S&P 500 (dotted line) vs. the benchmark 10 year US Treasury bond. Both are still carrying capital gains for the year with a week of trading remaining, but since the November Fed meeting the bond investor has given back much of his gain. The bond is an example where the bullish longer term investor and the bearish trader have both earned a positive total return, though they have divergent outlooks, due to their different time frames and the effects of dividend payments.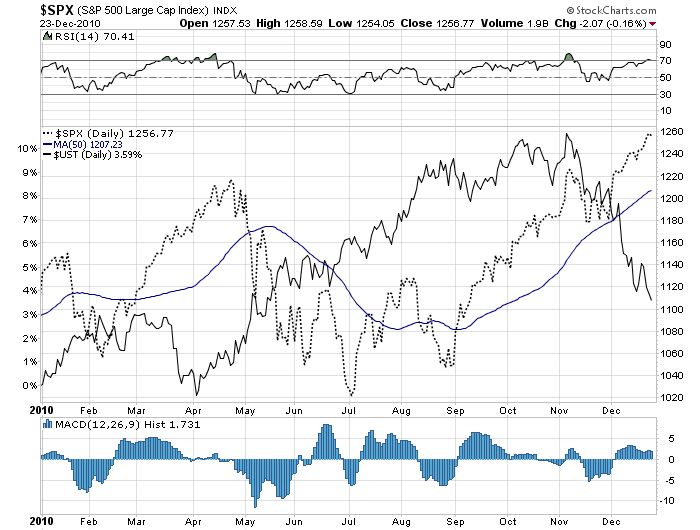 Now we compare the S&P 500 to the CRB commodity index. While stocks had a better run in the Spring, both indexes started, and are ending, near the same level. For portfolio purposes, most long term investors may have been better off on a total return basis in stocks, as they would have received a modest dividend, while holding commodities over a full year would likely have brought what amounts to a negative dividend from carrying costs. In general, commodities are still for traders, and the ability to hold them in ETF form doesn't altogether change that.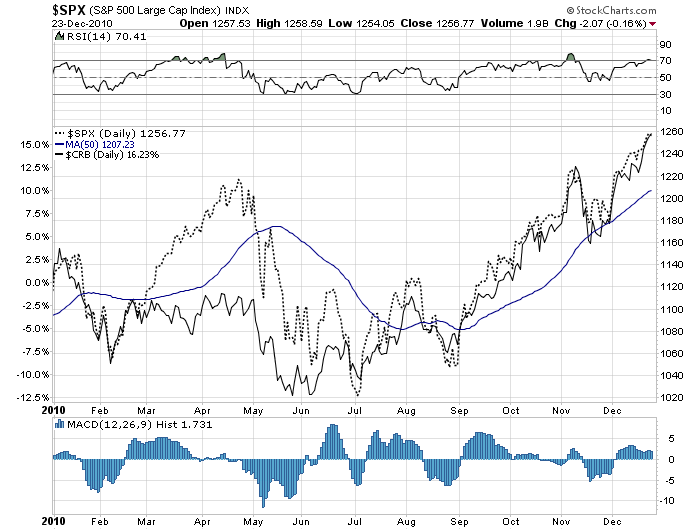 Staying with the commodities for a while longer, let's compare the Dow Jones precious metals index (solid line) to the broader CRB. We can see that the precious metals have had the better year, but their rally appears to have stalled in December, and they go into the new year in weaker technical condition.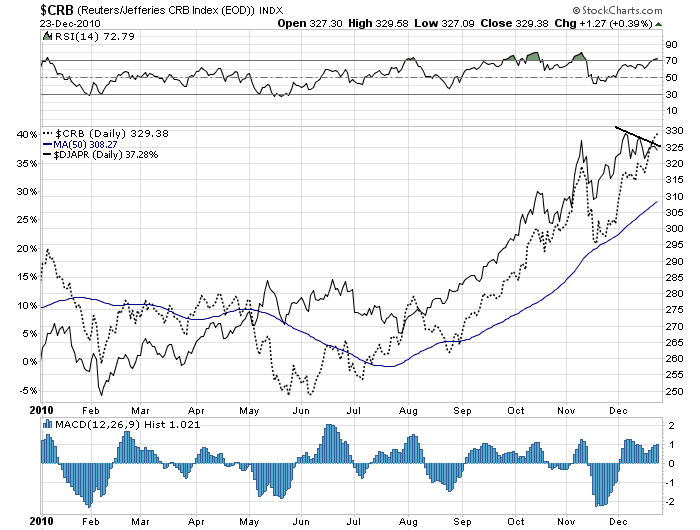 Turning to the energy complex, lets look at crude oil and natural gas in the US markets, which is always worthwhile. Natural gas (solid line) has had a tough year, while oil is at a new high and breaking out of a long price channel.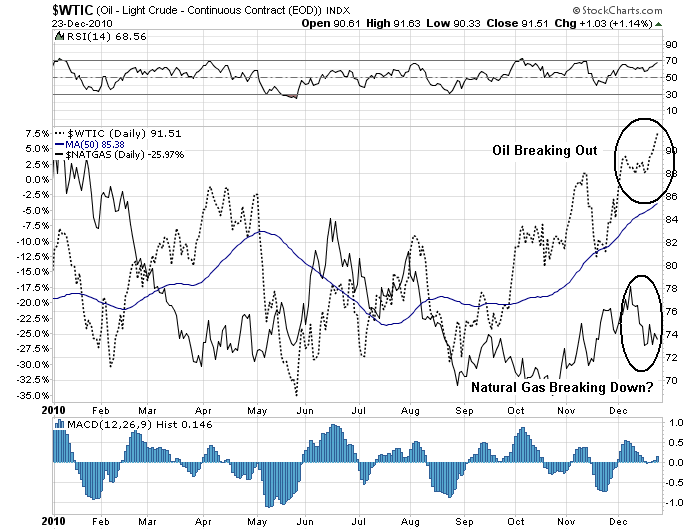 Now lets back out and take a three year look at the same relationship. Interesting, isn't it? This will be one of relationships we will be monitoring in 2011. Either oil will pull back, or gas will rally, but this divergence isn't likely to go on forever. Which way it resolves, we'll let the market tell us, and trade it accordingly.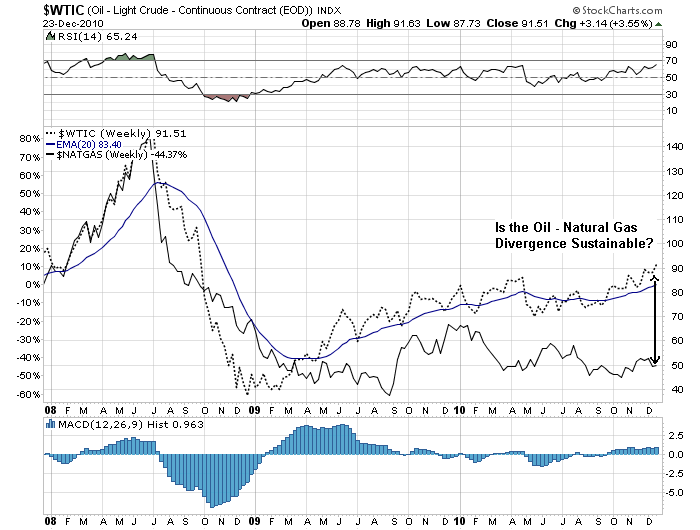 Finally, let's look at one last set of charts, bringing in the US Dollar. First, we compare the S&P 500 index (dotted line). Note how each significant turn in the Dollar index has been followed, sometimes immediately, sometimes in a few days, by a turn in the stocks. While we have been looking for a breakdown in the inverse relationship, it just hasn't happened yet.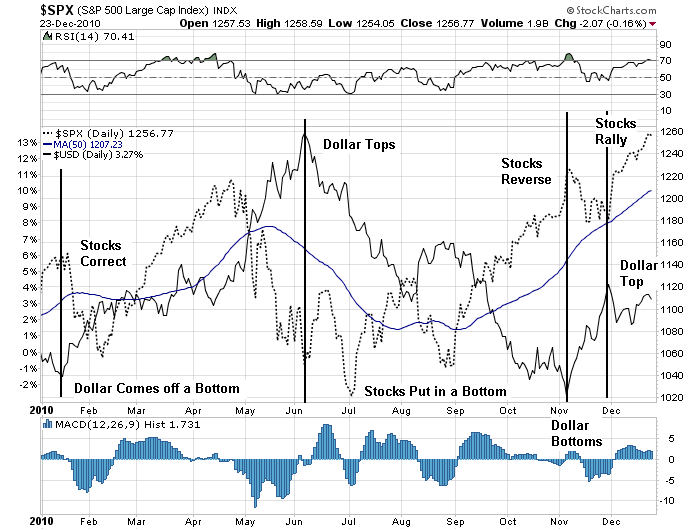 Finally, the Dollar and commodity indexes. Note how, in contrast to stocks, commodities have often turned before the Dollar. This is interesting as a number of the major commodities are priced in US Dollars; the observation is counter-intuitive and it bears watching to see how this relationship develops.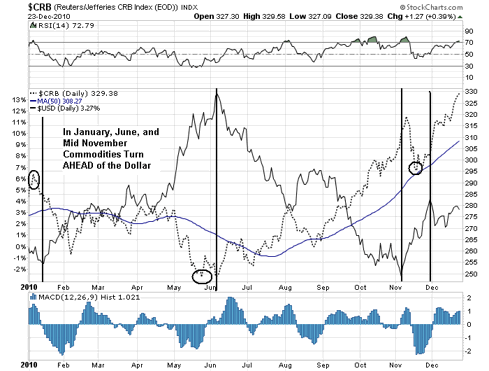 Click to enlarge
That's all for now. Next week, we'll look forward to the new year in the markets. I'd like to wish the happiest of holidays to everyone, a Merry Christmas to those who celebrate it, and all the best to you in 2011.
Disclosure: I have no positions in any stocks mentioned, and no plans to initiate any positions within the next 72 hours.