Target Corporation (NYSE:TGT) headquartered in Minneapolis, Minnesota is the United States' second-largest discount retailer with stores in the US as well as in Canada. The company has been performing extraordinarily well in the last few years. Back in 2008, its financial performance started to gradually increase beating the overall retail industry and rivals like Family Dollar Stores Inc. (NYSE:FDI) and Dollar General Corporation (NYSE:DG). The positive performance continued until it made a few blunders and witnessed a major fall in its financial position in financial year 2013. Let's take a look at the company's performance over the past few years compared to its peer groups.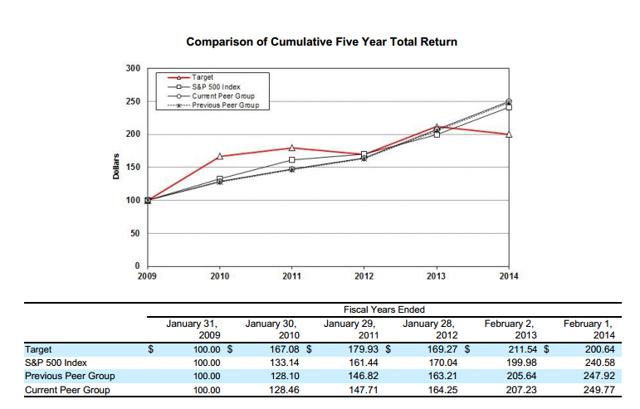 Source: TGT SEC Filings-Form 10k
Moreover, if we take a look at the company's sales revenues in the past few years we see a major decline in 2013.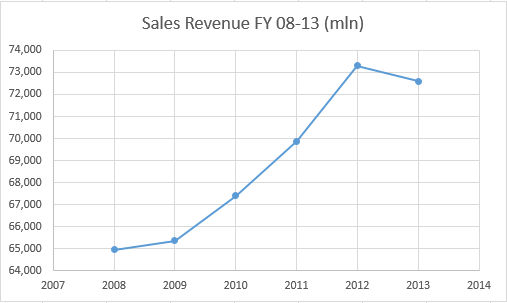 Source: TGT SEC Filings Form 10k
Revenues of $64,948 million in 2008 increased to $73,301 million in 2012 reflecting an increase of about 13%. However, revenues suddenly fell in 2013 to $72,596 million reflecting a fall of nearly 0.96%.
The comparable sales growth of the company nearly tells the same story. The graph below shows that the company's comparable revenue growth rate has decreased from 3% in the year 2011 to negative 0.4% in 2013. Target's same stores sales have fallen in three of the past five quarters.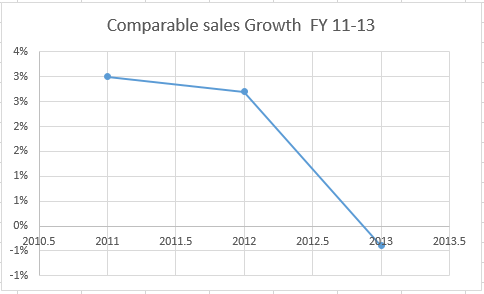 Source: SEC Filings Form 10K
Some mistakes and wrong steps taken by Target at the wrong times proved to be one of the reasons for the downfall in 2013. This not only affected its current financial performance but also made the company's management uncertain about the company's future results. The executives' doubt regarding the company's second quarter results in 2014 was a warning sign for Target's investors. On Tuesday, August 5th the company lowered its second quarter EPS estimate to $0.78 compared to the original guidance Target gave in early May of $0.85 to $1. This announcement caused the stock prices to fall immediately by about 4% though the company will officially report its recent quarterly earnings on August 20th.
Moreover, Zacks Investment Research has also downgraded Target keeping in mind its poor future prospects.
Possible Reasons Behind the Poor Performance in 2013 and Reduced Confidence The revenues have fallen by 0.96% in the most recent financial year ending February 2014 compared to the figure reported in the previous year. Furthermore the gross profit margin decreased from 30.1% in 2011 to 29.8% in 2013 reflecting a fall of approximately 1%. The following discussed factors contributed to the unfortunate performance in financial year 2013 and are also making Target's investors anxious about the company's future.
Flat Comparable sales In the United States:
The Company's US segment is involved in the selling of discounted merchandise. The decreased sales in its US segment are mainly because of the reduced purchasing power of the customers. Target's sales have been hit by consumers struggling with their stationary wages and higher income taxes. This caused them to decrease their spending on luxurious and other less important items while fulfilling their necessities.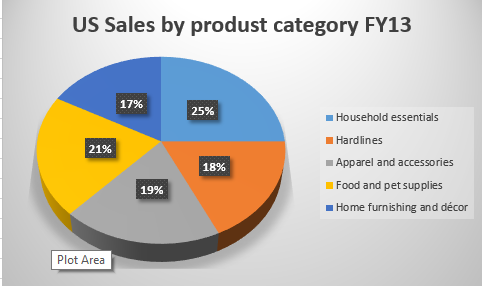 Source: TGT SEC Filing 10Q
The pie chart above shows that the biggest contribution of about 25% to the sales in 2013 was by the household essentials segment which includes basic necessities like pharmaceuticals, personal care, cleaning and paper products. Food and supplies also contributed nearly 21%. The other product categories haven't helped the revenues to significantly increase.
Data Breach Scandal: Target recently reported its disgraceful performance for financial year 2013 and the second quarter outlook for 2014. In the fourth quarter of 2013 Target experienced a data breach in which hackers stole payment information from customers including 40 million payment card numbers and 70 million of other piece of guests' data. The reason behind this leak was the company's weak security systems.
The company has been recording expenses related to this matter ever since the breach. In 2013, the company recorded a gross expense of $61 million along with a $44 million insurance receivable reflecting a net expense of $17 million. The company reported a net expense of about $18 million related to this scandal in the first quarter of 2014 and now the company is expecting to report a gross expense of $148 million and insurance receivable of $38 million in the second quarter. This reflects a net expense of about $111 million which will reduce the EPS by $0.11.
Debt Retirement: The company made a payment of about $1 billion to retire its long term debt of $725 million. This payment caused a pre-tax loss of $285 million which is expected to reduce the second quarter's EPS by $0.27.
Canada's Expansion Plan: The company already has 1795 stores in the US. In its first attempt at international expansion, Target opened 124 stores and 3 distribution channels in Canada in March 2013. This aggressive expansion plan turned out to be a blunder. The company faced unintended consequences as a result of mismanagement. Sales were much lower than expected. Target lost approximately $1 billion in 2013 in this hasty expansion plan and another $211 million in the first quarter of 2014. The company's poor planning regarding the supply chain caused problems long before the opening of its first store in Canada.
Moreover, dissatisfied customers complained about the higher prices in Canadian stores compared to US stores, empty shelves, and poor product selection.
Target Is On The Road To Rebuilding Itself:
The company is on its way to improving itself and restoring its lost reputation. The following are the few steps taken by the company towards its improvement.
Appointment Of New CEO: On August 12th Target appointed its new chief executive officer, Brain Cornell. He will be bringing decades of experience along with him which he has gained while working with PepsiCo, Wal-Mart's Sam's Club, Michaels Stores, and Safeway.
The company is quite hopeful that Cornell will definitely turn things around. John Molligan, interim president and CFO of Target said:
"While the environment in both the U.S. and Canada continues to be challenging, and results aren't yet where they need to be, we are making progress in our efforts to drive U.S. traffic and sales, improve our Canadian operations and advance Target's digital transformation''
Furthermore, the company's executives intend to become an omni-channel retailer in order to attract more and more customer traffic. He further added,
"With last week's announcement that the board has chosen Brian Cornell as Target's next Chairman and CEO, we are excited to welcome Brian to the team and committed to working together to accelerate Target's transformation and become a leading omni-channel retailer."
Mr. Cornell is expected to readjust Target's profit margins to adapt to the new world of retailing. Furthermore, the new CEO is expected to visit Target's Canadian stores to analyze how the business is being conducted and what improvements should be introduced.
Fixing the Mistakes made in Target Canada: Mark Schindele took over as Target Canada's president in late May. Mark Schindele is very keen about fixing the problems that arose in Target Canada right after opening 124 stores. The company will be focusing on improved pricing, merchandise selection issues, and repairing its supply chain.
Target's management said that they are required by their suppliers to place minimum orders. However, the problem arose when in Canada these orders were made for each of the three warehouses rather than an overall minimum order. This resulted in over ordering and a bulk of goods being stocked in warehouses. Moreover, a lot of goods were stuck in warehouses because of poor distribution processes. This caused the stores' shelves to remain empty which disappointed the customers. Ordering accuracy was another problem and the disparity in the ordering schedule and miscommunication between the supplier and Target caused confusion.
To overcome these problems Target Canada's president has introduced an inventory reporting system. He has employed staff to physically count the inventory too. These steps have helped to immediately improve in-stock levels by 4%.
The company's recovery plan is also aiming to win customers by lowering some prices that were previously quite high compared to other competitors. Target Canada will also be introducing some new products that the company carries in its US stores including cosmetics and electronic goods.
These problems were just the tip of the iceberg. There are many other issues including the data breach scandal that have hurt the company's reputation to a great extent. Target will need time to fix its blunders and recover from the snags. Let's see how the future unfolds and whether or not Target will be successful in rebuilding its image.
Disclosure: The author has no positions in any stocks mentioned, and no plans to initiate any positions within the next 72 hours.
Business relationship disclosure: The article has been written by a Gemstone Equity Research research analyst. Gemstone Equity Research is not receiving compensation for it (other than from Seeking Alpha). Gemstone Equity Research has no business relationship with any company whose stock is mentioned in this article.