As its name indicates, TASER International (NASDAQ:TASR) specializes in selling conducted electrical weapons (CEWs or TASERs) to law enforcement agencies. The company was founded in 1993 and has become an industry leader in selling the non-lethal TASER to enforcement agencies domestically in the United States as well as globally. The TASER weapons product line represents nearly 90% of sales, but due to a changing environment and improving technology, the company's fastest growing and most exciting product is their wearable video camera. Increasingly, city and municipality law enforcement agencies are adopting forward facing wearable video cameras to capture exactly what transpires by recording video and sound of everything that transpires during an arrest, confrontation or routine stop. Recent events in Ferguson, Missouri demonstrate the need for clear visual clarity into events that otherwise turn to rampant speculation and worse. The tragic events in Ferguson, Missouri have brought investors attention to TASER International's wearable video devices and have driven up the price of the stock by nearly 7% on 8/18/14.
 

Six months ended June 30,

 

($ Millions)

2014

2013

Y/Y % change

Sales

$ 73.3

$ 62.6

17.1%

Gross Profit

$ 45.4

$ 38.2

18.8%

Operating Income

$ 11.1

$ 12.1

-8.3%

Net Income

$ 7.3

$ 7.7

-5.2%

EPS (diluted)

$ 0.13

$ 0.14

-7.1%
The three months ending June 30, 2014, represented the 10th consecutive quarter of year-over-year top line double digit growth. The TASER weapons segment grew $2.4 million year-over-year, or 7.9%, and Evidence.com & video sales increased by $2.6 million, or 136.5% to $4.5 million. The strong growth in the video segment was underscored by an incredibly strong service booking increase of $9.3 million to $11.3 million, over 2Q13 bookings of $2.0 million. While TASER weapons sales represent the biggest current percentage of sales, it's clear the Evidence.com and video segment are the future of the company.
 

Six months ended June 30, 2014

($ Millions)

TASER Weapons

Evidence.com & Video

Product Sales

$ 65.1

$ 6.6

Service Revenue

$ -

$ 1.6

Net Sales

$ 65.1

$ 8.2

Costs of Goods Sold

$ 21.6

$ 5.4

Gross Margin

$ 43.6

$ 1.8

Sales, General & Admin.

$ 22.2

$ 5.1

Research & Development

$ 1.6

$ 5.4

Operating Income

$ 19.8

$ (8.7)
Source: TASER quarterly reports
TASER Weapons Segment
While the video segment holds tremendous growth opportunities, it's important to not overlook the significance of the company's weapons segment. With weapons accounting for nearly 90% of net sales and a strong operating margin over 30%, this segment produces steady cash flow that the company is reinvesting in video technologies to stay ahead of the competition. The TASER weapon market is also a huge untapped market for the company. Today, 1 in 2 police officers carry a TASER and internationally 1 in 50 officers carry a TASER. This gives the company huge potential to expand their weapons segment and put TASER in a good position from agencies upgrading weapons already in circulation.
AXON and Evidence.com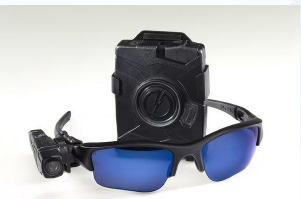 The Rialto Police Department and Cambridge University conducted a study with TASER International's wearable camera, AXON, and found an 87.5% reduction in citizen complaints as well as a 59% reduction in the use of force by police officers. Citizens as well as police officers are far more likely to behave properly when they know they are being recorded and hearsay evidence is thrown out the window. The city of Rialto also conducted a cost analysis by using cameras and evidence.com. The average cost per complaint averaged $20,000 due to investigations, use of resources and legal fees. The 87.5% reduction in citizen complaints resulted in an estimated 21 avoided complaints, for a total cost savings of $420,000. With the city paying $90,000 for cameras and evidence.com, the net savings in year 1 of the study was an estimated $330,000.
Evidence.com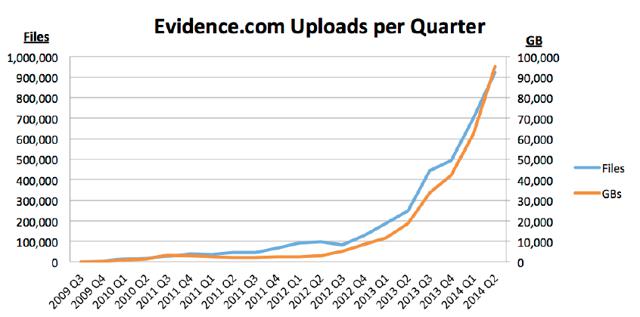 Source: TASER 2Q14 Investor Presentation
Many municipalities and cities are not equipped with the personnel or IT knowhow to properly manage storing video evidence that has been recorded in the field by police officers and needs to be held as evidence. TASER International has developed evidence.com for users to manage video and information in a timely and cost effective way. This service also provides TASER with important recurring revenue that the company can depend on receiving year after year. In fact, the number of files and data uploaded to the site has nearly quadrupled in the past 12 months. This shows agencies are rapidly adopting the technology and have found the service to be highly effective. The biggest reason for the fall in second quarter net income was due to the large investment in this technology. The company has invested over $5 million into R&D over the past 6 months to improve upon this technology and allow it to expand its presence internationally.
Domestic and International Expansion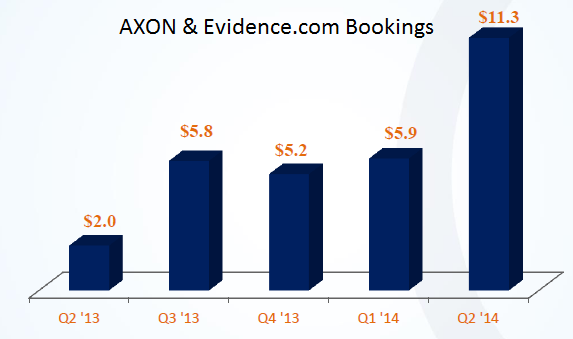 Source: TASER 2Q14 Investor Presentation
Out of the 72 major cities in the US, there are 7 cities actively using AXON cameras and evidence.com, with 3 more in paid trials and 10 in some form of pilot or active discussions. TASER recently won a 5 year contract in San Diego for roughly $4 million for use of AXON cameras and evidence.com. Because of TASER's large weapons business, the company already has strong relationships with 17,000 out of the 18,000 agencies in the US today, which makes the sale of the video segment a far easier transition. During the second quarter, there were a number of smaller agencies adopting this technology. AXON and evidence.com had significant orders from:
Ada County Sheriff's Office (NYSE:ID)
Bellingham Police Department (WA)
Campbell County Sheriff's Office (NYSE:WY)
City of Escondido Police and Fire Headquarters (NASDAQ:CA)
Dallas County Hospital District Police Dept. (NYSE:TX)
East Haven Police Department (CT)
Evesham Township Police Department (NYSE:NJ)
Gilbert Police Department (AZ)
Hickory Police Department (NYSE:NC)
Houma Police Department (LA)
Mesa Police Department (AZ)
Peoria Police Department (AZ)
Salt Lake City Police Department (UT)
San Diego Police Department
San Leandro Police Department
Spartanburg County Sheriff's Office (NYSE:SC)
Internationally, the company has seen strong interest in Brazil. During the second quarter the company received orders from 2 of the largest law enforcement agencies in Brazil for initial deployment. TASER has set up offices in the Netherlands to further expand its international footprint. The company has also established a partnership with Amazon to use their cloud services for international agencies to store their video data outside the United States. Many international countries don't trust storing private international evidence in the United States. This allows international agencies to securely store data in data centers in their own country or where ever they choose. TASER has been actively ahead of this issue and has invested heavily to allow international agencies to effectively use this technology. This market remains largely untapped, but TASER is currently head and shoulders above any competition.
Hurdles
Any company that works with city contracts and small municipalities is use to the bureaucratic red tape and budget cuts that are often associated with the contract process. TASER International deals primarily in this area, so rapid adoption of these new technologies is unlikely and is subject city budgets. The company must also deal with many police unions that are fighting police officers being required to wear these video cameras. While the law enforcement industry is beginning to adopt this technology, both police unions and city council members must all agree before large cities begin to adopt wearable camera devices. The trend is moving in the right direction for TASER, but rapid adoption by major cities is unlikely in the short-term.
Valuation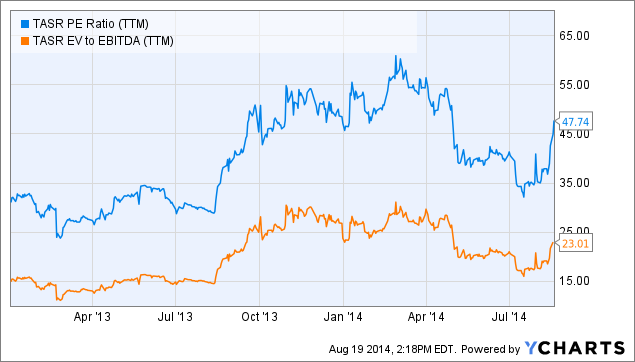 TASR PE Ratio (NYSE:TTM) data by YCharts
TASER International has rallied 25% since the Ferguson shooting and nearly 50% since its 52 weak low on 7/17/14. This rally has led to a P/E of 47.8 and a forward 2015 P/E of 35. The EV/EBITDA has also significantly increased to 23. These high valuations make establishing a new position difficult. The rapid rise in price has taken the value out of the stock and back to levels seen before the stock sold off to a 52 weak low of $10.50. In the short-term, the company will continue to invest heavily in R&D for Evidence.com and AXON, which could hurt short-term EPS.
In the long-term, the stock looks attractive. The company has $48 million in cash, roughly 6% of market cap, and only $100,000 in long-term debt for capital leases. This clean balance sheet can help a company tremendously through tough times as well as capitalizing profits during times of revenue growth. 2Q14 was the 10th quarter with double-digit revenue growth and this should continue for the foreseeable future as agencies adopt wearable video cameras and TASER collects reoccurring service revenue. When TASER begins to wind down capital spending on R&D for video technology, the company has the potential to greatly increase EPS. Just a $2.5 million reduction in R&D would have increased 2Q14 EPS by 30%. I'm not recommending TASER reduce R&D expenses, but when they do get ahead of the curve and are able to lower this investment, the stock valuation will come back in-line. This is great news for long-term investors. I'd recommend current shareholders hold their positions and enjoy the ride up and investors looking to establish a position wait until the Ferguson news settles. When Ferguson is out of the spot light, TASER stock will likely see a modest decline as investors take profits and the numbers of articles, like this, die down.
Conclusion
Major events, such as the one in Ferguson, Missouri, show the need for police officers to enter to the digital age. Today, dashboard cameras inside police cars are standard. Over the next decade, it is likely that every police officer will wear a video camera. These cameras make it less likely for citizens to become disgruntled and aggressive as they know they are being filmed and will hold police officers accountable for their actions, therefore reducing the use of force. This win/win also gives indisputable evidence as to what happened during an arrest, which will reduce court fees for citizens disputing police accounts and reducing citizen complaints. With technology improving, it is become cost effective for law enforcement agencies to adopt wearable video cameras. TASER International already has relationships with the vast majority of agencies in the US through its weapons segment, making the transition to AXON and Evidence.com sales much easier. The company has also invested heavily into IT support to help cities manage video evidence. TASER is the industry leader in wearable video devices and will capitalize on this expanding market for many years to come. The events in Ferguson, Missouri could have been avoided if the police officer was wearing a TASER video device. It often takes a tragic event to spur action and it is likely that these recent events in Ferguson will expedite many police departments to adopt this technology going forward.
Disclosure: The author has no positions in any stocks mentioned, and no plans to initiate any positions within the next 72 hours.
The author wrote this article themselves, and it expresses their own opinions. The author is not receiving compensation for it (other than from Seeking Alpha). The author has no business relationship with any company whose stock is mentioned in this article.