In a recent New York Times article - which has all but gone viral - David Gelles explains the criteria by which Google (NASDAQ:GOOGL), (NASDAQ:GOOG) CEO Larry Page makes acquisition decisions; he asks "whether the acquisition passes the toothbrush test: Is it something you will use once or twice a day, and does it make your life better?" While this principle has obviously served the company well over the years, there are still some serious holes in Google's arsenal. I continue to be a staunch believer in the stock, particularly as some of its issues are addressed, but the three cavities below should be addressed to maintain the company's status as the King of Tech.
The Toothbrush Test Snubs Bankers
One of the keys to the toothbrush test, as Gelles explains, is the increasing perception amongst tech executives that Wall Street investment banks are less and less necessary to the process. Where bankers are great at determining valuations and negotiating numbers, the vision for where an industry is headed, and what holes a behemoth needs filled, are best left to the tech gurus themselves. The result of this shift, aside from less banking fees, is that tech deals are becoming increasingly unassisted and increasingly about finding the gem, rather than pure near-term business decisions. The result, and this occurs even when deals do involve bankers, is that companies like Google may buy properties with large price tags that go nowhere.
Three Holes at Google
Despite the diversity that Google brings to the market, revenues are still 90% generated by search. What this means is that Google's reliance on this single area is a risk factor for the stock, a fact that was noted in the annual report. Also of concern is the lack of real penetration into social media and ecommerce. Let's take a look at each:
Mobile Search - While Google has so changed the face of the internet that the company has become a verb, as more and more traffic moves off of your desk top and onto the small screen, search patterns are changing. Where most people interface with the internet thru Google at home, apps rule the day on smartphones. When you move directly to an app to search for a hotel, store, or movie, Google loses out on the chance to charge someone for a sponsored link that might impact your decision. While Android clearly gives Google a major platform on which to build, users circumventing classic search could cause longer-term problems for the company and the stock.
Social Media - Despite the significant investment that has been made in Google Plus, it has not made a serious dent in the dominance of Facebook (NASDAQ:FB) and Twitter (NYSE:TWTR). Each of these forums is well entrenched, so while Google Plus is a nice alternative for password verification, few users are using it as their update hubs. Where LinkedIn (NYSE:LNKD) remains relevant because of its professional nature when compared to Facebook, Google Plus lacks the hook to get people to make a switch away from either Facebook or Twitter. This remains a weakness of Google.
Google Wallet - While the world of ecommerce continues to grow, Google continues to be outpaced in this arena by Amazon (NASDAQ:AMZN), eBay (NASDAQ:EBAY), and even Apple (NASDAQ:AAPL). Not only getting customers to buy products through your portal, but having an effective means to collect the valuable data associated with these transactions is becoming increasingly significant. As some evidence of the importance of ecommerce, Amazon just released Fire Phone; the Android-based smartphones uses ecommerce as its starting point. While the success of the Fire Phone seems questionable, it demonstrates that serious players are pushing hard. Cupertino continues to look for ways to integrate its huge user payment database into more and more iPhone features as well.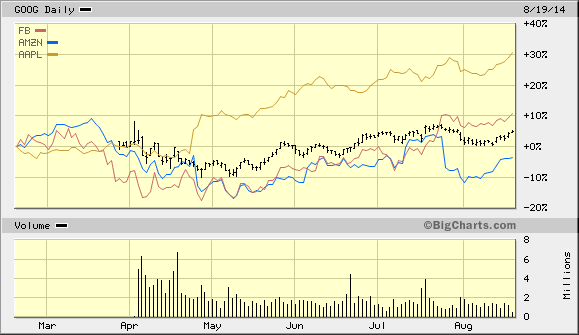 The message of the above three deficiencies is a mixed one: as the King of Search, Google is untouchable and going strong, but as the King of Tech, there are cavities that its needs Larry Page's toothbrush to fill. The stock still looks strong, and, I believe, is an absolute must-own core technology holding. Over the next quarters and years, long-term investors should look to see how the company addresses its weaknesses.
Disclosure: The author has no positions in any stocks mentioned, and no plans to initiate any positions within the next 72 hours.
The author wrote this article themselves, and it expresses their own opinions. The author is not receiving compensation for it (other than from Seeking Alpha). The author has no business relationship with any company whose stock is mentioned in this article.