Argentina, the second-largest economy in South America, is facing deep trouble again. The country went into default for the second time in 13 years after seeing its $539 million in interest payment to bondholders of its restructured debt being frozen by U.S. judge Thomas Griesa. Despite depositing the money, it could not get delivered and this situation put the country in a tricky situation, affecting its financial assets. What exactly is going on? Are there any buy opportunities around?
A little bit of history
In order to understand what's going on, we need to go back in time a bit. In late 2001 Argentina defaulted $95 billion in bonds. During the turmoil, a bunch of hedge funds bought Argentine debt and a group of them - led by Elliott Management's Paul Singer - refused to take a haircut on that debt when Argentina restructured it in 2005 and 2010, and went to court.
Many years and a couple of judicial setbacks passed until last June the U.S. Supreme Court declined to hear Argentina's appeal of the case, forcing the country to accept the judge's decision to pay $1.6 billion to these so-called 'vulture funds'. In order to make this ruling effective, Judge Griesa froze the deposits made to the restructured bondholders and, since they never got the money, default was declared.
Is it really a default or not?
As expected, the Argentine government denies being in default as it met its obligations when it made the payment through BNY Mellon, which did not wire the funds. Unfortunately, the fine print in the bonds' contracts states the absence of payment reception as one of the reasons for declaring a default.
Nonetheless, credit rating agencies have their own terms. According to S&P, Argentina is in the state of selective default, and for Fitch the term used is restrictive default. In addition, the International Swaps and Derivatives Association (ISDA) determinations committee put Argentina effectively in default earlier this month, by ruling unanimously that a "failure to pay" event occurred when the sovereign missed a coupon payment. The association will organize an auction on August 21 to settle credit default swaps referencing Argentine debt.
Hence, we are talking about a default. But no matter what name we use, the consequences are the same. Argentina will not be able to access international credit under these circumstances. How long could this situation continue?
Timing issues
Digging deeper into the fine print, there are other issues to consider. Based on a clause known as the Rights Upon Future Offers (RUFO), Argentina cannot make a deal with the holdouts that holds better terms than the ones offered in its two restructurings. Otherwise, it would face a massive amount of trials that could kill the country's finances. To start with, the $1.6 billion can turn into more than $15 billion when the rest of the holdouts claim a settlement, and if the settlement is better than the previous restructurings, new trials would follow as well. Considering that the country holds less than $28 billion in central bank reserves, paying everyone what they want would mean disaster. The situation is tough.
The good news is that this clause expires by the end of this year. Meanwhile, we will probably continue to see a series of accusations and confrontation but no real solutions.

The dispute
Both positions are quite distant from each other and this is what is causing trouble. Thanks to the court win, the holdouts are allowed to cash $1.6 billion from the Argentine government. But, if we apply a haircut similar to the one offered during the 2010 restructuring plus reinvested coupons, they would only get around $400 million, not even close to what they want. Even in the case of an agreement, which would mean at least a 20% increase in the value of the bonds involved according to research by Elypsis, the sum is not enough to reach an agreement.
Any opportunities out there?
Contrary to what many would think, the default scenario has not affected Argentine ADRs pricing significantly. Although there has been quite some volatility, prices maintained their overall strength proving that investor confidence remains despite the recent challenges.
The first asset to take a look at is Global X FTSE Argentina 20 ETF (NYSEARCA: ARGT), which is made of 20 Argentine holdings. This fund continues to show good performance, as it went from $17 in the beginning of February to over $21 now, a 23% increase.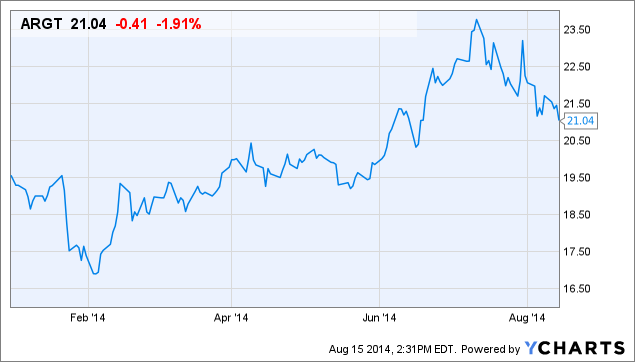 This ETF's biggest holding is Tenaris (NYSE: TS), with 18.5% of total assets. This company is a global provider of seamless steel pipes with a strong presence in Argentina. Second with 12.7% of assets comes Mercadolibre (NASDAQ: MELI), the strongest e-commerce platform in LatAm, and third YPF (NYSE: YPF), an oil giant with 11% of assets.
Given that Tenaris and Mercadolibre hold operations outside the country that export goods and services, their exposure to Argentine economic swings is not total. Plus, Argentina's inability to access credit might not affect them. However, YPF's case is very different.
Pretty much all of YPF's market is domestic, which could mean trouble in the short term as recession deepens in the country. Nonetheless, the company holds a tight relationship with the government, which allowed it to increase its profitability dramatically. The reason is simple. After the company's stock was expropriated from Repsol back in 2012, the Argentine state - which now holds 51% of its stock - began raising fuel prices.
This year alone retail gasoline prices have been increased six times, accumulating a 40% increase, while last year the total price increase was 25%. The government will do its best to make these price increases beat inflation levels. Analysts believe that annual inflation will reach 40% in 2014, while last year it was 30%. Hence, we will probably see more price increases coming ahead.
YPF's stock price has been showing a pretty good performance as well. The chart is quite impressive, especially considering post-expropriation growth.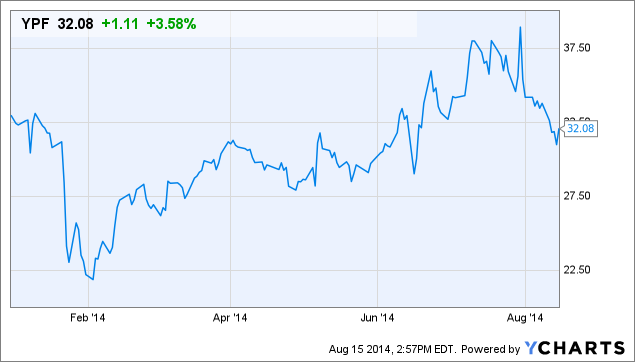 This might be one extra reason why legendary hedge fund billionaire George Soros just increased his position in YPF, becoming the 4th largest stockholder. After buying 8.47 million stocks in the second semester, the fund doubled its position in the oil company and now it is its biggest holding.
Nonetheless, keep your eyes wide open as the country's situation might worsen during this second semester if a solution to the default is not found. Argentina is already experiencing a recession, fiscal deficit, high inflation, and a strong pressure on its currency.
Despite its increasing profitability, YPF is in need of fresh cash to further the development of Vaca Muerta, the 2nd biggest shale gas and 3rd biggest shale oil formation in the world. In April, YPF issued bonds for $1 billion at an 8.75% interest rate and it was considering doing a similar issue during the second semester. As you might have guessed, this plan has been put on the shelf.
Final words
Despite the great performance of most of Argentina's financial assets, we might see a correction coming up as the country's default stretches on.
Given its fundamentals, YPF remains an interesting asset for the long term, but in the short term it might experience strong volatility given its relationship with the government, domestic market exposure, and financial needs.
Disclosure: The author has no positions in any stocks mentioned, and no plans to initiate any positions within the next 72 hours. The author wrote this article themselves, and it expresses their own opinions. The author is not receiving compensation for it (other than from Seeking Alpha). The author has no business relationship with any company whose stock is mentioned in this article.