Business Description
Founded in 2004 and headquartered in Canada, Avigilon (OTC:AIOCF) operates within the video surveillance system industry. The company aims to provide a complete end-to-end suite of security solutions for its customers. On the hardware side, AIOCF has a selection of high-definition cameras ranging from 1MP to an industry leading 29MP. In addition, to pair with its cameras, the company also sells video recorders for storing footage, video encoders to transition from analog to digital, and other accessories. All of its hardware has been designed to integrate seamlessly with its award winning software, which includes the Avigilon Control Center video management software with High-Definition Stream Management. To enhance these core products, AIOCF also offers access control and video analytics solutions to complement its video surveillance systems. Their line of products have not only been distinguished for its quality and effectiveness, but its ability to integrate with legacy systems and third-party equipment, allowing for increased ease of adaptation.
AIOCF's products are sold to resellers (Integrators), who then sell the products to end consumers. The company has a sales and marketing staff to complement the network of Integrators. Overall, AIOCF is able to avoid maintaining a vast distribution system and expand globally. This model has proved successful thus far, as according to the 2013 Annual Report, AIOCF has been installed in over 20,000 sites in over 80 countries in schools, casinos, airports, government facilities, and more. Nearly 60% of its revenue comes from North America and over 23% of its revenue comes from EMEA, or Europe, Middle East, and Africa.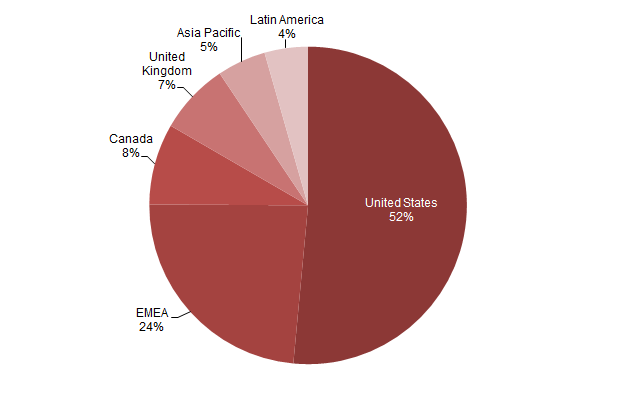 Source: Created by author
2014 Recap
As of today, 2014 has not been a positive year for AIOCF investors. It has been a tremendous growth story since its IPO in 2011, and continually hit new highs up until the start of 2014. In contrast, the stock has experienced two significant drops in 2014: the first due to the departure of their ex-CFO Bradley Bardua due to a personal health issue in May, and the second due to questions being raised regarding their long-term strategy after the release of the Q2 2014 earnings. There were drops of 40% and 30% in the subsequent five trading sessions for each situation, respectively.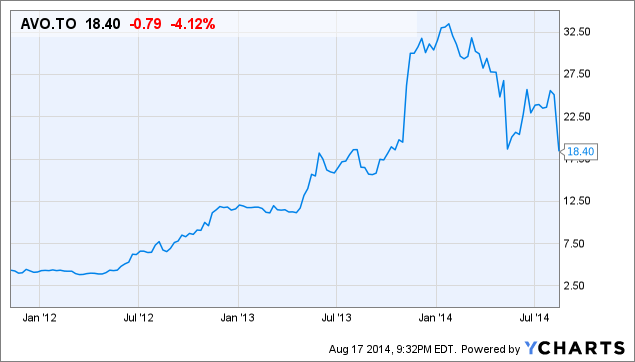 Management has continually restated its goal to reach $500M in revenue by the end of 2016, which was originally made during its IPO in 2011. After experiencing a 66% growth in revenue in Q2 2014 and the company on pace to reach $260M in revenue in 2014, it seems as though they are on pace to hit the aforementioned goal. This can be seen in their most recent Q2 earnings report. However, profitability has become a concern, as the company spent significantly more in operating expenses to obtain this revenue growth.
Implications
With all of this in mind, does this represent the downfall of AIOCF? In our opinion, this purely represents another opportunity for investors to buy into a company that is well on its way towards long-term success. In their most recent conference call, the CEO, Alexander Fernandes, indicated that capturing market share was a primary objective to complement the revenue target. This is logical, as AIOCF is in a prime position today to accomplish this, with industry leading technology and an abundance of legacy systems to either replace or integrate with. The company is less concerned with the costs required to meet that goal, as that is under the discretion of management and can be controlled at a later date when ample market share has been captured.
The surveillance security system industry is rapidly expanding, and according to a report by IHS research, found within the company's 2013 annual report, will grow at a 16.4% CAGR from 2012 to 2016 to reach $23.2B. This growth is driven by the increased focus on security worldwide and a shift to digital surveillance systems from legacy analog systems. It is a highly fragmented industry with no company owning more than 6% of the market as of 2011, with very few companies providing end-to-end solutions. With its current offerings, AIOCF stands to gain significant market share with proper execution. A $500M revenue goal indicates a 2.1% market share, which should be reasonable considering the quality and uniqueness of the company's products combined with its rate of growth.
Valuation
A discounted cash flow model has been selected as the optimal method to value AIOCF. There are few strong comparables that have publicly available information to use to value it. As mentioned before, the majority of its competitors operate in other industries or do not provide a complete suite of security solutions as AIOCF does. Assumptions for the model are detailed in this article, and have been made in a conservative fashion. Share prices are in Canadian dollars for the AIOCF listing on the TSX as of August 15, 2014. All figures have been pulled from company filings to perform this analysis.
To begin, the weighted average cost of capital is required. A beta of 0.57 is calculated through regressing weekly returns of AIOCF since its IPO against the S&P TSX Composite. The CAPM model was then applied to find the discount rate, and the calculations are shown below. Note that AIOCF does not carry any long-term debt, explaining its negative net debt position. Furthermore, it should also be noted that despite a beta of 0.57, this is an extremely volatile stock. The standard deviation of its weekly returns is 6.66%, compared to the standard deviation of the index's weekly returns of 1.42%. As such, to mitigate the risk that the discount rate used was too low, a volatility premium of 2% was added to the final figure.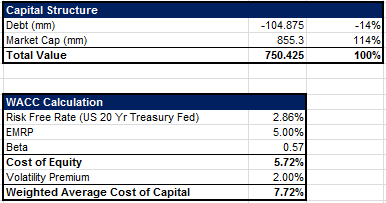 Source: Created by author
Revenue for 2014 was forecasted with the knowledge of the Q1 and Q2 results. Q3 is typically in line with Q2, so flat revenue was forecasted. A 20% growth rate was assumed from Q3 to Q4, which is well below growth rates from those quarters in previous years. Future revenue growth was forecasted at 75% of the previous year. This is quite conservative, as the industry is predicted to grow by 16.4%, and the growth rate for 2018 has dipped below that. Despite management's belief in hitting $500M in revenues by 2016, we are being conservative and predicting a $43M shortfall.
Cost of goods sold, or COGS, as a percentage of revenue decreased significantly in 2013, due to increases in efficiency, a rotation into more profitable product lines, and the decrease in fixed costs on a percentage of revenue basis. There was an additional benefit of the decreased strength of the Canadian dollar, which contributed to the lower COGS ratio. As such, there was a modest increase in COGS as a percentage of revenue forecasted for 2014, which then decreases by 97% due to the aforementioned reasons.
Operating expenses were a major concern after the release of the Q2 results, and this increase as a percentage of revenues has been indicated to be a short-term trend by management. All three components were projected to significantly increase in 2014, and were relatively in line with quarterly results. R&D expenses would decrease as products mature, and general & administrative expenses will flatten once the push for revenues slows down after 2016. Note the significant uptick in sales & marketing expenses, due to the increased amount of pressure to meet the $500M revenue. As part of controlling costs, these expenses have been scaled down in the long term.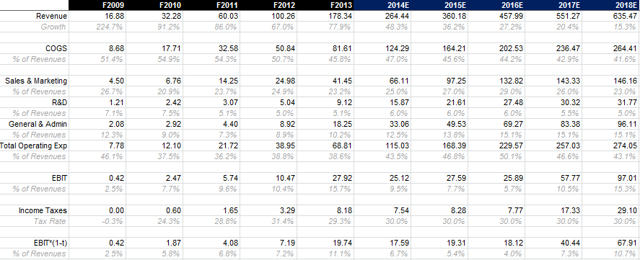 Click to enlarge
Source: Created by author
Change in net working capital was projected by forecasting balance sheet accounts for each year for current accounts. These were either projected using ratios, according to revenue growth rates, or average of the past five years.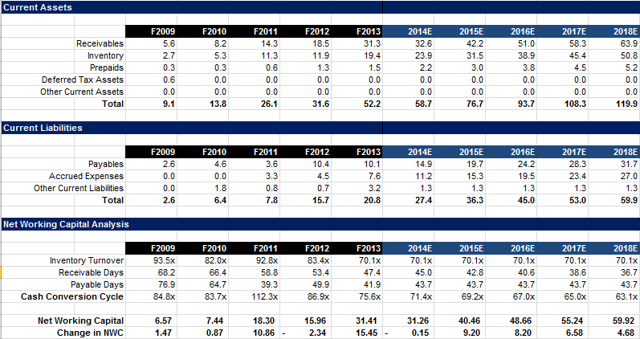 Click to enlarge
Source: Created by author
Depreciation and amortization is projected to trend upwards due to an increased amount of investment in capital assets. Capital expenditures are projected to initially increase due to growth of the business, and then decrease due to the fast growth pace of revenue. Management has indicated that it is not a capital intensive business and does not have any scheduled capital projects for the near future.

Click to enlarge
Source: Created by author
The terminal EV/Revenue method was selected due to the company's emphasis on revenue, and the perpetuity method was also used to calculate the terminal value. The EV/Revenue multiple of 2.1x represents a drastic discount from its current multiple of 3.1x, which has already significantly decreased from over 8.0x near the end of 2013. The EV/Revenue method produces a share price of $27.88 (upside of 51.6%) and the perpetuity method produces a share price of $28.72 (56.1% upside). A sensitivity analysis has also been performed on the share price. Note that since pessimistic assumptions were made when possible, it is far likelier that these share prices represent a floor rather than a ceiling.


Source: Created by author
Catalysts
A primary catalyst for price appreciation is its significant undervaluation to its fair value, as demonstrated above. Outside of the valuation, potential catalysts not integrated into the model would include:
Acquisitions and new products: AIOCF has a history of strong acquisitions that complement its product line (such as RedCloud and VideoIQ) and regularly develops innovative products. This factor would most benefit top line revenues if realized.
Shift to enterprise sales: In the past, AIOCF has had a low amount of its sales come from enterprises. However, the company has begun to focus on enterprises due to higher profitability in comparison to non-enterprise customers, with adjustments to products and increased marketing. Management predicts that the market is composed of 20% enterprise customers and 80% non-enterprise customers, and is currently at around 18% revenue from enterprises as of Q2 2014.
Financial flexibility: Should the company wish to aggressively expand, it has the ability to do so with over 50% of its assets in cash, and no long-term debt.
Risks
Considering its strong balance sheet and that it does not carry any long-term debt, the primary risk in investing in AIOCF would be business risk. Much of the company's value is tied to its future performance, and failure to meet expectations would have a significant negative impact on the company's share price. This has already been demonstrated numerous times in 2014. It is not only imperative for AIOCF to capture market share and grow revenues in the short term, but maintain profitability in the long term as well. Furthermore, considering how the company operates outside of North America, foreign exchange rate risk would be another consideration.
Conclusion
Overall, AIOCF is a company that is currently significantly undervalued due to a market overreaction and strong long-term prospects. Despite being volatile, the risks are mitigated through experienced management and a strong strategy guiding the company. Valuation models indicate that AIOCF is undervalued by at least 50%, and is well deserving of a second look for almost any investor.
Disclosure: The author is long AIOCF. The author wrote this article themselves, and it expresses their own opinions. The author is not receiving compensation for it (other than from Seeking Alpha). The author has no business relationship with any company whose stock is mentioned in this article.