The recent weakness in Whole Foods Market (WFM) stock is a classic example of multiple contraction. A historically fast-growing concept is suddenly challenged by new competition causing investors to flee the stock. This scenario plays out every day in the stock market, but it doesn't mean stock gains are over for investors in the challenged leader.
The organic and fresh food segment remains relatively small, but it is quickly becoming more mainstream with a push for healthy foods. In addition, the movement towards more value concepts like Sprouts Farmers Market (SFM) and offerings at traditional retailers like Kroger (KR) offer better access and distribution to consumers than the traditional upscale Whole Foods.
Whole Foods has to go through a transition of re-pricing the stock that will take time, but the leader of the organic sector has potential to thrive again.
Relatively Small
The number that stands out the most in the last quarterly report is the relatively limited store base for the leading organic food grocer that has been around for 35 years. Whole Foods Market only operated 388 stores with plans to reach 400 this year. As an example, Kroger operates 10,000 stores under several different brands.
The revenue is equally far apart with Kroger generating over $100 billion in annual sales and Whole Foods Market only reaching $14 billion this year. Much smaller Sprouts only expects to reach nearly $3 billion in annual sales this year. The two combined leaders in the fresh and organic grocery segment hardly reach 15% of the sales produced by Kroger alone.
Decent Comp Sales
Again, the issues with Whole Foods Market stock is more of that the stock price finally matters. The stock traded at relatively large earnings multiples for years and the recent guidance cuts have investors second guessing how much they are willing to pay.
Whole Foods Market still has solid comps for Q3'14 of 3.9% that the rest of retail world would die to achieve. It doesn't match the roughly 9.5% comps for Q2'14 of smaller rival Sprouts Farmers Market, but that doesn't mean that Whole Foods is losing out. Sprouts benefits from a younger concept with a newer store base. As the table below shows, the average comps at Whole Foods for stores less than eight years old easily exceeds 5%:

Source: Whole Foods Q3'14 earnings report
Valuation Matters
Ultimately, the numbers at Whole Foods are decent, but the real issue is the valuation multiple that investors are willing to pay is dropping. Over the last year, the forward PE ratio for Whole Foods has dropped from over 30 to below 23.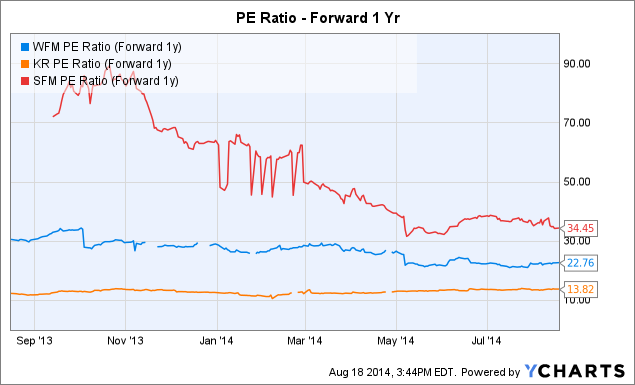 WFM PE Ratio (Forward 1y) data by YCharts
Combined with the plunging earnings estimates seen below, the stock has taken it on the chin dropping from $65 to now below $40.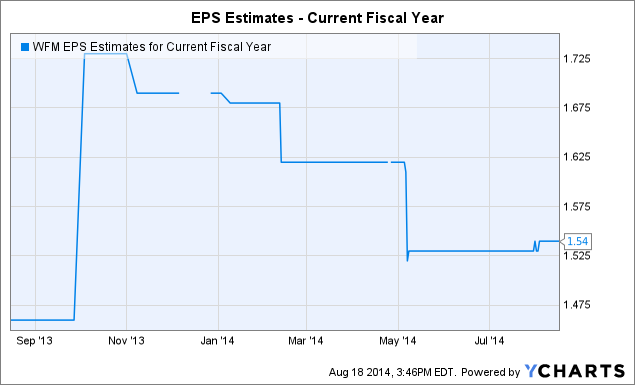 WFM EPS Estimates for Current Fiscal Year data by YCharts
Bottom Line
Whole Foods Market might continue to struggle with the multiple contraction due to higher competition, but it doesn't preclude the company from eventually rebounding after the stock reaches more normalized valuation multiples possibly closer to the 15 to 20 range. The market penetration of the organic and fresh concept remains relatively small compared to the grocery industry. Not to mention, Whole Foods still possesses solid growth that will eventually propel the stock higher. For now though, investors need to relax and not overpay for this stock at over 23x forward earnings estimates.
Disclosure: The author has no positions in any stocks mentioned, and no plans to initiate any positions within the next 72 hours. The author wrote this article themselves, and it expresses their own opinions. The author is not receiving compensation for it (other than from Seeking Alpha). The author has no business relationship with any company whose stock is mentioned in this article.
Additional disclosure: The information contained herein is for informational purposes only. Nothing in this article should be taken as a solicitation to purchase or sell securities. Before buying or selling any stock you should do your own research and reach your own conclusion or consult a financial advisor. Investing includes risks, including loss of principal.