On Monday, Fannie Mae's chief economist Doug Duncan wrote about his outlook for the housing market for the rest of 2014.
"With respect to housing's contribution to growth this year, we have downgraded our outlook following the disappointing housing activity seen during the first half of the year . . . The impact on mortgage rates from the market's expectation that the Federal Reserve would soon start tapering their securities purchases, combined to some degree with the weather effect in the first half of 2014, led to very little seasonal growth in housing. In the first six months of the year, total sales have run below last year's pace. Additionally, on the demand side, there appears to be a conservatism among consumers and their willingness to take on big-ticket purchases, such as homes. We currently estimate that 2014 will finish lower in total sales figures than 2013 - and that 2015, while stronger than 2013 and 2014, will not be the breakout year some are expecting."
Source: Fannie Mae
While his analysis is firmly espousing the establishment line of weather being responsible for the slow housing market at the beginning of the year, he does mention expectations of rising rates, which will surely dampen housing sales. Notably missing from his analysis is an incredible rise in home prices.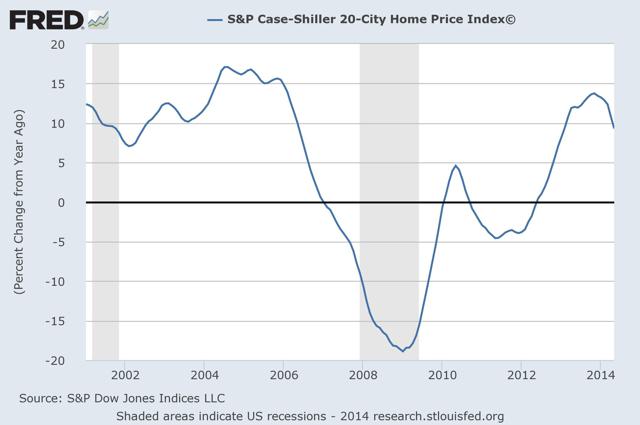 Over the past 2 years, the rate at which home prices increased was comparable to the first half of last decade. There have been magnificent gains in prices and only recently has there been deceleration in this home price run-up.
Adding income to this analysis we see a clear problem.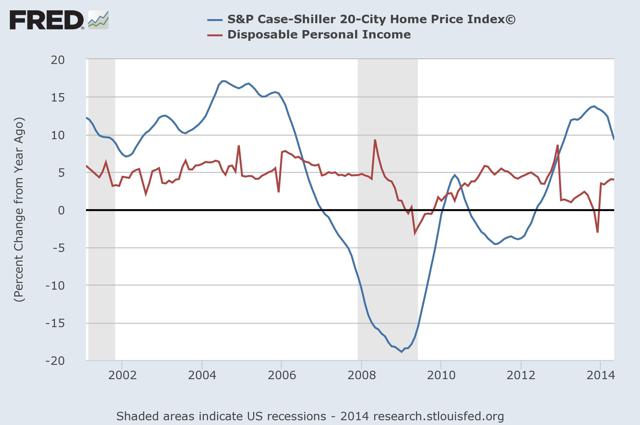 Incomes growth has been relatively weak compared to home prices. Throughout the bubble of last decade disposable income growth hovered around 5%, which is recovered between 2011 and 2013. Since the start of 2013, though, incomes stagnated and only recently do we see growth starting to approach 5%.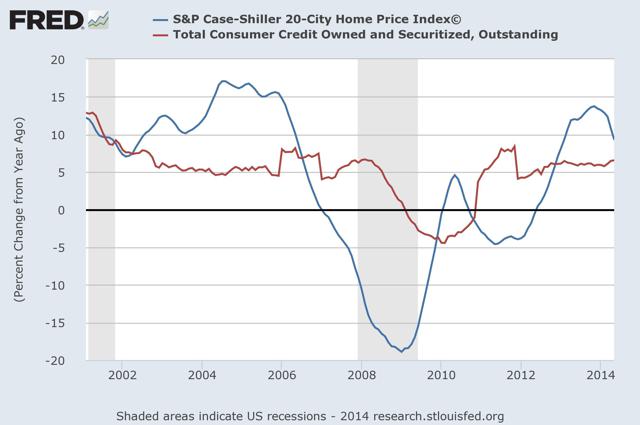 All the while consumer credit growth has continued unabated. What we see is another credit fueled binge like we saw in the last decade, only this time there is a serious lack of income growth. In this current economy, most people have not seen much growth in income, but they have seen rising debt levels. Is this a recipe for sustainable rises in home prices? Of course not, and the market will eventually have to adapt.
Data from DQNews support the analysis.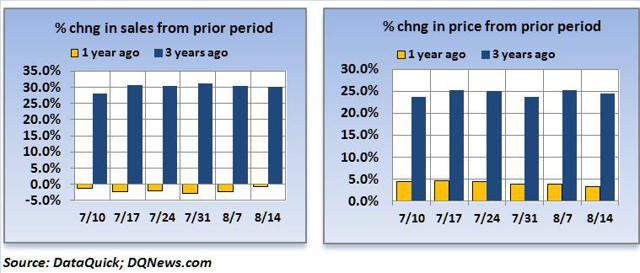 Year over year sales are down noticeably, while prices are still up, though we can see that price increases year over year have tapered in recent weeks. Perhaps home prices are starting to respond to slowing sales numbers. The weakness in sales represents a market that is starting to falter. More noticeable is the fact that investors are starting to hold back.
Cash purchases dropped to the lowest level in more than four years last month. Buyers paying cash accounted for 24.5 percent of July home sales, down from a revised 25.6 percent the month before and down from 30.0 percent in July last year. The last time cash purchases were lower than last month was in June 2010, when 24.2 percent of Southland homes were bought with cash. The peak was 36.9 percent in February 2013, and since 1988 the monthly average is 16.6 percent.
Source: DataQuick
DataQuick information here is exclusively for Southern California, and bubbles are certainly exacerbated in California markets. However, we can extrapolate that investors are starting to get worried about an overheated housing market, and with good reason. Month to month home prices saw their first decrease since January 2012. When home prices start to trend down, they tend to stay that way for a while.
Action to Take
I am currently still shorting SPDR S&P Homebuilders (NYSEARCA:XHB) and iShares Dow Jones US Real Estate (NYSEARCA:IYR). I have purchased put options against both of these equities that expire in January 2016. I recommend shorting both of these companies as these will see a drastic fall in value once people notice the slowdown in housing.
Disclosure: The author is short XHB, IYR.
The author wrote this article themselves, and it expresses their own opinions. The author is not receiving compensation for it (other than from Seeking Alpha). The author has no business relationship with any company whose stock is mentioned in this article.