Introduction
KBC (OTCPK:KBCSY) is an integrated bank-insurance group, focused on serving retail, private banking, SME (Small or Medium Enterprise) and mid-cap clients. Geographically, KBC focuses on 6 core markets: Belgium, The Czech Republic, Slovakia, Hungary and Bulgaria. The bank is also present in Ireland and, to a limited extent, in several other countries to support corporate clients from its core markets.

*Market share calculation: number of clients/total population
As one can deduce from the table above, KBC's most important markets remain Belgium and Czech Republic as it is enjoying staggering market share figures above 30% in these markets. These two markets together with Hungary seem pretty healthy.
What's important to notice is that Ireland is KBC's little problem country, with only 200.000 clients and 15 billions in loans, the bank lends an average of €75.000 per client. That's over 100.000 USD per person in loans while these clients only have an average of €17.500 or 23.000 USD in saving deposits. Not a healthy situation.
On the other hand, Belgium is a little gold mine for KBC. The Belgian's are massively saving their money and are putting it in simple deposit accounts that don't demand much interest from the bank. €97 billion to be exact, and this is clearly an easy source of capital for the bank as their current interest rates are as low as 0.25%.
Main country of operations: Belgium
First of all I want you to know that we have three major banking players here in Belgium; KBC Group, Belfius (the old Dexia), Argenta, ING and BNP Paribas Fortis (who took over Fortis Bank Belgium during the crisis). Of these three, Belfius, ING and Argenta (a spin-off of Credit Agricole(OTCPK:CRARF)) are not even worth mentioning in my opinion, as they are too small.
So the two we'll be focusing on are BNP Paribas Fortis and KBC.
First thing you should know about the Belgian Market is that the Flemish speaking part of Belgium (6 million) is dominated by the market leader KBC (3.5 million clients), and that the French speaking part of Belgium, the Walloon region, is more prone to become a BNP Paribas Fortis client as that bank has its roots in France. Which is important, as the Flemish part of Belgium is way wealthier than the French part; GDP per capita in Flanders is a staggering 36.5% higher than in the Walloon region.
This indicates that KBC has an elite customer-base compared to BNP Paribas Fortis. And this opens doors of opportunity for KBC as it knows that its customers aren't looking to economize on every penny they've got.
What you should also know about the average Flemish person, is that he/she is very tame when it comes to banking, he or she probably has a good paycheck and probably doesn't care much about a few pennies more or less in its bank account at the end of the month and has most likely never read a single investing book. (Which is in my opinion completely stupid as I have an entrepreneurial mind-set) but it is the truth.
So most Belgians just don't care about how they could use their money the best way, you know, to get the highest return on investment. They don't care that inflation is eating away their €95 billion in savings, year after year. All they care about is experiencing: no risks, no major changes, mediocrity and over-all; an easy, comfortable life.
And that is exactly what KBC is offering them. KBC offers its clients by far the best service; its employees are friendly and kind, its website is so much better and user-friendly than those of its competitors, its offices are widespread and omni-present in the street view, everything is well maintained and tidy, and they just look so much more professional compared to their competitors.
It has again, just like Delhaize, that premium feel that people just seem to love. It's the same reason why people buy an iPhone.
So once you become a KBC client, chances are high you'll stick around for a very, very long time.
Another advantage that lies in direct relation to this fact, is that KBC has very little non-performing loans in Belgium: only 2.6%.
My point being: KBC has a very, very, very strong domestic market and this will not change any time soon. And Belgians know that KBC has such a strong foundation, and that's why almost every, more or less, affluent individual in Belgium owns at least some KBC shares.
I can't back this up with data; but I'm very confident that the stock's recovery from €10 to €40 since Jan 2012 was largely funded by a large amount of Belgian investors.
Area of operations: GDP Growth outlook

Since we are investigating KBC's area of operations, I thought it would be helpful to take a look at KBC's other core markets and their expected real GDP growth.
And as it turned out, KBC is very well positioned for a further recovery in its overseas markets. Countries like Hungary and Slovakia will be growing at much higher rates than, for example, France or Italy. And is therefore better positioned to experience a further recovery in earnings and profitability than its European competitors who are mainly focusing on France, Italy, Germany and Spain.
Balance sheet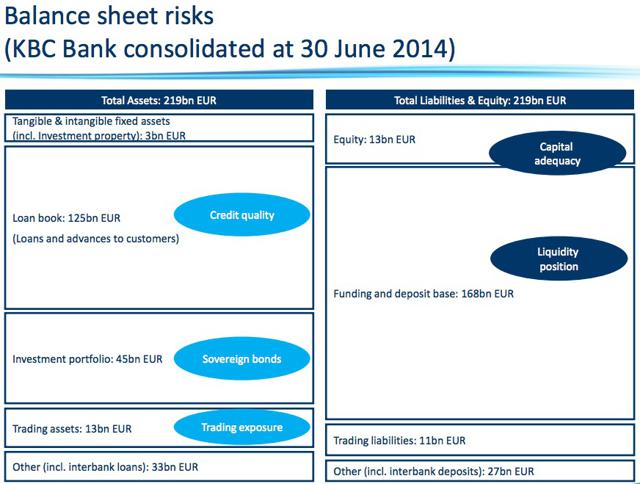 If there are two things you can't say about KBC, it's 1). that it doesn't actively manage its capital and 2). that it didn't become a much fitter bank after the crisis.
The bank sold 25 of its operations, did numerous capital management exercises and is now enjoying a very clean balance sheet (see photo above), meets every international equity ratio standard and is sitting on 5 billion EUR loss absorbing capital.
The bank also paid back all the aid it received from the Belgian Federal Government in 2012. It repaid 1.17 billion euros to the Flemish Regional Government in 2013 and a further 0.33 billion euros at the start of 2014, together with a 50% penalty on both occasions. The bank intends to repay the outstanding balance of 2 billion euros plus penalties in installments by 2020 or sooner, subject to the approval of the regulator and only, of course, if the bank's capital position allows it to do so.
I want to point out how this is a clear sign of very effective and strong/ethical management. Unlike other banks, KBC did not cost the taxpayer a lot of money. In fact, by the end of the process, KBC will have repaid over 13 billion euros in principal, penalties, interest and CDO guarantee fees in return for the 7 billion euros in aid and the CDO guarantee agreement.
This has been widely covered in the Belgian media and has again contributed to KBC's popularity in its core market.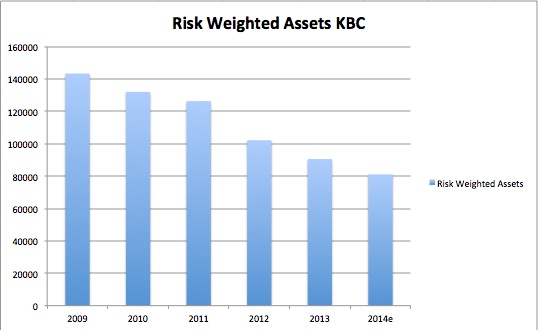 Risk Weighted Assets have also been declining at a severe pace and the Risk Weighted Assets vs. Total assets percentage is expected to hit the median level of 32% by the end of 2014. Which is again a clear sign that KBC does no longer want to be associated with risky banks who take irresponsible risks.
This lies in huge contrasts with what the bank was doing before the crisis: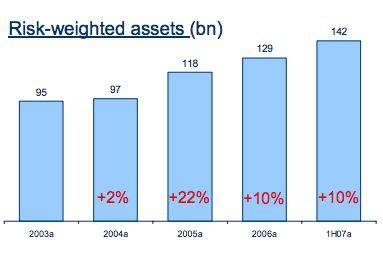 This is a picture taken from the Company's 2007 report. Where it was showing investors how smart they were by increasing their Risk-Weighted assets.
Its business activities: Consumer/retail Loans as low as 2.14%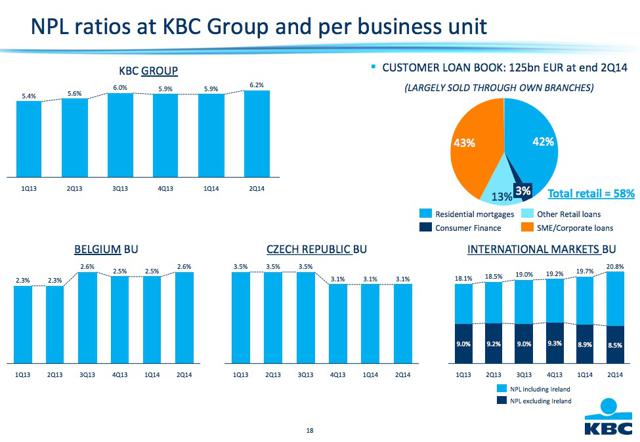 As one can see above, KBC's nonperforming loans are quite high and are still being influenced by the financial crisis and the European Debt Crisis that struck Ireland hardest. Non-performing loans of Ireland even hit a 6-quarter high during 2Q 2014.
Good news is that Belgium, Czech Republic and International markets were showing stable, if not declining NPL percentages with Belgium clearly showing strong figures of only 2.6% NPLS. If it wasn't for Ireland, the bank should have a NPL ratio far below 4.5%.
Further, I belief it is worth mentioning that 42% of KBC's loans are backed up with some form of real estate. Before the crisis, 45% of KBC's net profit came from retail loans, which are way more risky as they are probably not backed up with tangible and valuable assets. (Again: the bank learned from its mistakes).
The current high amount of mortgage loans can be seen as a positive as it gives the bank something to sell when the client defaults but it can also be seen as a risk, as it indicates a high exposure to the well being of the housing market. I prefer the former as I prefer my bank to hold a lot of valuable assets instead of risky retail loans.
Ironically though, 83% of KBC's outstanding loans in Ireland are mortgage loans, of which +-13% are currently Non-performing and are causing trouble.

Another positive point is that KBC has already taken a total of over 1.1 billion euros in impairments to cover these non-performing loans in Ireland and will be putting aside even more money during 2014 (200mil) and 2015 (150mil).
Because of the impairments, real credit risk caused by these non-performing loans has been neutralized, the bank acted proactively and was not trying to boost earnings by not provisioning enough.
Management also said it is expecting to break-even during 2016 on its Ireland business unit. So the Ireland-risk-factor has been completely neutralized and is no longer valid.
Dividends: Forced to pay during harsh times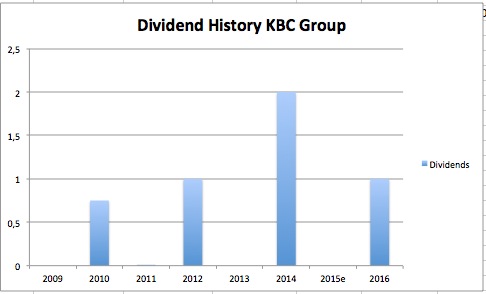 As you can see on the remarkable graph above, in agreement with the Flemish Government, KBC was not allowed to skip 2 dividend payments in a row and had to pay at least 3 dividends in 5 years time.
It was a quite harsh arrangement for the bank, that it had to pay dividends while trying to cut expenditures, but it had no other choice than accept the terms of the government if it wanted to survive.
KBC will be paying a €2 dividend during 2015 for fiscal 2014, but will not distribute a dividend for fiscal 2015. (So be happy, all you dividend lovers).
After that, a normal dividend payment plan is expected with a payout ratio of 50%. The general consensus is expecting a dividend above €1 per share for 2016, but I'm conservative in my expectations.
Profitability
When looking at profitability, it is important to see how high the bank's net interest margin is. Net interest margins measure how profitably a bank is making investments. It takes the interest a bank makes on its loans and securities, subtracts out the interest it pays on deposits and debt, and divides it all over the value of those loans and securities.
Net interest margin for KBC currently is 2.05%, up from 2.00% in 1Q 2014. Which is not excellent. But at least it is improving despite of the continuing losses made by the Ireland and Hungary division.
Next, let's take a look at return on equity, showing how well a bank turns its equity into earnings. Return on equity for the first half of 2014 was 11%, up from 9% in 2013. Which is a very solid number, mainly caused by an increasing profitability of its Belgian and Czech Republic activities; who returned respectively 27% and 41% on their allocated capital.
Conclusion
In 5 years time KBC Group really transformed into a smaller, fitter and cleaner banking group. The bank seems to have really learned from the past and I admire its excellent management that lead the bank trough this tough transition.
The bank is enjoying a very healthy balance sheet, with declining Risk Weighted Assets, €5 billion loss-absorbing capital, a strong loan-book (except for Ireland) and a €168 billion liquidity position.
Its core markets are both alive and kicking, its customer base in Belgium is a strong and wonderful foundation that will last for many decades to come and its Czech Republic operations is showing immense profitability figures above 40%.
Once the bank gets its International Markets segments to break even, KBC will report outstanding figures and will be a true cash-cow for investors, just as it was before the crisis. In a case of break-even by 2016, KBC could easily report €1.5 Billion net income or €3.59 earnings per share. At a P/E of 15, the stock will then be quoting at €54. This gives the stock an upside potential of 31%.
Disclosure: The author has no positions in any stocks mentioned, and no plans to initiate any positions within the next 72 hours. The author wrote this article themselves, and it expresses their own opinions. The author is not receiving compensation for it (other than from Seeking Alpha). The author has no business relationship with any company whose stock is mentioned in this article.
Additional disclosure: Isin number to buy this stock on its original exchange: Euronext Brussels: BE0003565737
Editor's Note: This article discusses one or more securities that do not trade on a major U.S. exchange. Please be aware of the risks associated with these stocks.