Due to the low number of large-scale retailers in Australia, Woolworths Limited (OTCPK:WOLWF) (ASX ticker is WOW) enjoys a duopoly in Australian supermarket and general retailing industry along with its main competitor Wesfarmers Limited (OTCPK:WFAFF) (ASX ticker is WES) . Together they control about 70% - 80% of their market, with much smaller retailers like Metcash Ltd. (OTCPK:MCSHF) (ASX ticker is MTS) (a wholesaler that manages a network of independent grocers), as well as foreign competitors like Aldi, as second-tier players.
If you are wanting market dominance, large-scale operations and stable growth, then look no further than Woolworths Limited.
Past earnings and revenue performance
Earnings per share growth has been about a compounded 12% annually for the past ten years. During that time, revenue has almost doubled. In recent years, earnings growth has slowed to a compounded 7.2%. Several factors may be the cause-
1. tighter retail market with general retail trade weak over past year
2. more competitive pricing from rival Wesfarmers and smaller discount retailers (Aldi, etc.)
3. rising product costs pressuring margins
4. entrance into the DIY Hardware market with its Masters brand big-box stores is not producing the returns expected and taking longer to get to a break-even level (more about this below).
Management's performance through metrics, ratios
Although net profit margins are regularly around 3% - 4%, the company has maintained strong returns on both equity and capital (around 21% and 27%, respectively). As the largest supermarket and general retailer in Australia, management is doing well in implementing savings programs and introducing a new supply-chain logistics system to wring out extra earnings, though it is still not complete.
Book value has increased, and the number of outstanding shares has been stable over the past six years.
Financial Strength
Long-term debt is around AUD 4.3 billion (US$4.01 billion) as of January 2014, which is less than two times fiscal 2013 net profit, so it has a good control of debt, which I like to see five times or less. Net gearing is about 38.7%.
Stock price movement
The company recently reached a new all-time high in April 2014 on the Australian Stock Exchange (see chart 1- 15-year chart ASX). You can see that Woolworths is a classic growth stock, in that once it rises above earlier mult-year highs, it continues the rise as the market anticipates steady earnings growth.
Chart 1- Woolworths 15-year ASX stock chart (values in AUD)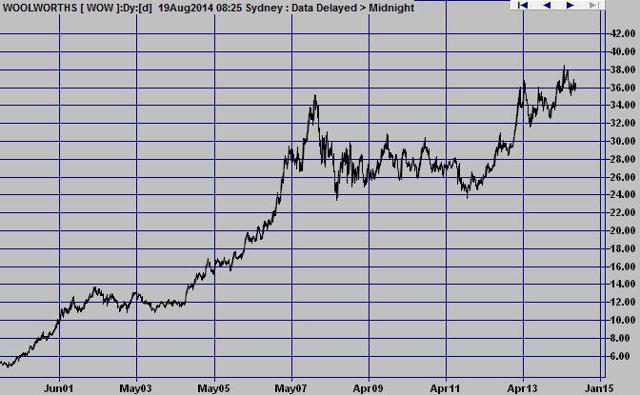 Source: incrediblecharts.com.au
Then it stays in a trading pattern as the price comes back in line with earnings. Once it again breaks through the previous multi-year highs, it starts the sequence again for the next step up.
With the ASX stock price above the 2008 highs, it may be beginning the next leg up. If this share price growth pattern holds, then investors who take positions early in the next step up may get the most of the rise before it peaks and ranges for another several years following.
The ASX-listed shares have gained in share price a compound 11.6% annually since 2004. Currently, the dividend yield is 3.7%.
Over the past four years the Woolworths ADR price has risen a compound 8% annually (see chart 2- Woolworths ADR).
Chart 2- Woolworths ADR WOLWF 10-year stock chart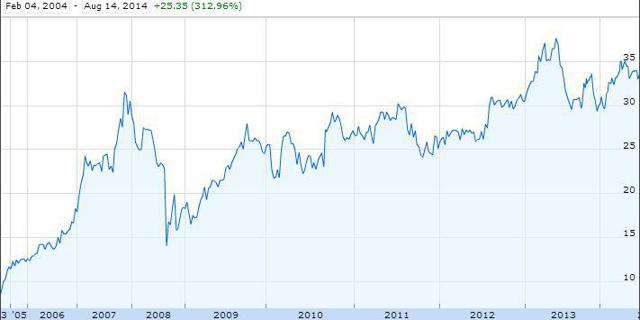 Source: Google Finance
Growth plans
From the sheer size of the company and its extensive coverage across Australia, its long-term growth will tend to resemble the general population growth of the country. It has expanded successfully in the liquor retail market, taking the lead ahead of Wesfarmers.
On the other hand, its entrance into the DIY Hardware market, where Wesfarmers is clearly the leader with its Bunnings Warehouse business controlling about 20% market share, has been disappointing. It is not getting the traction it expected initially, and recent losses for this division are expanding. It may be several more years before it hits a break-even point. The company is slowing the new store growth as it concentrates on making the existing stores more profitable. These can be seen as growing pains of a new business division, yet may prove to be worth it because the DIY Hardware store market is highly fragmented and is large enough to make an impact on Woolworths' overall revenue and earnings if successful.
Next, Woolworths and Wesfarmers will be moving into financial services. Woolworths wants to start with personal loan services, but may expand into more banking services if it acquires a banking license. Banking and lending are of a sufficient scale that could appreciably move revenues.
From what I see
I think that Woolworths can continue growing earnings steadily in the mid to long-term, and short-term setbacks like the Masters DIY Hardware should be seen as much. Management is doing well, and long-term investors may be able to achieve current trend share price growth over the next 5 - 10 years. Woolworths has consistently raised dividends every year in the past ten years, so shareholders can also have a steady income stock.
Growth may ease, but new business initiatives like financial services could add a new layer of earnings that may stabilize profit growth trends. It could be a good addition for dividend income investors building a retirement portfolio.
Disclosure: The author has no positions in any stocks mentioned, and no plans to initiate any positions within the next 72 hours.
The author wrote this article themselves, and it expresses their own opinions. The author is not receiving compensation for it (other than from Seeking Alpha). The author has no business relationship with any company whose stock is mentioned in this article.
Editor's Note: This article discusses one or more securities that do not trade on a major U.S. exchange. Please be aware of the risks associated with these stocks.