A.O. Smith (NYSE:AOS) could be called a boring company. It provides energy efficient products to heat and clean water for both residential and commercial clients. Their products are not as flashy as the new iPhone from Apple or as complex as chips from Intel, right? You would be surprised to learn that A.O. Smith's total return in the last 5 years was almost 600%! This is more than twice the return compared to the Russell 1000 Index or the S&P Midcap 400 Index. Apparently, boring companies can post stellar results!
This article shows you why fundamentally A.O. Smith is a great company.
Introduction
According to A.O. Smith's annual report, the company is:
...a leading diversified provider of innovative, energy efficient products to heat and clean water. The company is one of the world's leading manufacturers of residential and commercial water heating equipment and boilers, offering a comprehensive line featuring the best-known brands in North America, China, and India. It also manufactures water purification products for residential and light commercial applications.

A.O. Smith is headquartered in Milwaukee, WI, and employs approximately 11,400 men and women at operations in the U. S., Canada, Mexico, China, India, the United Kingdom, the Netherlands, and Turkey.
A.O. Smith has a market share of over 40% in the residential market for water heaters. Other competitors in this segment include Rheem (30%) and Bradford White (20%). Since I don't own a water heater from any of the three mentioned companies, I can't speak from experience, which is better. There are a lot of differences in terms of energy efficiency, recovery rate, lifetime of the tank and warranties. Considering the fact that A.O. Smith has such a high market share in a competitive and technologically advanced market, they probably know what they are doing!
One of the bigger differences between these companies is the international presence. A.O. Smith is actively pursuing international growth, especially in China and India. Since both Rheem and Bradford White are private companies, it's difficult to compare their international ambition and progress with A.O. Smith. Rheem has a few international offices but none in China or India. Bradford White does not even have international offices. It seems like A.O. Smith's ambition to grow in China and India with quality products is what sets them apart from their domestic competitors.
So before I go into the financial numbers, let me share something I read here:
A.O. Smith actually set the bar for energy efficiency back before the government made it a requirement. Since A.O. Smith was the leader in efficiency, the government required that all water heaters produced meet the energy savings of an AO Smith water heater.
So this definitely shows the level of innovation and desire to make better products!
Revenue and earnings growth
The last few years A.O. Smith was able to increase sales by 12% on an annualized basis. The rest of the world segment consists of sales in mostly China, India (91% together) and Europe (9%). Both segments manufacture and market comprehensive lines of residential gas, gas tankless and electric water heaters and commercial water heating equipment in their respective regions. The difference is that the North America segment also sells specialty commercial water heating equipment, condensing and non-condensing boilers and water systems tanks. The rest of the world segment specializes more in water treatment products, primarily for the Asian region.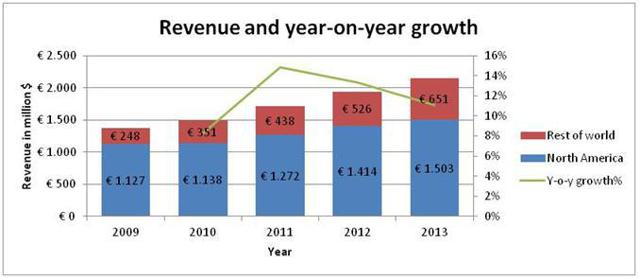 (Source: created by author)
China has been a special success story for the company. They've done business in China for almost 20 years. Recently A. O. Smith opened its second manufacturing plant in Nanjing. This facility is estimated to nearly double the company's manufacturing capacity in this important growing China market.
What are the main drivers of revenue growth?
For 2015, management estimated that organic revenues would climb to over $2,500 million. The main driver behind this growth is the rest of the world segment. In the North America market, A.O. Smith forecasts an increasing number of condensing boilers in the coming years, see the slide below.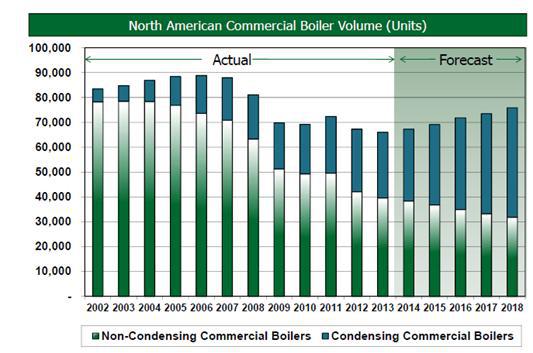 (Source: Slide from 2014 summer presentation, data from BRG Building Solutions)
The rest of the world segment is where the real growth is. The target customers in China are urban households with an annual income of over $16,000. This group continues to grow rapidly to 187 million households in 2020. In 2010, only 18 million urban households had an annual income of over $16,000. This presents a big opportunity for A.O. Smith in the coming years!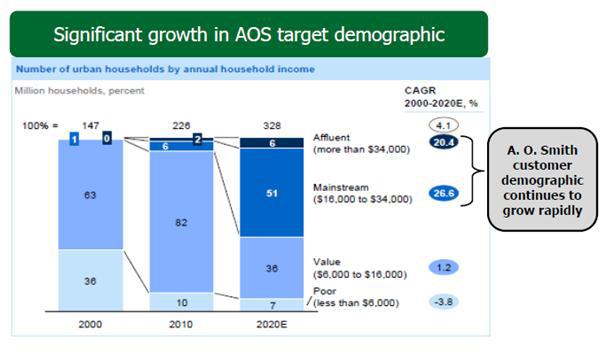 (Source: Slide from 2014 summer presentation, data from McKinsey Insights China, April 2012)
The same development can be seen in India. In 2008, around 33 million households in India earned more than 200,000 rupees. This particular group is the target demographic for A.O. Smith's products. This group is estimated to grow to 93 million households in 2020 and 171 million in 2030.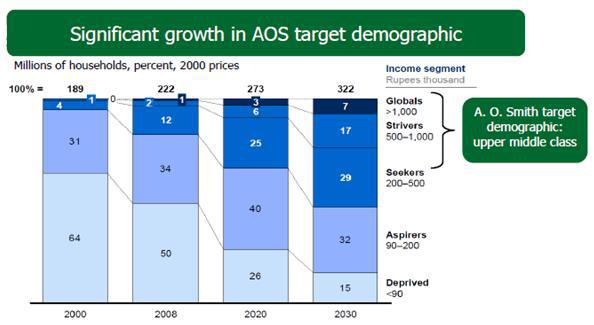 (Source: Slide from 2014 summer presentation, data from India Urbanization Econometric Model, updated 2010)
So the increased presence of A.O. Smith in China and India could work out great in the coming years. The next question is whether A.O. Smith is able to turn these sales into profit because ultimately that is what counts for shareholders.
Profitability
Operating margin is defined as the cash flow from operations as a percentage of revenue. The last few years it varied between 5 to 20%. Currently the operating margin is around 13%. The outlier in net earnings in 2011 is related to the sale of EPC.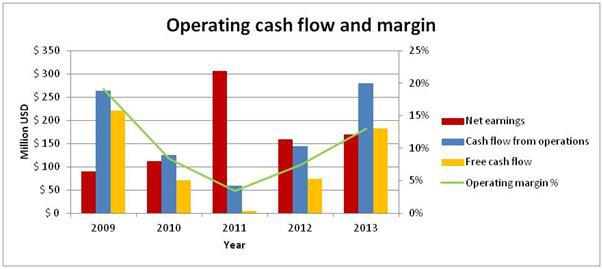 (Source: created by author)
Free cash flow is calculated as cash flow from operations minus CAPEX. Free cash flow can be used to fund growth opportunities, retire debt, share buybacks or pay dividends. Management is forecasting free cash flow of $165 million in 2014, which is 10% lower than in 2013.
For now, A.O. Smith has ample free cash flow to cover the repurchase of common stock, pay and increase the dividend, while still having surplus cash to look for other growth opportunities through acquisitions.
Balance sheet
The balance sheet is pristine. There is hardly any long-term debt. Total debt decreased nearly $52 million to a total of $191.9 million in 2013, resulting in a total debt to total capital ratio of 13 percent. The interest coverage ratio is over 40, which means that A.O. Smith is easily able to service the long-term debt. The current ratio (which measures the company's ability to pay back its short-term liabilities) is over 2x in the last four years.
To top it all off, A.O. Smith has almost $500 million in cash at hand which management can use to pursue acquisitions or share repurchases. All in all, the balance sheet is a fortress.
Dividend
The bad thing about A.O. Smith is that it currently yields just 1.25%. A few years ago, the dividend yield was higher at around 2%. In the preceding decade, the average annual dividend raise was 5%. However, in recent years management has decided to 'up the ante' and provide shareholders with higher raises. In the beginning of 2014, the company raised its quarterly dividend with $0.03 to $0.15, an increase of 25%. These kind of dividend raises really shows that management is confident about the future prospects of the company.

(Source: created by author)
The dividend is easily covered considering the payout ratio of 29%. Based on free cash flow the payout ratio is even lower at 23%. The company has paid a dividend on its common stock since 1940. Yeah, that's since World War II! A.O. Smith has raised the dividend on an annual basis for 21 years. With earnings estimates of 23% per annum in the next 5 years, A.O. Smith is poised to grow their dividends at a pace far beyond inflation. However, because of the low starting yield this company seems to be better suited for income investors with a longer compounding time frame.
Valuation
For what it's worth, the 10 analysts who cover A.O. Smith consider it a buy / outperform. The price target varies between $53 and $70 with a mean price target of $59 (all data derived from Yahoo Finance).
Currently, A.O. Smith sports a hefty P/E-ratio of 23. The historic P/E ratio is around a 16-18 multiple, which suggests the company is overvalued. The future P/E ratio (based on 2015 projections) is around 18x. The price/earnings to growth (PEG) ratio also takes into account the company's earnings growth. The PEG ratio is slightly under 1, which means that the stock is considered cheap.
Price/Sales ratio: In the last 5 years, the price-to-sales ratio has averaged roughly 1.5x. With the latest quarterly earnings release, revenue per diluted share of $24 puts the valuation of the company around $36 per share.
The Price/Book ratio also suggests that the stock is overvalued. This ratio averaged 2.5x. in the past few years. Slapped on the current book value of $15 per share, this works to a price target of around $37-38 per share.
In terms of valuation, A.O. Smith appears to be overvalued. An investment in this company is definitely made with the long term in mind.
Summary
A.O. Smith is a great company with a fortress-like balance sheet and ample cash flow to support future growth and share repurchase. Sales are increasing, especially in the rest of world segment. The target demographics in China and India are estimated to increase 26% and 9% CAGR until 2020. Management increased dividends at a greater pace in the last years, which reflects their confidence in future business operations. However, the downside is that the stock seems overvalued and yields only 1.2% at current prices. For these reasons, I am hesitant to invest at these prices and would welcome a pullback to their 52wk low of $41.
Disclosure: The author has no positions in any stocks mentioned, and no plans to initiate any positions within the next 72 hours. The author wrote this article themselves, and it expresses their own opinions. The author is not receiving compensation for it (other than from Seeking Alpha). The author has no business relationship with any company whose stock is mentioned in this article.