The biotech universe has been a hot investment option towards the end of the year for those looking for high risk high reward equities. This industry offers investors a chance to find companies where price per share is valuated based on science rather than heavy influence from major indices and economic news around the world. Though often times it is hard to distinguish the golden eggs among the rotten ones, it is becoming increasingly popular to see investors and firms begin buying up companies prior to their upcoming FDA catalysts in anticipation of the news, often a few weeks or months in advance.
One of the companies looking to take advantage of the recent inflow of attention to the small cap biotechs is BioSante Pharmaceuticals (NASDAQ:BPAX), who has 2 upcoming catalysts for the first half of 2011 which could easily propel the company to new 52-week highs. It is expected in the coming weeks that the company begin phase 2 study at Johns Hopkins cancer center for GVAX (therapeutic cancer vaccine) and also to receive phase 3 results for its flagship product, LibiGel to support an NDA filing.
With a market capitalization of only 112M, it isn't a surprise the company's Director, Ross Manango has been scooping up shares at $1.47 during December in anticipation of the company's forward looking events during the new year. The company has also increased cash on hand by nearly $6M from product revenues and partnerships year-over-year as its clinical pipeline continues to grow stronger, dispelling any worries of future dilution. (source: 11/12/2010 10-Q EDGAR ONLINE)
Such occurences have recently been witnessed in XOMA (NASDAQ:XOMA) whose shares rose a whopping 204.68% since last Monday's trading, Repros (NASDAQ:RPRX) who jumped 82% on Thursday, and ACADIA (NASDAQ:ACAD) who went on to gain 31% on Wednesday and Friday's market. Though no material news was formally announced neither XOMA nor ACADIA, the shares jumped solely in anticipation of upcoming FDA catalysts, with Repros being the exception of the three. Repros reported positive developments for its experimental testosterone deficiency drug, Androxal.
What's most important to note is that all three of these companies saw heavy institutional accumulation during the last three months leading up to their anticipated catalysts, something BioSante has yet to experience. Of the 62 institutional holders, 8 are new positions, 24 have increased positions during the last 3 months as reported by NASDAQ. These include prominent names, of the likes including, Condor Capital, WMS Partners, JP Morgan Chase, BNP Paribas and Comerica Bank.
Product Porftolio
Click to enlarge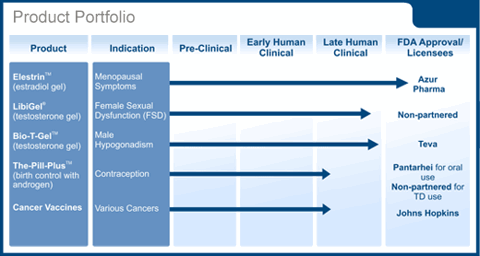 BioSante specializes in developing products for female sexual health and oncology, and one of them is LibiGel, which most investors anticipate as having blockbuster market potential. It is a gel formulation of testosterone, designed to be quickly absorbed through the skin after a once-daily application on the upper arm, delivering testosterone to the bloodstream evenly over time and in a non-invasive and painless manner. The topical application of LibiGel has the added advantage of reduced skin reactions compared to other forms of transdermal delivery systems (i.e. patches).
Treatment with LibiGel in BioSante's Phase II clinical trial significantly increased satisfying sexual events in surgically menopausal women suffering from FSD. The Phase II trial results showed LibiGel significantly increased the number of satisfying sexual events by 238% versus baseline (p<0.0001); this increase also was significant versus placebo (p<0.05). In this study, the effective dose of LibiGel produced testosterone blood levels within the normal range for pre-menopausal women and had a safety profile similar to that observed in the placebo group. In addition, no serious adverse events and no discontinuations due to adverse events occurred in any subject receiving LibiGel. The Phase II clinical trial was a double-blind, placebo-controlled trial, conducted in the United States, in surgically menopausal women distressed by their low sexual desire and activity.

"There still is no FDA approved pharmaceutical product for the treatment of HSDD and it is clear from the extensive off-label use of testosterone products for HSDD, that women need an approved therapy. We believe LibiGel can be the first product to market for this unmet medical need," said Dr. Snabes, MD, PhD, BioSante's vice president of clinical development.
Partnerships
Probably the most overlooked aspect of this company is its ability to gather partnerships for its products, thus eliminating any pressure on its balance sheet and allowing it to profit handsomely from the increasing revenue streams. During the last 3 years it has teamed up with the likes of Teva (NYSE:TEVA) for the development of Bio-T-Gel, Pantarhei for development and marketing of The-Pill-Plus, Azur Pharma for marketing of Elestrin in the US, and PharmaSwiss for marketing of Elestrin in Israel.
Technical Analysis
Click to enlarge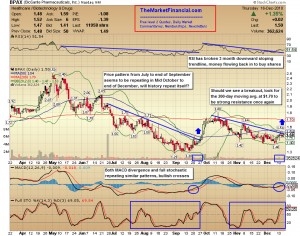 During the last three months money has been flowing out of the stock, which coincides rather similarly to the July, August, September period. The relative strength index, price patterns, MACD divergence and full stochastic all point to a potential breakout should history repeat itself. The reason for this might be that market makers and institutional buyers have been keen on keeping the price low in order to buy up cheap shares in anticipation of the upcoming events that are bound to stir up investor appetite.

Based on this, it becomes more clear as to why during the last six months, three analysts have recommended the stock as a strong buy, and one as a buy. Of these, Roth Capital in October was the latest to come in and give it a price target of $4, representing nearly a 325% gain from current levels.
Disclosure: I am long BPAX.