Overview:
The AllianceBernstein Global High Income Fund (NYSE:AWF) is a long standing global bond fund launched in 1993. It is a high yield taxable bond fund run by the team at AllianceBernstein. On May 23rd, AWF reduced its distribution rate by 19%. The market responded by widening the discount to NAV from 1.90% to 10.03%. AWF's price has started to rebound and today AWF is trading at an 8.09% discount. AWF has a strong NAV performance track record and still offers an attractive 6.96% distribution. For those worried about rising interest rates, AWF has an effective duration under five years. AWF also has relatively low leverage at 16.5%, which could offer lower risk than more highly levered funds. The discount of 8.09% appears to offer an attractive entry point for this strong fund.
Key Investment Highlights:
Discount to NAV: AWF is currently trading at an 8.09% discount to NAV. This is significantly higher than its 1-year average discount of 3.78% and its three-year average discount of -0.10%. Evidence of the wider than normal discount is the Z-Statistic of -2.11 showing the current discount is trading more than 2 standard deviations wider than normal.
Low Cost, Quality Management: AWF has an expense ratio of 0.97%. This is a relatively low expense ratio for a high income closed end fund, particularly one that has a strong performance track record. AWF has put up strong performance with a 14.52% annualized gain over the past five years. On a NAV basis, the fund has only had three down years in the past 20, a pretty strong showing.
Attractive Distribution: AWF currently offers a 6.96% distribution. The current distribution appears covered by earnings and should be sustainable. Distributions this high are not widely available in this market, particularly in securities with relatively low leverage and short duration.
Key Investment Risks:
Bond Default Risk: 83% of AWF's holdings are either rated below investment grade or unrated. These securities have a higher risk of default and loss of principal. A slowing economy or major currency changes could increase the risk of defaults which would hurt performance.
Interest Rate Risk: The risk of rising interest rates is one that investors seem particularly concerned about today. AWF's portfolio has an effective duration of 4.76. The duration is pretty low and for a fund of this kind, but if interest rates increase substantially, it could have a negative effect on the portfolio's value.
Spread Risk: High yield bond spreads have contracted dramatically, as default rates have remained low and investors stretch for yield. If risk tolerances decrease it could drive high yield bond spreads wider causing losses in the portfolio. This would have a negative impact on the fund.
Key Portfolio Metrics:
Premium/Discount: -8.09%
Z-Statistic -2.11
Market Distribution Rate: 6.96%
Current Monthly Distribution: $0.081
Average Earnings/Share: $0.0846
Average Earnings/Distribution: 104.4%
UNII Per Share: $0.0203
Effective Leverage: 16.48%
Effective Duration: 4.76
Average Bond Price $102
Performance:
Using ETFs with a similar investment objective can give a good comparison to evaluate management's performance. AWF's stated benchmark is 33% JPMorgan Government Bond Index-Emerging Markets, 33% JPMorgan Emerging Markets Bond Index Global, and 33% Barclays U.S. Corporate High Yield Index. The iShares iBoxx $ High Yield Corporate Bond ETF (NYSEARCA:HYG) and the iShares JPMorgan USD Emerging Markets Bond ETF (NYSEARCA:EMB) track benchmarks close to AWF's stated benchmark and offer good goalposts for the fund. AWF has a long track record and compares favorably to HYG over all time periods examined based on NAV performance. On a NAV basis, AWF is also favorable to EMB over the three- and five-year periods but has been trailing recently.


Data as of 7/31/2014 Source: Morningstar
Premium/Discount: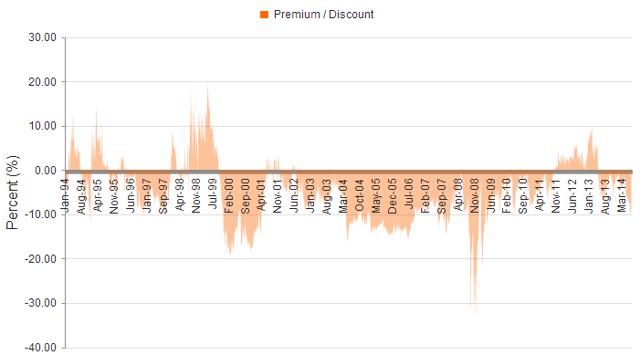 Source: CEFConnect
The fund closed 8/18/2014 at an 8.09% discount to the NAV, or underlying value of the portfolio. This is below the 52-week average discount of 3.78%. The recent distribution cut has been a major contributor to the increase in the discount, along with concerns about higher interest rates. AWF has a strong performance track record and has traded at narrower discounts and even at premiums in the past. The discount should narrow once the market fully digests the distribution cut.
Expense Ratio:
AWF pays 0.90% of weekly average net assets to AllianceBernstein for investment management. The annual expense ratio for AWF as of 3/31/2014 was 0.98. This is a relatively low fee for a closed end fund. The fee is particularly low when considering the strong work that management has done over time.
Distribution:
AWF recently decreased its monthly distribution from $0.10/share to $0.081/share. The new distribution equates to an annual distribution yield of 6.96% based on current market prices and 6.39% based on NAV. The recent distribution cut has brought the distribution in line with the fund's earnings. The distribution cut has been a contributor to the widening of the discount. Hopefully, management has set the distribution appropriately so that further cuts won't be necessary.
Leverage:
AWF employs leverage gained through investment operations. This leverage is largely reverse repurchase agreements and other investment transactions. This is a relatively low cost form of leverage in the current market. The use of these activities is one of the reasons that the expense ratio is so low even for a leveraged fund. This does cause concern over the long-term cost of leverage. If interest rates rise, it could rise the cost of leverage to the fund since AWF doesn't have fixed cost leverage in place.
Liquidity:
AWF is a large CEF with $1.3 billion in net assets. Trading volume is robust with 243,000 shares traded on the average day. This represents $3.5 million in daily volume at current prices. This is good liquidity for a CEF and should allow investors to fill orders without problems. It is always wise to use limit orders to purchase or sell shares of closed-end funds, as the bid/ask spread can be wide.
Management:
AWF is managed by AllianceBernstein. AllianceBernstein is a well respected fund family with significant fixed income resources and a long track record. The fund appears to be in good hands.
Portfolio:
Geographic Allocation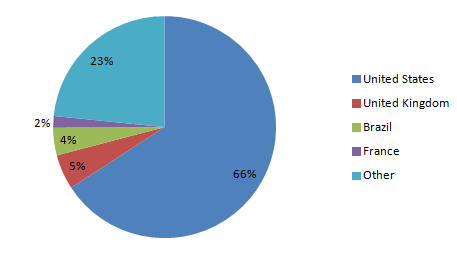 Source: AllianceBernstein as of 7/31/2014
AWF has broad geographic exposure with 59 countries represented. 66% of the fund's assets invested in the United States. Outside of the United States and the United Kingdom no other country represents more than 5% of the portfolio.
Sector Allocation
AWF has broad sector exposure as well, with investments in 50 different security type and sectors broken down on the fund's website. The area with the most exposure is non-investment grade corporate bonds which represent more than 50% of the portfolio.
Credit Ratings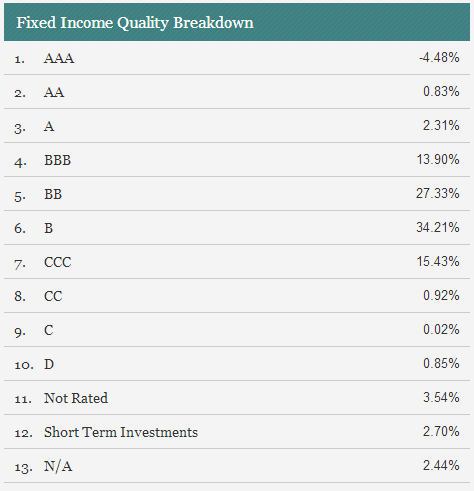 Source: AllianceBernstein as of 7/31/2014
With 83% of the portfolio either unrated or rated below investment grade, this is a relatively risky portfolio.
Maturity Breakdown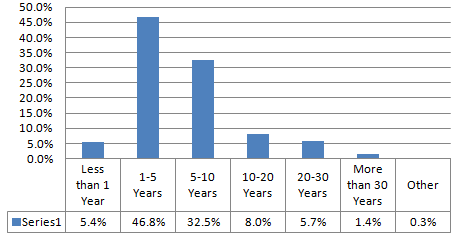 Source: AllianceBernstein as of 7/31/2014
Only 15.4% of the portfolio matures beyond 10 years. Most of the portfolio has a relatively short maturity, reducing portfolio volatility. However, short maturities increase the risk that yields will not be maintained when proceeds from maturing securities are reinvested.
Top 10 Holdings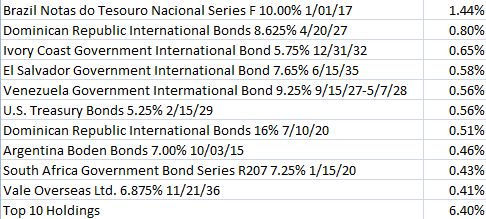 Source: AllianceBernstein as of 7/31/2014
AWF has a very diverse portfolio with 1,171 different securities. The top ten holdings only represent 6.40% of the total portfolio. The turnover rate has been relatively low, with 36% turnover as of 3/31/2014. Only one of the past five years have seen portfolio turnover over 50%.
Strategy:
AWF's primary investment objective is to seek high current income with a secondary objective to seek capital appreciation. AWF is able to invest without limit in securities denominated in non-U.S. currencies. It can also invest without limit in dollar denominated securities. AWF can also invest without limit in sovereign debt of emerging and developed nations and in debt securities of U.S. and non-U.S. corporate issuers.
Tax Issues:
As of March 31, 2014, the fund had $89,711,752 of net unrealized appreciation in the portfolio. These gains are small relative to the size of the fund, representing 6.85% of the total portfolio value. If securities are sold at a gain, it could cause capital gains to be distributed by the fund.
Conclusion:
The recent distribution cut has driven AWF's share price to a wide discount to NAV. Underlying NAV performance has been solid and AWF still pays an attractive distribution of 6.96%. As the market digests the distribution cut, AWF's share price may appreciate, returning the shares to their long-term average discount rates. The market's reaction to the distribution cut has opened an attractive opportunity to add shares of AWF to portfolios.
Disclosure: The author has no positions in any stocks mentioned, and no plans to initiate any positions within the next 72 hours.
The author wrote this article themselves, and it expresses their own opinions. The author is not receiving compensation for it (other than from Seeking Alpha). The author has no business relationship with any company whose stock is mentioned in this article.