Cabela's (NYSE:CAB) has many strong points as a retailer, but investors would be wise to check the books carefully before buying.
Cabela's Has Many Good Qualities To Recommend
Cabela's has delivered generally consistent sales results: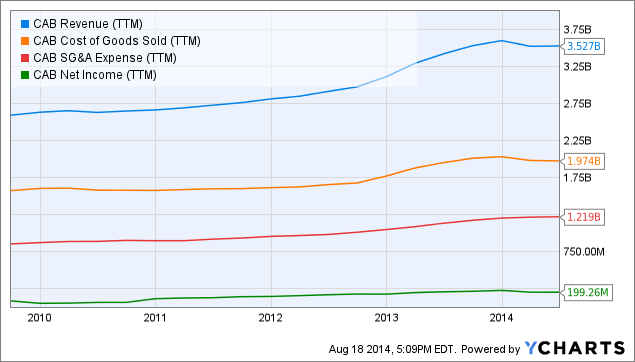 CAB Revenue (NYSE:TTM) data by YCharts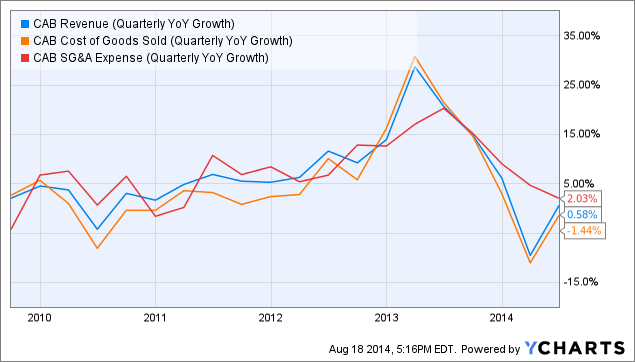 CAB Revenue (Quarterly YoY Growth) data by YCharts
While not overly impressive (roughly 5% revenue growth each year), Cabela's is certainly not doing badly for itself, and it has an established reputation in a safe industry (outdoor recreation has not changed all that much in a long time). Management has also managed to keep ancillary ((SG&A)) expenses in line with the revenue trend overall, while delivering decent margins: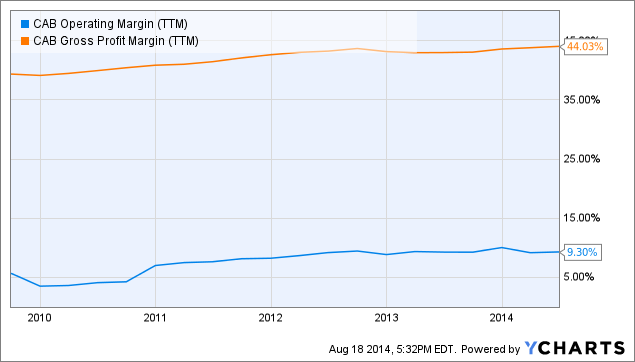 CAB Operating Margin (TTM) data by YCharts
With few direct competitors (Gander Mountain, Dick's Sporting Goods, Bass Pro, etc), Cabela's is thus in a safe position as far as aggregate sales results.
Additionally, this market is impervious to "disruption" when compared with traditional retail. While anyone can purchase books online, it is virtually impossible to purchase a gun, bow, or tent from an online "store."
Unfortunately for Cabela's, the devil is in the details.
Cabela's Is A Joint Retail/Finance Entity
On 23rd March 2001, Cabela's, which markets itself as the "World's Foremost Outfitter," launched its wholly owned financial subsidiary, the "World's Foremost Bank" (WFB). Like many large retail entities with defined brands (Kohl's), Cabela's issues "Cabela's Club" Visa cards. Approximately 1/3 of Cabela's customers have such a card, and Cabela's is one of the larger credit card issuers in the US.
This role is borne out on Cabela's financial statements. WFB is responsible for approximately 15% ($109 million) of Cabela's overall revenues ($761 million), but WFB owns approximately 60% ($3.91 billion) of Cabela's assets ($6.60 billion) in the form of credit card loans.
World's Foremost Outfitter Depends Heavily On World's Foremost Bank
When Cabela's credit card company is disaggregated from the overall company, the picture fast becomes much darker.
We can start by breaking down Cabela's revenue between the "World's Foremost Outfitter" (Cabela's proper) and the "World's Foremost Bank" (WFB):
| | |
| --- | --- |
| Timeframe | % Change QoQ Revenue (Financing) (WFB) |
| Q2 2014 | 23.4% growth (QoQ) |
| Q1 2014 | 11.0% growth (QoQ) |
| Q4 2013 | ((Quarterly Data Not Available)) |
| Q3 2013 | 14.6% growth (QoQ) |
In contrast, Cabela's proper has hard a very troubled recent 2 quarters, and it has also struggled to keep pace with its WFB subsidiary even over the long-term:
| | |
| --- | --- |
| Timeframe | % Change QoQ Revenue (Merchandise) (Cabela's) |
| Q2 2014 | -2.5% decline (QoQ) |
| Q1 2014 | -12.9% decline (QoQ) |
| Q4 2013 | ((Quarterly Data Not Available)) |
| Q3 2013 | 14.8% growth (QoQ) |
A savvy analyst could make the reasonable rebuttal that the Q1 2014 merchandise sales decline is simply a result of the "polar vortex" weather patterns that put a chill on outdoor activities. However, "polar vortices" still leave the Q2 2014 merchandise sales results unexplained.
Additionally, even if Cabela's proper recovered from its current slump and delivered stellar sales results next quarter, it would still be weighed down by the enormous long-term liabilities of its subsidiary - "secured long-term liabilities of the trust" come in at a whopping $2.45 billion (37% of assets)!
This is made even clearer by a careful examination of Cabela's leverage (74.5% debt / assets) and a comparison of its return on equity versus return on assets: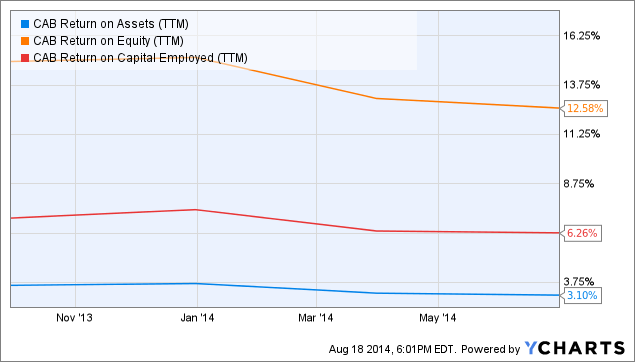 CAB Return on Assets (TTM) data by YCharts
Lastly, WFB settled in 2011 a series of allegations by the FDIC for $10MM. While WFB did not admit any wrongdoing, it did agree to refrain from numerous objectionable practices, including collecting on debtors at their place of work.
Overall then, Cabela's looks less like a solid retailer (given its concerning merchandise sales results) and more like a dubious credit card issuer.
Cabela's Management Has Delivered Some Nasty Recent Earnings Surprises
The past 4 quarters for Cabela's have not been impressive:
| | | |
| --- | --- | --- |
| Date Posted | Actual EPS | Consensus Forecast EPS |
| 24 July 2014 | $0.61 | $0.51 |
| 24 April 2014 | $0.36 | $0.37 |
| 13 February 2014 | $1.32 | $1.41 |
| 24 October 2014 | $0.70 | $0.72 |
While Cabela's most recent quarter surprised analysts positively, the larger picture for Cabela's merchandise sales is still grim.
The World's Foremost Outfitter's recent merchandising issues may be an issue for the World's Foremost Bank, and the subsidiary's massive liabilities (an expectation of its financial role) may pose a serious risk to the parent. Caveat emptor when considering Cabela's.
Disclosure: The author has no positions in any stocks mentioned, and no plans to initiate any positions within the next 72 hours.
The author wrote this article themselves, and it expresses their own opinions. The author is not receiving compensation for it (other than from Seeking Alpha). The author has no business relationship with any company whose stock is mentioned in this article.