Last week XOMA's (NASDAQ:XOMA) stock price rose roughly 200% and 54.7M shares traded hands. Excitement brewed over the company's multi-purpose drug, XOMA 052, which investors anticipate the company will release positive phase 2 results on early in the upcoming year. Conversely, I'm not so encouraged by all the hoopla.
It brings tears to my eyes knowing that some investors have been given a false sense of hope and security in light of the rising stock price. But don't count on that union. Arena Pharmaceuticals (NASDAQ:ARNA) rose in anticipation of a FDA approval of their weight-loss drug, Lorcaserin, in these past summer months. Then in September shares plummeted shedding all of the previous months' gains in less than a week.
XOMA Ltd. (XOMA) has a reputation for misbehaving - which may explain why its Chief Executive was runner up to the least-distinguished biotech CEO of the year award. Elsewhere, XOMA has been called a "one-trick pony". But more concerning is that both claims can be substantiated and then some. Last quarter, for instance, XOMA had total revenues of $10.9M versus $27.4M during the comparable period in 2009 (1). Concurrently, Operating expenses rose 33% year-over-year, mainly due to the rise in research and development costs. However, the troubling part is not that revenues have slid or that expenses have substantially risen or that operating activities alone burned through $43M in cash, but whom XOMA will turn to in order to finance ongoing operations.
XOMA Ltd. raised more than $40M selling paper to investors in the first three quarters of 2010. You can bet they'll be at it again in the upcoming periods. Just earlier this year the company facilitated a 1-15 reverse stock-split after diluting their share price into the pennies. And now their future largely depends on a development-stage drug that will drain tens, if not hundreds, of millions of dollars from investors' pockets before it is even given a chance at being commercialized.
In 20+ years of operations, XOMA Ltd. has incurred an accumulated deficit of more than $835M. Not one of those years did the company show a profit or so much as breakeven. If there is one trend that has remained consistent with Xoma Ltd. throughout their years, it's been the careless expenditure of shareholder monies.
So I ask, what could have accounted for the discrepancy between the 21.78M shares floating and the 54.7M that actually traded hands? Was it a wave of heroic day traders or devilish short sellers? I think not. To quote Benjamin Graham, "watch out for OPM (Other Peoples' Money) addicts".
Lastly, on the topic of share capitalization, it puzzles me how a company with a supposed blockbuster drug can have so little vested interest on the part of those on the inside. According to Yahoo Finance, insiders hold just 2.56% of the total number of shares outstanding. But I'll leave this issue at that.
On the basis of the daily chart, three technical indicators, RSI (95), MFI (99) and CCI (398), show the stock price to be overbought. Currently, the price is considered to be overextended to the upside or 'overbought' relative to the position of the upper bollinger band, an indicator of price deviation from the norm. This means that the price will likely pull back to at least par with the upper BB (currently at $5.10). Another significant supporting trendline is indicated on the chart (below).
click to enlarge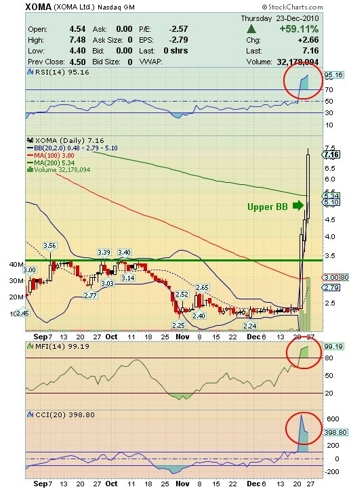 1. Financial Data Taken From Quarterly Filing (10Q)
Disclosure: I have no positions in any stocks mentioned, but may initiate a short position in XOMA over the next 72 hours.