The last few months have produced a massive run in Micron (NASDAQ:MU), Intel (NASDAQ:INTC) and many other related semiconductor stocks. Micron is up around 45% since bottoming in April, Intel is up more than 40% since bottoming in February, and even the overall semiconductor market as seen through the Market Vectors Semiconductor ETF (NYSEARCA:SMH) is up around 26% since bottoming in February.
These were powerful moves. Some of it was certainly down to a better economy and market for semiconductors. Some of it might be down to Windows XP seeing the end of its support period and prompting an upgrade cycle. Finally, some of it was certainly dictated by a changing DRAM market, where the bankruptcies of Qimonda and Elpida, two large producers, made for a much more controlled supply.
These events, over time, led to a magnificent rally in DRAM pricing. Such a rally was captured in Dramexchange's DXI index, which in a matter of months went from around 6000 in March to 8000 in late July, as pictured below.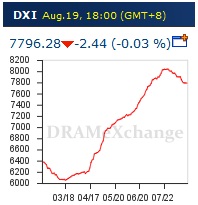 The climb was steady and steep. It also gave great confidence to investors. But therein lies the problem - there's now a wiggle at the end of that incredibly ascending curve. And this wiggle represents weakening DRAM prices.
While I have no present insight into whether the upward trend is compromised, since I know of no incoming short-term supply imbalance, for those who rode this massive semiconductor rally this wiggle must present some doubts. There is the chance that this blip constitutes the end of the massive rally in a sector famous for its cyclicality. At the very least, this wiggle needs a lot of monitoring, and as it has now lasted for nearly a month.
Conclusion
The powerful uptrend in DRAM pricing was at the very center of a massive trend, which helped Micron, Intel and presumably even many other semiconductor stocks. This powerful trend is now seeing the first real-time indications of hesitation. This hesitation bears monitoring, and perhaps for those which caught the move, a more defensive posture.
I wouldn't short on this, though. I'd need clearer indications of lowered demand of incoming supply, which I don't have at this moment.
Disclosure: The author has no positions in any stocks mentioned, and no plans to initiate any positions within the next 72 hours.
The author wrote this article themselves, and it expresses their own opinions. The author is not receiving compensation for it (other than from Seeking Alpha). The author has no business relationship with any company whose stock is mentioned in this article.