On December 22nd it was reported by TrackData that the DepoMed (NASDAQ:DEPO) overall option implied volatility of 111 was above the 26-week average of 84. This volatility and high number suggests that a share move higher can possibly occur very soon as we move into 2011. This positive options activity will most likely continue as there are several catalysts that should propel DepoMed higher in January 2011.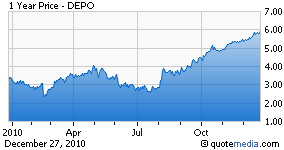 The catalysts I will refer to first do not include the most important one which will occur on Jan 30th as that is the PDUFA date for DM-1796. DM-1796 is an extended release, once-daily tablet formulation of gabapentin for the management of postherpetic neuralgia (PHN), or pain after shingles. DepoMed has partnered with Abbott Laboratories for the rights to DM-1796 in North America. DepoMed still has the ex-North America rights but they are actively seeking a pharma partner who would be looking to expand the international growth of DM-1796.

The three catalysts that are expected to occur prior to the January 30th PDUFA date of DM-1796 are:

1) Merck (NYSE:MRK) will file a Januvia & Metformin combination in the 4Q 2010 or early 2011.

2) Phase 1 results for DM-1992 should be released in Q1 2011. This is their novel formulation of Levodopa/Carbidopa, which has been the drug of choice & well recognized as the best drug for Parkinson's Disease. The drug has several has significant limitations with inconvenient dosing (4-6 times daily) and mediocre efficacy.

3) Glumetza 500mg resupply to occur in 4Q 2010.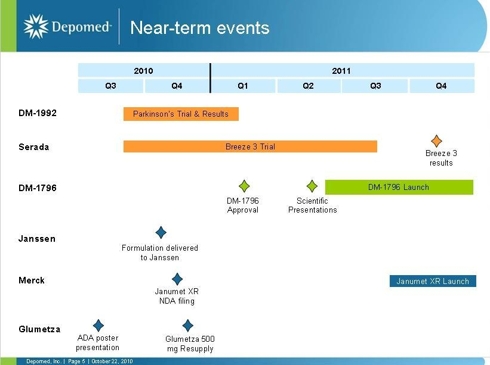 If you look at FDA approvals for January, DepoMed is the most undervalued stock with a market cap of only $305 million with a $5.80 closing price. The company has 39 milion shares in the float, 52 million outstanding, and 66 million in cash. 60% of DepoMed shares are held by institutions. The company expects profitability in 2011. The reason is because they are able to take their technology and license it to other people for cash. They have been successful in funding the development of their clinical programs and have not needed to go to the market for cash for 3 years. If DM-1796 is approved then Abbott will owe them another $35 million and another potential $25 million, depending upon how their side effects appear in the FDA label. After approval, Abbott will also owe them a 14% to 20% royalty. This will help start the path to profitability. With all this, they are still undervalued especially when compared to other companies with PDUFA dates in January.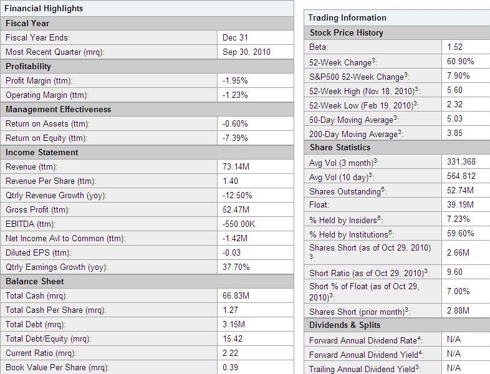 The other January approvals are:
AstraZeneca (NYSE:AZN)- Drug/indication- Zictifa for medullary thyroid cancer. Approval decision date: Jan. 7, 2011 and a market cap of 65.5 billion.

Clinical Data (NASDAQ:CLDA)- Drug/indication: Vilazodone for major depressive disorder. Approval decision date: Jan. 22, 2011 and a market cap of 500 million.

Orexigen Therapeutics (NASDAQ:OREX)- Drug/indication: Contrave for obesity. Approval decision date: Jan. 31, 2011 and a market cap of 380 million.

When assessing a company with a PDUFA date it is also important that investors assess the risk vs. benefit in holding a company that has a PDUFA date. There is always risk with any biotech company but DepoMed does not take on as much risk with the development of their compounds because they are starting with known chemicals that have been used in humans for many years. This is the case with DM-1796 (gabapentin) as well. The safety profile and advantages over existing gabapentin formulations have been demonstrated from their pivotal Phase III clinical trial.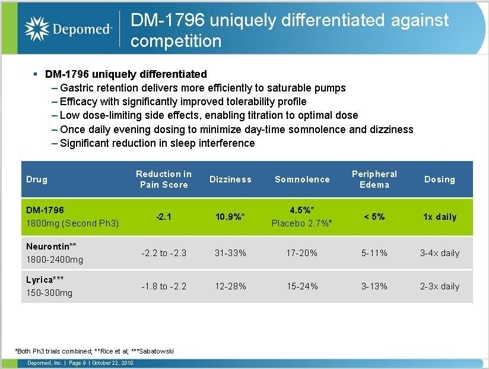 The advantage is there are not as many suprises as there would be with new drug compounds. The potential reward seems to favor the shareholder vs. the risk when looking at what DepoMed has done thus far with their safety and tolerability profile for DM-1796. The hope for shareholders is that there won't be any surprises come January and that the share price, with these pending catalysts, will continue to move higher into their January PDUFA date of January 30th.


Disclosure: I am long DEPO.

Additional disclosure: My position in a stock can change at any time.