Samsung (OTC:SSNLF), the Korean-based global leader in home entertainment products and electronic devices and appliances, is now stepping up to compete in the new "internet of things."
The firm recently announced its acquisition of US company SmartThings, which builds ways to connect home devices, such as air conditioners.
This follows a similar acquisition by Google (NASDAQ:GOOG) (NASDAQ:GOOGL) of startup NestLabs, offering such products as thermostats and smoke detectors, which can be controlled remotely via smartphones.
Samsung's Current Business
Samsung's current list of products is extensive. The Galaxy Android phone has become the primary rival competition to Apple's (NASDAQ:AAPL) iPhone. The company also makes LED and LCD televisions, Blu-ray, video cameras, computers, refrigerators, washers and dryers, blenders and microwave ovens.
Samsung can be considered a chaebol, a Korean type of multinational conglomerate, comprised of subsidiary multinationals and family corporations, with a chairman, who oversees all of them. Other chaebol include Daewoo (OTC:DWOTF) and Hyundai (OTC:HYMPY).
Unsurprisingly, Samsung has a relatively conservative corporate culture. Their breakthrough television was essentially a clone of the Sony Trinitron design, albeit at a market share engulfing low price. The company is astute enough, however, to realize that market innovations will occasionally require disruptive technology innovations, such as the Galaxy phone, and while the company's inclination is for low risk ideas, it has established overseas innovation teams, such as in London and Palo Alto, to come up with new products for non Asian markets.
New Tax Implemented, Building on Cash Reserves of ~$60 Billion
Earlier in August, the South Korean government announced a profits tax specifically targeted at large multinationals to promulgate increased spending of their cash hordes. The tax is expected to raise about US$1 billion, or over 1 trillion won. The tax is for 10% on any net profit after 20% to 40% has been spent on salaries or dividends, or after 60% to 80% has been utilized for salaries, dividends or investments.
As South Korea's largest company by market capitalization, Samsung holds cash reserves of over $60 billion, which is roughly 30% of its market capitalization. Its July 2nd quarter 2014 earnings reported about 7.2 trillion won, or slightly less than US$7 billion operating profit on 52 trillion won in sales. Given that money once spent on salaries and dividends is gone forever, Samsung clearly sees investment as a means to use its overseas earnings to fuel further growth while at the same time avoiding the brunt of increased taxation.
Acquisition of SmartThings: Strong Strategic, Fiscal Management Logic
Thus, the announcement of Samsung's acquisition of Washington, D.C., based SmartThings makes perfect strategic and fiscal management logic. SmartThings' software platform is designed to allow control of household appliances over WiFi via a smartphone, tablet or computer. With the SmartThings platform, Samsung could conceivably develop a way to cut through the current network of standards between various home automation products in a move that could cement the company as a market leader in consolidation of home internet connectivity alongside rivals Google and Apple.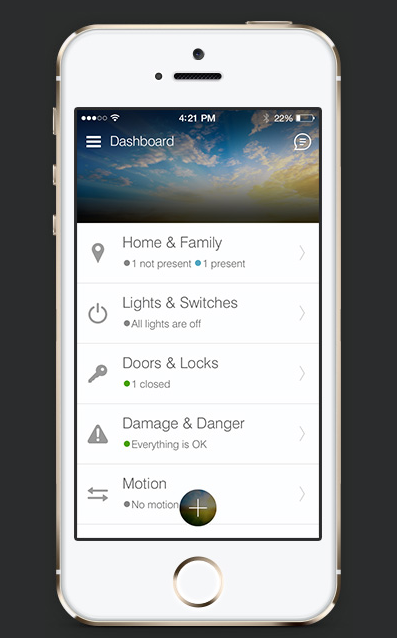 (Source here)
SmartThings: Early Stages
SmartThings was originally financed by a $15 million Kickstarter campaign. The estimated $200 million purchase was lauded by both Samsung's Open Innovation Center head David Eun and SmartThings' CEO Alex Hawkinson.
Hawkinson had previously been on record to be wary of any tech giants seeking to acquire SmartThings unless they had guarantees of operating independence and the latitude to expand to other devices without any limitations, including whoever the manufacturer might be. Samsung is one of the few companies on the planet that have basically a version of every known electronic household device in its catalog. Additionally, from a global perspective, Hawkinson told Business Insider magazine that he was excited about SmartThings' access to Samsung's staggering scale: sales of approximately 2 TVs and 12 mobile phones per second. SmartThings will be relocating to Palo Alto in order to be near Samsung's Open Innovation Center.
Alex Hawkinson has described SmartThings as the company that would spearhead the innovation to make "the internet of things" more than a sci-fi concept. As a Kickstarter-funded startup, it is easy for skeptics to point out how that might be just a dream and that large tech giants with the R&D budgets to develop these pursuits would be more likely to succeed. With Samsung's acquisition, SmartThings now has the ammunition and the backing to take the dream into reality.
Outlook Strong For Samsung in 2014
The push into the "Internet of Things" with Samsung's SmartThings acquisition is a strong signal to investors that this giant is still very nimble, up-to-date and competitive.
We reiterate our stance that Samsung is looking strong in the second half of 2014.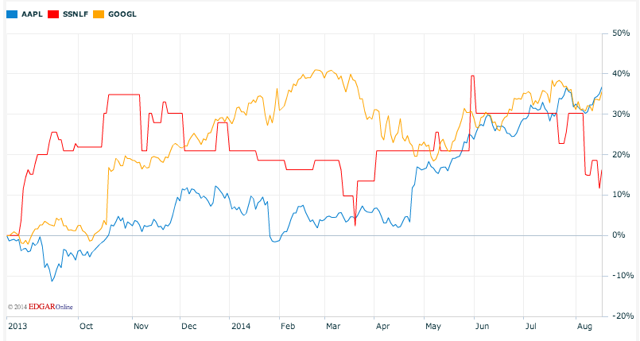 Click to enlarge
(Nasdaq.com)
We invite readers wishing to join the discussion on Samsung and the coming "Internet of Things" to click the +FOLLOW button above the title of this article - and those looking for the latest developments to click +Get real-time alerts.
Disclosure: The author has no positions in any stocks mentioned, and no plans to initiate any positions within the next 72 hours.
The author wrote this article themselves, and it expresses their own opinions. The author is not receiving compensation for it (other than from Seeking Alpha). The author has no business relationship with any company whose stock is mentioned in this article.
Editor's Note: This article discusses one or more securities that do not trade on a major U.S. exchange. Please be aware of the risks associated with these stocks.