By Thomas Mullarkey
Could paper makers be on Santa's naughty list this holiday season? Certain secular headwinds continue to eat away at select paper volumes in North America. And we believe that the growing preponderance of e-readers will continue to chip away at paper demand used in books, magazines, newsprint, and envelopes used in the developed countries of the world. Consequently, we are cautious on top-line growth prospects of forest-product companies that are overly dependent on publication paper or uncoated freesheet paper sales in the Western world.
E-Books Gobble Up Market Share
2010 was certainly a blockbuster year for the Apple (NASDAQ:AAPL) iPad During the quarter ending Sept. 25, 2010, Apple sold 4.2 million iPads, and millions more will certainly find their way under the Christmas tree this December. Amazon (NASDAQ:AMZN) and Barnes and Noble (NYSE:BKS) also rolled out improved e-readers in recent months. In fact, according to the Association of American Publishers, e-books have accounted for 8.7% of book sales thus far during 2010; up from just 3.3% during 2009 and roughly 1% during 2008 (see figure). We believe this growing demand for e-books will reduce the quantity of book paper consumed in the United States and Western Europe.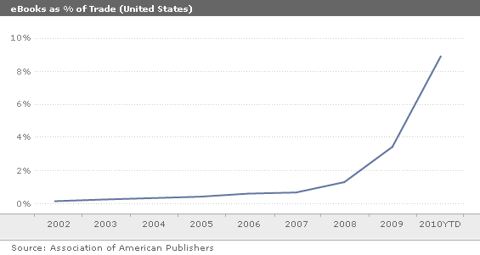 Click to enlarge
click to enlarge
Christmas Card Volume Down
The U.S. Postal Service estimates that it will handle 15.8 billion cards, letters and packages during the holiday season. This will be down about 17% from the 19 billion items mailed during 2008.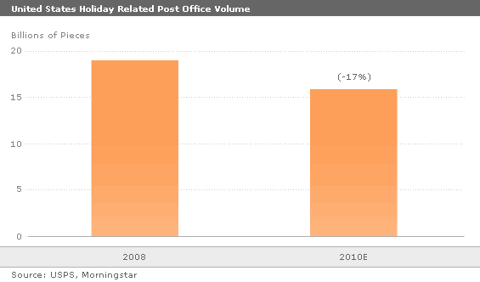 Click to enlarge
Mail is steadily being overtaken by various forms of electronic communications (email, facebook, skype, text messages, and so on), and this means dwindling demand for paper and envelopes. The decreased desire to send snail-mail resulted in National Envelope, the largest privately owned envelope maker in the U.S., filing Chapter 11 this past summer; it was also likely the key reason MeanWestvaco (MWV) recently agreed to sell its Envelope Products Group to Cenveo (NYSE:CVO).
Unfortunately for paper producers and envelope makers, we do not believe that the drop in mail volumes is completely cyclical--it is largely a secular drop. According to data from the USPS, the weight of first class and standard mail shipped is down 17% from where it was in 2000; and the weight of periodicals mailed has dropped by 40% during the last 10 years.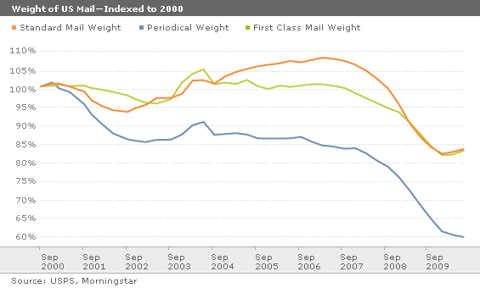 Click to enlarge
The Death of Print
Firms such UPM and Stora Enso derive large amounts of revenue from publication papers. We believe that newspaper and magazine circulations will continue to dwindle throughout North America and Western Europe, thereby pressuring these companies' top lines. Additionally, other firms such Domtar (NYSE:UFS) and International Paper (NYSE:IP), which have large uncoated freesheet businesses, will be pressured by declining paper demand coming from book publishers, envelope makers, and direct mailers.

Click to enlarge
Morningstar's Paper Coverage Universe
Domtar
The addition of Weyerhaeuser's (NYSE:WY) fine paper business in 2006 vaulted Domtar to the top of the North American uncoated freesheet production standings. However, the results of the acquisition have been mixed as the purchase saddled Domtar's balance sheet with a heavy debt burden, and steadily declining demand for paper has limited the benefits accruing to Domtar from its new-found scale.
Few paper grades have suffered more from the rise of e-mail and other electronic media than uncoated freesheet, or UFS, which accounts for the bulk of Domtar's production. After decades of neatly tracking U.S. gross domestic product growth, domestic UFS demand sputtered and then stalled as office workers made fewer trips to the printer and copier. As if the move from fibers to electrons were not sufficient cause for discomfort, the problems have been compounded by competition from uncoated mechanical offset substitutes. All told, UFS consumption in the U.S. has fallen more than 20% since 2000, prompting significant production curtailments and capacity closures across the industry.
Industrial Paper

In 2005, International Paper management decided to concentrate on the paper and packaging segments, shedding more than $11 billion worth of timberlands and noncore businesses. We believe this focus will allow for more efficient management decisions and the ability for investors to allocate capital into the best paper and packaging subsectors. IP commands manufacturing capacity that is almost entirely in the low-cost half of the cost curve. This enables it to weather any short-term disruptions. We think IP will be one of the survivors in an industry that has sucked away investors' capital for more than a decade.
MeanWestvaco
Since 2005, MeadWestvaco has embarked on a mission to focus and transform its consumer packaging division. The company divested its printing and writing papers business in 2005, and during 2006-08 it acquired several companies to expand into the pump, sprayer, and health-care packaging segments. MeadWestvaco's main operating businesses (packaging, office products, and chemicals) mostly compete in highly commodified markets where product differentiation is slight and switching costs are low. However, the firm's balance sheet hides a few gems--a significantly overfunded pension and large land holdings that are held on the books at values far below the market value.
Stora Enso
We doubt that over the course of the economic cycle, Stora Enso will be able to achieve returns in excess of its cost of capital. The market dynamics in the paper, packaging, and wood products industries cause Stora Enso to face a slew of headwinds. The supply base has excess capacity, and Stora Enso is frequently selling into secularly declining markets; this will likely pressure pricing and margins for several years to come. Product differentiations among competitors and switching costs for customers are both extremely low. Consequently, industry players will be prone to compete on price and therefore be challenged to deliver acceptable levels of profitability.
UPM UPM1V
UPM-Kymmene markets highly commodified products in the paper, pulp, and engineering materials sectors. We believe these commodity products are impediments to returns in excess of the company's cost of capital over the long term. Paper is a notoriously competitive industry. Customers have low switching costs, and consequently they force papermakers to largely compete on price. Most of UPM's paper capacity is for magazine papers and newsprint, and these sectors have had volume declines caused by the recent global recession and secular trends of shifting consumer preferences toward digital content. This drop in demand has exacerbated overcapacity. However, the European papermakers have been slow to permanently shutter capacity, choosing instead to take curtailments and hope that competitors will shutter mills. Consolidation among papermakers could speed up supply rationalization, but this appears to be moving at a glacial pace in Europe. Consequently, we don't expect UPM's paper business to generate sustainable excess profits for many years.
Disclosure: Morningstar licenses its indexes to certain ETF and ETN providers, including Barclays Global Investors (BGI), First Trust, and ELEMENTS, for use in exchange-traded funds and notes. These ETFs and ETNs are not sponsored, issued, or sold by Morningstar. Morningstar does not make any representation regarding the advisability of investing in ETFs or ETNs that are based on Morningstar indexes.