On August 5 I wrote about American Realty Capital Properties (ARCP), specifically the debt portion of the capital structure. At the end of the article I stated:
Bottom Line: American Realty Capital properties bonds are what we called "story bonds". Essentially, there is a story to the company that has to be bought into before investing. The story here is that the REIT can integrate the acquisitions it has done and continue to strengthen its balance sheet. I believe it can and it will. As progress on these fronts continues, the bonds should tighten more towards peers, leading to outperformance versus peers. In my opinion, the bonds are a decent outright buy or done on swap versus Realty Income.
When I finished my review of the debt (attractive and should outperform), I wondered if the rest of the capital structure would be attractive relative to peers as well. This is a result of my inquiry.
American Realty Capital Properties, Inc is a REIT which operates in two segments, Real Estate Investment ("REI") and Cole Capital, the company's private capital management segment. Through the REI segment, ARCP acquires, owns and operates single-tenant, freestanding commercial properties, primarily subject to net leases with high credit-quality tenants. The portfolio is generally net leased to corporate tenants. These tenants are primarily investment grade-rated (approximately 49% as of June 30, 2014). Cole Capital is responsible for raising capital for, managing the affairs of and identifying and making acquisitions and investments on behalf of non-traded REITs sponsored indirectly by the company.
Realty Income (NYSE:O) is engaged in acquiring and owning freestanding retail and other properties that generate rental revenue under long-term lease agreements (primarily 10 to 20 years). The company has in-house acquisition, leasing, legal, credit research, real estate research, portfolio management and capital markets. Realty Income owns over 4,200 properties, diversified across 47 industries and 228 companies, located throughout 49 states in the US and Puerto Rico.
The best place to start is, as they say, the beginning. For a REIT, it is the properties, for a triple net REIT it is the properties and the tenants.
An overview of the two triple net kings of the jungle is: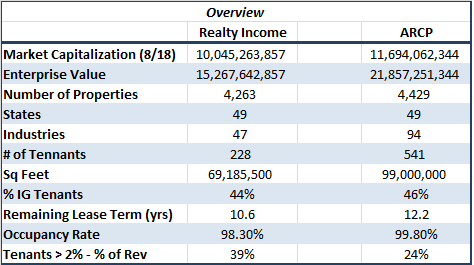 Perhaps one of the best ways to get a feel for these two REITs is also to put them in context through comparison with the triple net peer group National Retail Properties (NYSE:NNN), Lexington Realty Trust (NYSE:LXP) and One Liberty Properties (NYSE:OLP). While this group is not exhaustive, it makes for a good triple net landscape.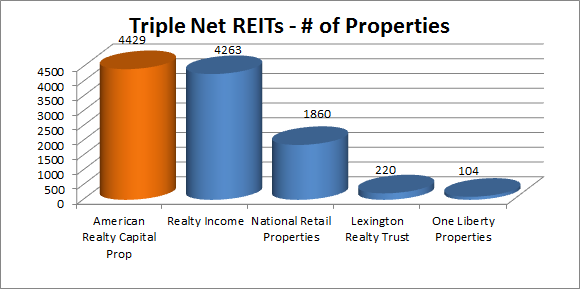 As the above chart shows, as of June 30, 2014, ARCP is the leader by number of properties (by an amount greater than OLP's total properties and approximately the number of properties owned by LXP). This wasn't always the case, in fact, until a little over two years ago, ARCP wasn't even public.
Since going public, ARCP did a $3.1B merger with ARCT III, a $774MM acquisition from GE, a $3B merger with ARCT IV, a $2.2B merger with CapLease, an $11.2B acquisition of Cole and a $601MM acquisition from Fortress - in the last TWO years. Then, there is the sale/leaseback acquisition with Red Lobster for a tidy $1.5B.
The following graph shows the breakneck ascent of ARCP: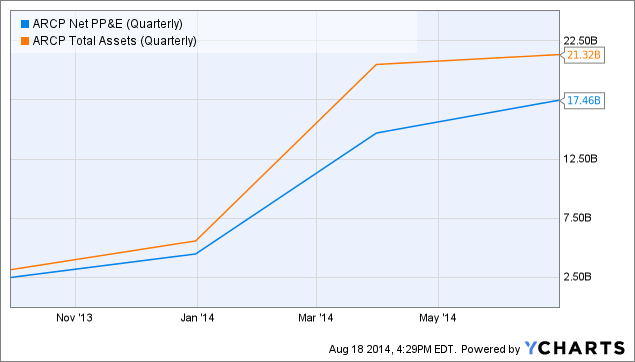 It is this rapid growth that keeps ARCP trading at a discount to peers. The other day, I was speaking with a friend of mine who is an excellent credit analyst/manager about ARCP's bonds relative to Realty Income's when she stated, "They are way too acquisitive and will have to keep going as they focus on investment grade tenants - that is how they will have to grow." Interesting point, and, to some degree, spot on. Given their occupancy levels and longer leases, organic growth will be a game of inches, not yards. Longer-term leases and investment grade tenants are the REIT equivalent of football on Any Given Sunday:
The inches we need are everywhere around us. They're in every break of the game, every minute, every second. On this team we fight for that inch. On this team we tear ourselves and everyone else around us to pieces for that inch. We claw with our fingernails for that inch. Because we know when add up all those inches, that's gonna make the ***** difference between winning and losing!
I countered her argument with saying that there may be truth to that statement (ultimately, there is heaps of truth, like I said, she is impressive and would rarely make an "off the cuff" analysis) but it is true for all triple net REITs with a similar profile. As a result, an investor need to determine both who will fight for that inch and who is "cheaper". In my opinion, both behemoths will fight for that inch, so who is cheaper?
Let's continue with our comparison. We have determined that both Realty Income and ARCP have approximately the same number of properties, now we must look at the "types" of properties by determining the sector exposure.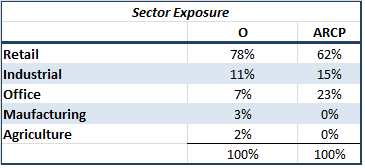 The above chart shows that ARCP would appear to have better sector diversification. A little deeper shows that the 62% retail of ARCP is broken down into 30% restaurant and 31% traditional retail (Realty Income has only 6.2% in the restaurant category). Ultimately, they are both well diversified with their own concentrations (Realty Income with convenience stores 7.2% and dollar stores at 9.8%, and ARCP with quick service restaurants 9.9% and discount retail 7.6%).
Drilling further, a look at the top tenants is in order. The following table lists the top tenants (I defined as exposure greater than 2%) of the two REITs: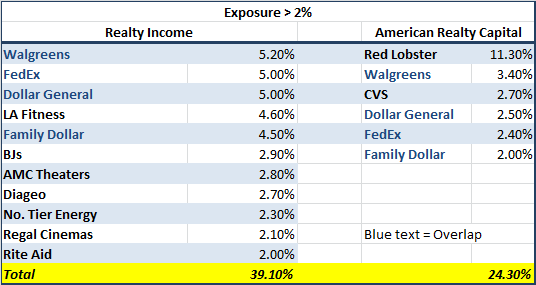 As one might imagine, at the size of these two REITs, there is decent overlap of tenants. Of these top tenants, 20% of Realty income's tenants are also top tenants of ARCP, while only 10% of ARCP's top tenants are also top tenants of Realty Income. The overlap should ultimately increase the correlation between these two REITs (should it remain the same or increase).
Bottom Line on properties: Both REITs are diversified (and both have their sector/tenant "lumpiness") and have a significant portion of investment grade tenants. As a result, the difference will be the "game of inches" and potentially aggressive moves. While Realty Income has the history, ARCP seems to have the hunger. This can work for them and against them. Should they continue swallowing whales, there will be a constant "financial catch-up" occurring which will preclude their capital structure from trading at full value.
The next step is the financial picture. As with earlier, the comparison will be made to the peer group.

The table above shows the mixed message that ARCP can give investors. The REIT is "cheap" to peers on a price/book and price/FFO basis (price/FFO more so against the larger players) and has a significantly higher yield. These "benefits" are offset by the payout ratio above 200% and the debt/EBITDA ratio of greater than 8x. These ratios should have this REIT in high yield territory with equity participants holding their breath for the dividend cut - but neither are happening. Why? The "financial catch up" I referred to earlier. The REIT has structured a payout that will be affordable as the acquisitions come "on line" and begin generating FFO in the "ARCP house". The same can be said of their debt. EBITDA will "catch up" and the leverage ratio will drop. Ultimately, it is current debt and dividend based on projected FFO/EBITDA - not a wild assumption in my opinion.
The table below is a snapshot of the capital structures of the two REITs, as a conservative capital structure can afford opportunity and flexibility.

As the above table shows, while ARCP has a higher equity component of the capital structure, Realty Income has the better overall capital structure with fewer encumbered properties, more public debt and a higher preferred slice of the capital structure. Ultimately, ARCP has to reduce their reliance on mortgage debt (their success in the public market should help, as should their spin of strip center properties) and should consider perpetual preferreds to compliment the capital structure and reduce the WACC (I believe preferreds could get done at a lower yield than the common and have a lower implicit cost than equity).
Debt distribution, or the amount of debt coming due each year in the future is also an important thing to focus on, as "lumpy" maturities have to be viewed skeptically in that various market environments could have debt markets locked up and force a company to refinance their debt at high costs or by equity dilution.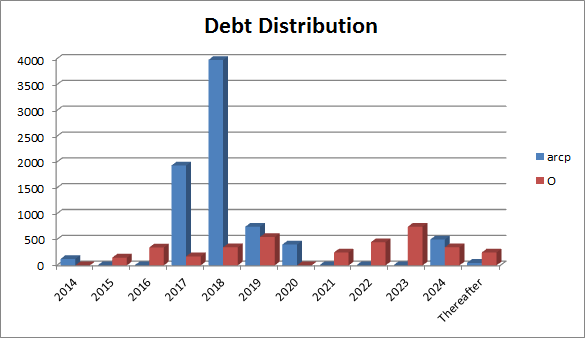 Again, according to the chart above, Realty Income has a more flexible and manageable debt maturity schedule. The 2018 maturity for ARCP is predominately the bank revolver, so this can be made more manageable and spread out (which I would hope they do soon).
Similarly, a look at lease expirations is warranted as a evenly distributed lease maturity schedule will protect the REIT from having the potential of taking too much space back and having significant dark space when the cash flows are needed for debt and other purposes: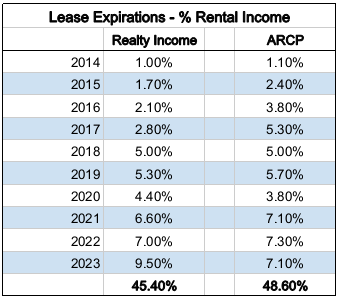 In terms of lease expiration, these two REITs are roughly equivalent to one another and neither has a disproportionate "lumpiness" to their lease maturity/rollover schedule.
The graph below shows the peer group's debt/EBITDA ratios. As stated earlier, ARCP has the "catch up" to accomplish, which should lower their leverage to a more sustainable level. ARCP has a stated debt/EBITDA target of approximately 6.5x, which is a comfortable level (although a 6x "through the cycle" target would be better in my opinion). ARCP's "pro-forma net debt to annualized adjusted EBITDA" for Q2 2014 was 6.3x.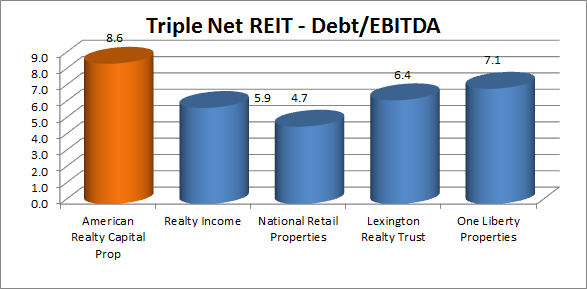 ARCP also has an aggressive dividend, currently yielding over 8% (paid monthly).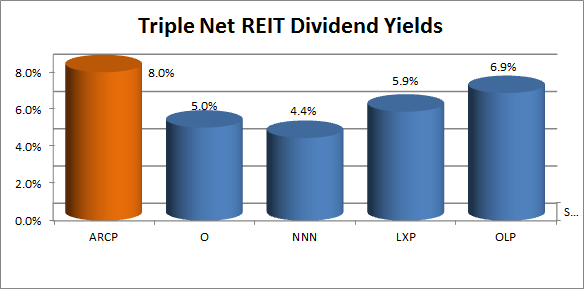 On a matched period basis, the dividend required for the 8% yield looks like a staggering payout, greater than 200% of FFO. Looking at it on a forward basis, the dividend (at $1.00/yr) is expected to be 86% of midpoint guidance, which is very comfortable versus peers.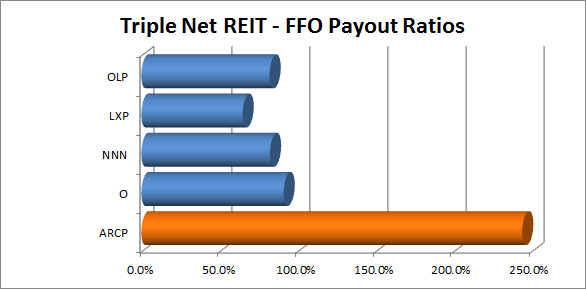 Financial bottom line: ARCP lags Realty Income in the financial flexibility/stability aspect. This can be corrected, and should be in the coming months. As stated earlier, their financials will continue to play catch up with their financial policies as they set policy on forward expectations. ARCP's management has shown that they are committed to reducing leverage (and they have made decent strides in doing so) while remaining acquisitive. They are ahead of schedule with their expected $4.5 billion in 2014 acquisitions, so I expect they will pause, regroup, integrate and amend financial policy if needed. Realty Income is a good financial model for ARCP - as well as any other REIT.
Finally, let's look at where the rubber meets the road: the performance of each (Morningstar):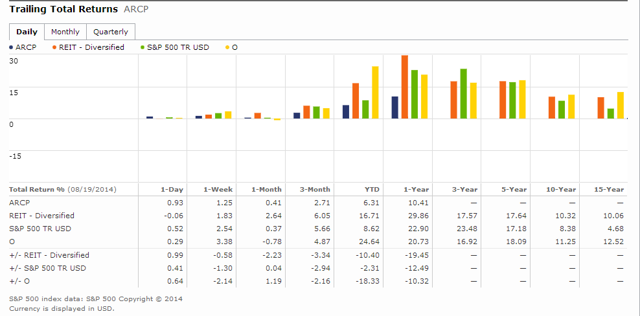 There is only one way to look at the above chart - Realty Income mopped up the floor with American Realty Capital Properties. Cut and dry, plain and simple.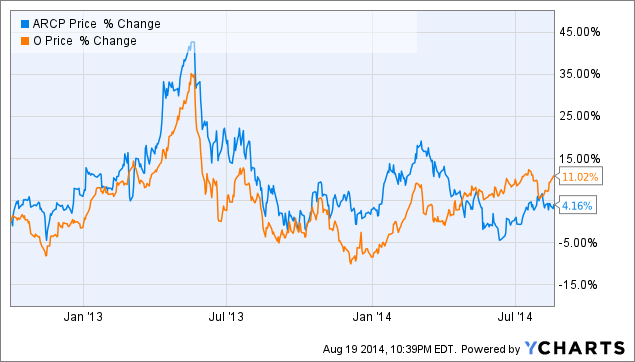 Bottom Line: These two triple net REIT goliaths are more closely resembling each other - a natural outcome of size in the triple net industry. While ARCP has been aggressive in acquiring other REITs to gain scale, Realty Income has joined the fray as well (even buying a non-traded ARC triple net REIT created and managed by the same folks that were running ARCP for $3.2 billion). With higher quality tenants, these two REITs can only move the needle by doing larger acquisitions and larger deals - the Red Lobster deal being a current example. Realty Income showed rent increases of 3% (versus the expiring leases, no TI) in Q2, this is no longer going to move the needle for the REITs. This is the game of inches, acquisitions and deals will be the yards. ARCP has, thus far, shown themselves to be somewhat aggressive in their pursuit of yards while also minding the inches. It is this reason that leads me in the direction of buying ARCP for triple net (plain vanilla triple net, large cap) exposure rather than Realty Income. Yes, ARCP has to prove themselves through the cycle as Realty Income has, but they appear to be up to the challenge and management isn't new to the game.
I believe that American Realty Capital Properties suffers from a "big game hunting" and "catch up" discount - which is appropriate to some degree. The discount at which the stock is trading is somewhat excessive. If Realty Income's price/book is used as a guidepost and discounted 10% (for the above reasons), the appropriate multiple would be 1.7x. Assuming a book value of $11.50, this would put the market price in the $19 ballpark, a 45% upside from current levels. Looking at P/FFO, Realty Income trades at approximately 18x full-year guidance while ARCP trades at slightly North of 11x full-year guidance. Discounting again the Realty Income multiple by 10%, a 16.2x full-year guidance results in a price of approximately $19. Being a cautious type, I will further discount the multiple based target by 10% and set a price target of $17 - 30% upside from here.
...
Sources used:
ARCP Q2 2014 supplemental
ARCP June 2014 REIT Week presentation
Realty Income Q2 2014 supplemental
Realty Income 8-2014 Investor presentation
Disclosure: The author is long O, NNN. The author wrote this article themselves, and it expresses their own opinions. The author is not receiving compensation for it (other than from Seeking Alpha). The author has no business relationship with any company whose stock is mentioned in this article.
Additional disclosure: O and NNN positions are in preferred stock. I will be initiating a position in ARCP after publication. This article is for informational purposes only, it is not a recommendation to buy or sell any security and is strictly the opinion of Rubicon Associates LLC. Every investor is strongly encouraged to do their own research prior to investing.