Kellogg Company's (NYSE:K) stock value has fallen 217 bps in one year. The company has faced challenges in increasing sale in developed markets. Moreover, lowering the full-year outlook after witnessing a poor performance in the first half of the year has further contributed to the stock value decline. With growing competition, internet publications criticizing the high sugar content in cereals, and environment activists looking for any weakness a firm shows the present climate is the toughest Kellogg's has experienced.
The company reported its second quarter performance at the beginning of this month and had some disappointing results. In this article, I will shed some light on that performance highlighting the material issues. I will also discuss the future potential of this cereal maker.
Second Quarter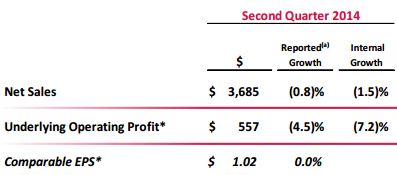 Source: Presentation
The world's biggest cereal company posted a revenue figure of $3.7 billion during the period reflecting a decline of 80 bps from the figure reported in the same quarter a year ago. Developed countries proved to be a problem as the management failed to fulfil its expectation of restoring positive top-line growth after experiencing a sales decline in the previous two quarters.
Volume level fell 250 bps; however, favourable price/product mix added 100 bps to sales. There was also a currency fluctuation that brought a positive impact of 70 bps. Usually, a majority of company face pressures through currency fluctuation but this wasn't the case for Kellogg's. Nonetheless, the net result was that the organic revenue (excluding the impact of acquisitions, dispositions and foreign exchange) declined 150 bps. Part of this came from poor sales in the US.
Companies have to prepare for upcoming environmental changes. I am sure that Kellogg's knew that the sugar content in cereals would put a dent on the top-line somewhere in the future. Call it ignorance, or wishful thinking that the company didn't introduce measures apart from introducing healthier alternatives in its product line. The demand for cereals has fallen due to competitive strain coming from alternatives such as eggs, bread, yogurt, and peanut butter. Though Kellogg's is trying to revive the volume sold through innovation and aggressive marketing campaigns, these activities have not yet proven effective.
Lower sales and higher brand building investments took a toll on income as adjusted operating profit declined 7.2% to $567 million. Following the trend, diluted earnings per share fell 15% to 82 cents with an improved adjusted figure of $1.02 per share. The adjusted earnings excluded integration costs related to the Pringles acquisition, costs related to Project K and a mark-to-market loss. It soon became obvious that Kellogg's wasn't providing solid return to its investors.
Now, the company says it expects to do better in the second half of this year. This will be because the brand-building investment tied to Project K hasn't started yet. For the current year, the expenditure will focus on segment-building activities for developed markets and also the in-store facility of the US snacks business. The company says that it will close and reduce capacity of facilities in developed markets. Kellogg's will be improving its supply chain capacity in selected emerging markets.
My take is that while these plans may improve profits through cost reduction and operation optimization, they do not provide justification that the company's long-term future will improve. This is because there is a limit to increasing profits through cost reductions. Sales have to grow in the long term.
Management has to find a way to console investors and that's why they came up with programs directed towards improving profits. However, in the case of Kellogg's, there does not seem to be enough evidence. Flaws can be found in the company's own remarks. Despite saying that brand-building activities would begin during the second half of this year along with more marketing, organic revenues are expected to decline between 1% and 2% which is lower than the previous expectation of a 1% increase. Even if I let everything go and say that the company's healthier products such as Special K, which is low calories, will boost sales, I do not have much evidence to go on since the company has been unsuccessful in that arena as well. The market for those products now includes snack bars, crackers, and frozen waffles. Also, consumer trends are changing. People are now more interested in foods that provide nutritional benefits, rather than those that are simply low in calories. Kellogg's did release a variant directed towards new consumer trends, but it failed to make an impact as the US Morning Foods unit reported a 4.9% decline in core sales during the latest period.
Bottom Line
Though long-term investors have lost some part of their investment over the year, it's not too late to leave Kellogg's. There are better choices available if you want to invest in food stocks. As far as Kellogg's is concerned, a lack of effective strategy, shrinking market, and falling profits summarize the company's performance. Therefore, I recommend selling the stock.
Disclosure: The author has no positions in any stocks mentioned, and no plans to initiate any positions within the next 72 hours.
The author wrote this article themselves, and it expresses their own opinions. The author is not receiving compensation for it (other than from Seeking Alpha). The author has no business relationship with any company whose stock is mentioned in this article.