By Todd Shriber & Tom Lydon
With 10-year down a whopping 21.4% this year, a variety of rate-sensitive, income-generating asset classes and sectors have benefited. Master limited partnerships (MLPS), real estate investment trusts (REITs) and the utilities sector are prime examples.
Traditional dividend stocks and exchange traded funds have also delivered for income-starved investors.
According to S&P Dow Jones Indices, 696 dividend increases were reported during the second quarter of this year compared to the 591 increases which were reported during the second quarter of last year. For the first half of 2014, 1,774 issues increased their payments, up 15.6% from the 1,535 issues that increased their payments during the first half of 2013.
One of the more impressive, if not unheralded options among the burgeoning number of dividend ETFs is the WisdomTree Equity Income Fund (NYSEARCA:DHS). With a track record of over eight years old and over $887 million in assets under management, DHS is neither an unseasoned ETF nor is it a small fund.
DHS is, however, a compelling avenue for investors looking to exploit an environment that has seen value stocks with decent-to-strong yields spend substantial time outperforming the S&P 500.
DHS is up 8.2% this year, a gain that tops the S&P 500 by 820 basis points. The Vanguard Dividend Appreciation ETF (NYSEARCA:VIG), the largest U.S. dividend ETF, is up just 2.6% this year.
DHS tracks the WisdomTree Equity Income Index (WTHYE). "Securities ranking in the highest 30% by dividend yield are selected for inclusion. The index is dividend weighted annually to reflect the proportionate share of the aggregate cash dividends each component company is projected to pay in the coming year, based on the most recently declared dividend per share," according to WisdomTree.
The returns and DHS' apparent tilt toward higher yielding stocks suggest the ETF has benefited from significant allocations to sectors such as utilities and consumer staples. While that is true to an extent (DHS has a combined allocation to those sectors of 25.4%), the ETF also shines as a value bet with some protection in the event rates do rise.
Included in that value tilt is an 18.7% weight to the lagging financial services sector, DHS' largest sector weight. While financials have been laggards this year, there is no denying the group is inexpensive relative to the broader U.S. market. For example, the Financial Select Sector SPDR (NYSEARCA:XLF) shows a price-to-earnings ratio of 14.8 and a price-to-book of 1.2. Meanwhile, the S&P 500 index has a P/E ratio of 17.0 and a P/B of 2.3.
In terms of protection against rising rates, DHS sports a combined 25.5% weight to the health care and technology sectors, two of the more durable groups when rates climb. Three of the ETF's top-10 holdings are technology or health care names, which also boosts the fund's dividend growth allure.
For example, Microsoft (NASDAQ:MSFT), the largest holding in DHS with a weight of 5.3%, has delivered dividend increases of 21.7% and 15% the last two times the software giant boosted its payout. Johnson & Johnson (NYSE:JNJ), DHS' third-largest holding, has one of the longest dividend increase streaks of any large-cap U.S. company.
Add to that, DHS has long outperformed some of its larger rivals. For example, the WisdomTree offering has topped by VIG by 930 basis points while being less volatile over the past three years. Since the March 9, 2009 market bottom, DHS is up 288% compared to 182.6% for VIG.
DHS has a distribution yield of 2.83%, charges 0.38% per year and pays a monthly dividend.
DHS vs. VIG Last Three Years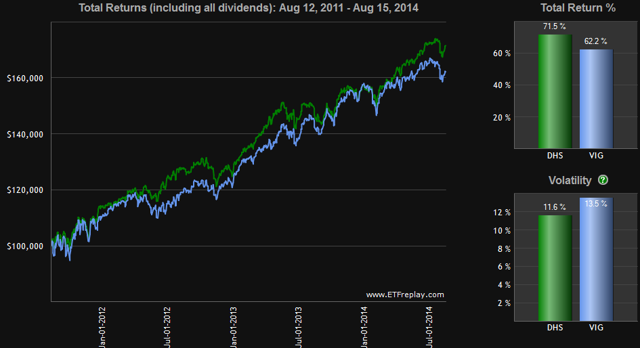 Chart Courtesy: ETF Replay
Disclosure: The author has no positions in any stocks mentioned, and no plans to initiate any positions within the next 72 hours.
The author wrote this article themselves, and it expresses their own opinions. The author is not receiving compensation for it. The author has no business relationship with any company whose stock is mentioned in this article.