Aug. 19 was a great day to own shares of TJX Companies (NYSE:TJX). After news broke that the company's revenue for the second quarter of its 2015 fiscal year exceeded expectations and that its earnings matched forecasts, the retailer's shares shot up 9% to close at $58.56. In light of this development, should investors consider taking a stake in the business or might rival Big Lots (NYSE:BIG) be a more sensible play?
TJX beat forecasts on the top line and impressed on the bottom
For the quarter, TJX reported revenue of $6.92 billion. This represents a nearly 7.5% gain over the $6.44 billion management reported during the second quarter of its 2014 fiscal year last Aug. and was slightly higher than the $6.88 billion analysts anticipated. According to its press release, this rise in revenue was driven largely by a 5% jump in store count to 3,279 locations from the 3,119 the company operated the same time a year earlier.
Earnings Overview

| | | | |
| --- | --- | --- | --- |
|   | Last Year's | Forecasted | Actual |
| Revenue (billions) | $6.44 | $6.88 | $6.92 |
| Earnings per Share | $0.66 | $0.73 | $0.73 |
In addition to this rising store count, management also attributed some of its rise to a 3% improvement in comparable store sales, led higher by positive results in all of its segments but with TJX Europe and HomeGoods leading the way with comparable store sales rising 6% and 5%, respectively. The company's TJX Canada and Marmaxx segments brought up the rear, with comparable store sales rising a more modest 3% and 2%, respectively.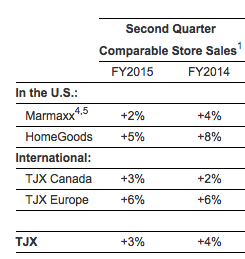 Looking at profits, the situation was even better. For the quarter, management reported earnings per share of $0.73. This was in line with estimates and was almost 11% greater than the $0.66 reported in last year's quarter. In its press release, TJX's management team attributed this rise in profits to rising sales, combined with a decline in its selling, general and administrative expenses from 16.7% of sales to 16.2% and a 3% reduction in share count.
But is Big Lots better?
Over the past five years, TJX has had a pretty good run. Between its 2010 and 2014 fiscal years, the retailer's revenue shot up 35% from $20.3 billion to $27.4 billion as its store count rose 17% from 2,743 locations to 3,219 while aggregate comparable store sales increased 28%. Big Lots, in contrast, saw its revenue climb a more modest 12% during this timeframe from $4.7 billion to $5.3 billion as a 15% increase in store count from 1,361 locations to 1,570 was negatively impacted by a 2% drop in aggregate comparable store sales.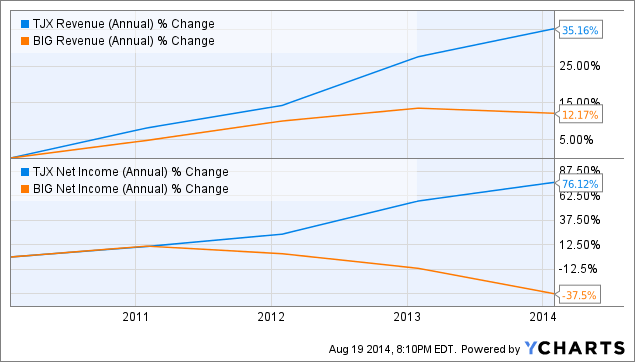 TJX Revenue (Annual) data by YCharts
From a profit standpoint, the difference between the two companies is even more staggering. Between its 2010 and 2014 fiscal years, TJX's net income skyrocketed by 76% from $1.2 billion to $2.1 billion. This came about because of rising revenue but also because the retailer's cost of goods sold dropped from 73.8% of sales to 71.5%. Big Lots, by comparison, reported a 37% decline in net income from $200.4 million to $125.3 million as higher revenue was met with an increase in its cost of goods sold from 59.4% of sales to 61% and in its selling, general and administrative expenses from 32.4% of sales to 33.2%.
Takeaway
Currently, TJX looks like an interesting prospect. In addition to posting strong results for the quarter, the business has done well increasing sales and profits over the long run. While the future cannot be certain, this trend looks encouraging, especially when compared to rival Big Lots. This is especially true when you discover that TJX's forward P/E of 19 matches Big Lots' (though both are quite pricey).
Disclosure: The author has no positions in any stocks mentioned, and no plans to initiate any positions within the next 72 hours.
The author wrote this article themselves, and it expresses their own opinions. The author is not receiving compensation for it (other than from Seeking Alpha). The author has no business relationship with any company whose stock is mentioned in this article.