Apple (NASDAQ:AAPL) finally touched $100 on Tuesday.
As you can see from the below chart, which is adjusted for the company's recent 7:1 split, Apple is nearing its all time highs that were set in late 2012. Between then and now, the stock had been as low as the $380 area. Buyers in that range are close to doubling their investment in the short time period of just about two years.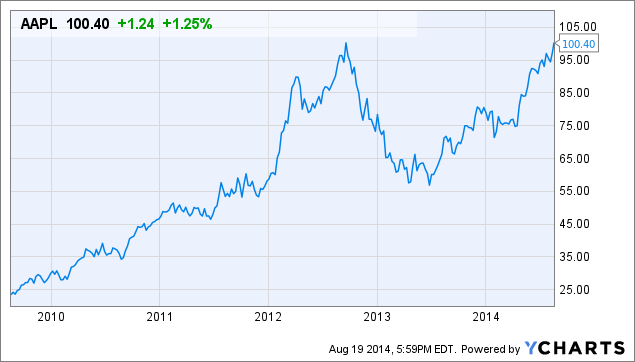 We always like to take a look at the charts. They can be key indicators, not only for things like volume spikes intraday, but also for daily, monthly, and yearly technical analysis.
From a technical perspective, the $100 mark is likely going to be a key point of resistance for the stock. If the stock can't break this range and hold, you can tell from the above chart that we may be subjected to a double top reversal pattern.
Since the company initiated its split two earnings periods ago, the topic of profit taking at $100 has been prominent. $100 has continually been used as a price target for the company both on blogs and on national television, as well.
In news, Apple recently ended its patent battles with Samsung outside of the U.S., which have been going on for years and will save both companies a mountain of legal fees going forward. Apple is clearly the dominant party between the two, gaining ground in smart phone sales while UBS notes the rest of the sector has fallen off a bit.
Heading into September 9th's upcoming iPhone event, we can't really figure out an instance where we think it would be good to bet against Apple. The iPhone 6, as a reminder, is slated to have 4.7" and 5.5" sapphire cover glass displays and a slew of other new features. Rumours have abounded regarding the iPhone 6 for months now, and the phone's release has been built up into a significant event. Many eyes on Apple have been waiting for the new line of products to determine the company's ability to continue to produce excellent products that will sell.
New iPads are also said to be on the way, according to a report by Bloomberg that was put out last week.
You just never know what is going to pop up at an Apple event.

The Peel's Feel:
We rate Apple as JUICY (BUY) with a PT of $120, which we think is going to be achievable in 2015 at some point. We also like Apple as a long-term hold and believe the stock to be, all inclusively, one of the best stocks on Wall Street to own.
Our family fund owned Apple several times. Most recently, we were buyers near $500 earlier this year. Once that position reached a pre-split adjusted price of near $630, we exited. Should we come out of our cash heavy period looking to reestablish ourselves in long positions, we will consider Apple first and foremost.
We think the prudent way to assess Apple in this situation is to wait and see what the chart shows us in the coming trading days. Heading into, and after, the iPhone event, we believe there is going to be a clear signal as to whether or not this company is held up by $100, or is going to blow through.
At the office, we believe Apple will park itself near $105 into the iPhone event, where it should continue higher towards the $120 area through the holiday season and into 2015.
Disclosure: The author has no positions in any stocks mentioned, and no plans to initiate any positions within the next 72 hours.
The author wrote this article themselves, and it expresses their own opinions. The author is not receiving compensation for it (other than from Seeking Alpha). The author has no business relationship with any company whose stock is mentioned in this article.