For the past several months, various Wall Street banks and research firms have released very negative reports and numerous downgrades on the various companies in the offshore drilling sector. This has caused the stock prices of these companies to fall and many of them currently trade for close to their 52-week lows. For example, at the time of writing, Ensco (NYSE:ESV) trades for $49.35 compared to its 52-week low of $47.85. This negativity towards the sector continues to take place, with analysts at Raymond James stating that conditions in the industry are likely to get worse. There does seem to be some skepticism towards at least some of these reports, at least if the comments here on Seeking Alpha are any indication. In this article, we will look at the current conditions in the industry and attempt to determine who is correct here.
One of the most reliable sources of information about the offshore drilling industry is IHS Petrodata. IHS Petrodata provides consulting services, market intelligence, and analytical services to the drilling contractors themselves. As such, this firm's data is heavily relied upon by the managements of both the offshore drilling contractors that contract out their rigs as well as the exploration and production companies that employ those rigs.
Once per month, IHS Petrodata publishes its Offshore Rig Day Rate trends report. This report provides utilization and newly awarded contract dayrates for four different categories of rigs:
Worldwide ultra-deepwater drillships
Worldwide ultra-deepwater semisubmersibles
Northwestern Europe region harsh-environment jack-up rigs
Southeast Asia high-specification jack-up rigs
In my previous report on the conditions in the offshore drilling industry, I stated that the jack-up market was actually quite strong. Seadrill (NYSE:SDRL) described the jack-up market as the "sole bastion of strength" in the industry in its fourth quarter 2014 report. This still appears to be the case, particularly in the harsh-environment jack-up subsegment: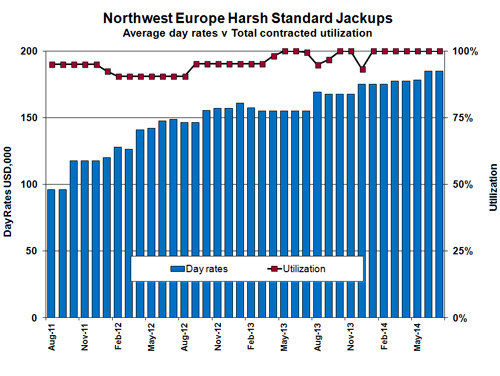 Source: IHS Petrodata
Harsh-environment jack-ups are shallow-water drilling rigs that operate in some of the most difficult environments in the world such as the North Sea or the Arctic. As the chart shows, there appears to be no weakness in the market for these rigs. Since September of 2011, the dayrates on newly awarded contracts have been continuing to increase. In addition, there appears to be no supply glut in the market for these rigs. As the chart shows, utilization of this type of rig is at 100%. This means that every single harsh-environment jack-up rig currently in existence has a contract. This could prove beneficial for those companies that operate these rigs, such as North Atlantic Drilling (NYSE:NADL), as this trend would enable them to secure higher dayrates for their rigs when the time comes to secure new contracts for them.
Unfortunately, there have been some signs of weakness in the market for non-harsh environment-capable jack-up rigs. This is evident by looking at the same figures for this industry subsegment.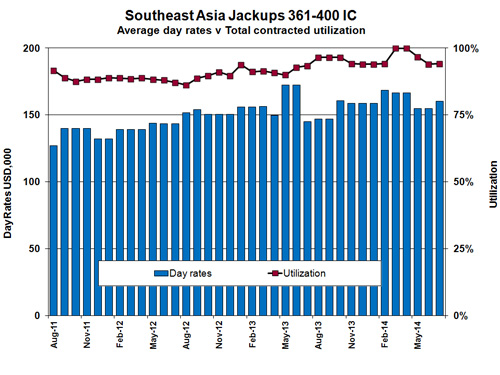 Source: IHS Petrodata
This chart shows the utilization rates for and dayrates for newly awarded contracts on independent leg cantilever jack-up rigs capable of operating in 361 to 400 ft. of water in Southeast Asia. These are the most modern and technically-capable jack-up rigs in existence today, similar to those jack-up rigs operated by Seadrill or Rowan (NYSE:RDC). Admittedly, this chart only shows the figures for those rigs in Southeast Asia and so specifically excludes those rigs operating in other shallow-water environments such as the Persian Gulf or the Mexican portion of the Gulf of Mexico. However, Southeast Asia is by far the largest market for these rigs and so it can serve as a proxy for the worldwide market.
As the chart shows, this market remained quite strong throughout the period that analysts were warning investors away from companies in the offshore drilling industry. Dayrates for new high-specification jack-up contracts rose steadily over the June 2013 to January 2014 period. Unfortunately, the dayrates for these rigs have slowly declined since then but still remain well above the levels that they were at in the middle of last year. Utilization rates, meanwhile, show no sign of weakness and have been steadily climbing since the middle of 2012. While utilization rates have been declining slightly in 2014, this does not necessarily indicate a problem in and of itself. However, combined with the recent dayrate declines, it certainly could be an early indication of sector weakness. Investors are advised to keep an eye on this but admittedly, I do not see any reason to panic at this time.
Since the end of last year, Wall Street reports have been citing declining utilization as a reason to be bearish on the ultra-deepwater sector. There appears to be more to the story than this. In fact, utilization rates for ultra-deepwater drillships have not been declining and have remained at 100% since late 2011. There have been declines in the utilization rates for ultra-deepwater semisubmersible units, but even here, utilization rates remain at respectably high levels.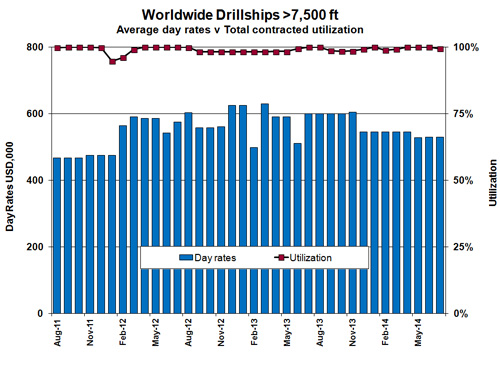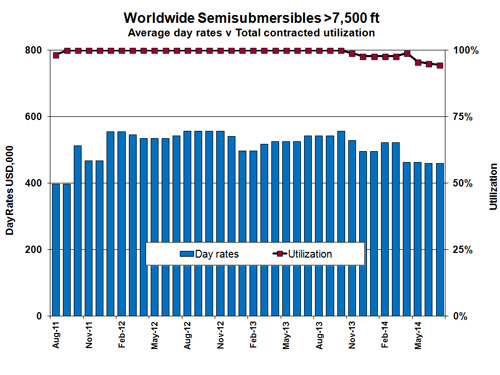 Source: IHS Petrodata
As the charts both show, dayrates for new ultra-deepwater rig contracts have been declining in recent months. This is despite the fact that utilization rates have been relatively stable. There are two reasons for this. The first is that the expense of operating in areas like North America's shale has pushed the real cash flows of many companies that would otherwise contract ultra-deepwater rigs into the red. Thus, these companies are not willing or able to pay as much to secure the services of these rigs as they were previously. This downward dayrate pressure is enabled by the fact that offshore drilling contractors began constructing a large number of rigs during the 2011-2013 period. Thus, there are fears that there will be an oversupply of rigs in the future and these fears are applying downward pressure on dayrates because some exploration and production companies are putting off contracting rigs due to the expectation that dayrates will fall in the future as these new rigs leave the shipyard.
With that said, dayrates for ultra-deepwater drillships still remain higher than the levels that they had back in 2011 and have, in fact, been holding relatively steady since December 2013. A different trend has been observed in the ultra-deepwater semisubmersible market. As the chart above shows, dayrates actually rose in the early part of this year. However, overall, dayrates for these rigs have been falling from the highs that they reached in October 2013.
The weakness in the ultra-deepwater industry is likely to be short-lived. One reason for this is simple economics. As Seadrill stated in its first quarter results, it costs an average of approximately $56 per barrel to produce oil in the world's ultra-deepwater regions. This is much lower than the cost of producing oil in one of the other high growth areas, the North American shale plays. The average cost of producing oil here is approximately $65 per barrel. Thus, from a purely economic perspective, it makes sense for oil producers to develop their ultra-deepwater assets as opposed to their oil shale assets.
However, both shale oil and offshore are likely to make up a growing percentage of the world's energy mix. One reason for this is that conventional oil production is declining. The world's production of conventional oil peaked in 2008 at approximately 70 million barrels per day and has been declining by about 3.3 million barrels per day per year since that time. Thus, onshore unconventional production and offshore production has been filling the gap, with nearly all of the offshore production growth coming from the ultra-deepwater environment. This is expected to continue to be the case going forward, with production from the world's ultra-deepwater regions expected to grow at a compound annual rate of 1.2% over the 2012-2030 period.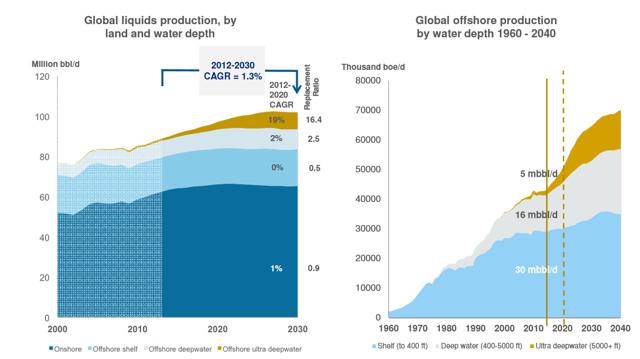 Source: Rystad Energy, Seadrill
One of the reasons for this is that there have only been two environments in which the amount of resources discovered over the 2000-2012 period have exceeded the amount of resources extracted from the ground. One is these environments is the deepwater environment, defined as those resources located in the sea floor at depths of 400-7499 ft. The other environment is the ultra-deepwater environment, defined as those resources located in the sea floor at depths of 7500 ft. or more.

Source: Rystad Energy, UCube, Seadrill
Due to this, exploration and production companies will be forced to develop their deep- and ultra-deepwater assets as their onshore assets are depleted. This will increase the demand for ultra-deepwater drilling rigs going forward. Given the relatively long development time of an offshore oil field and the long construction time of an ultra-deepwater rig, we can derive a fairly accurate estimate of both the supply and the demand for rigs over the next few years. Ultra-deepwater specialist Pacific Drilling (NYSE:PACD) performed such an analysis for a recent presentation.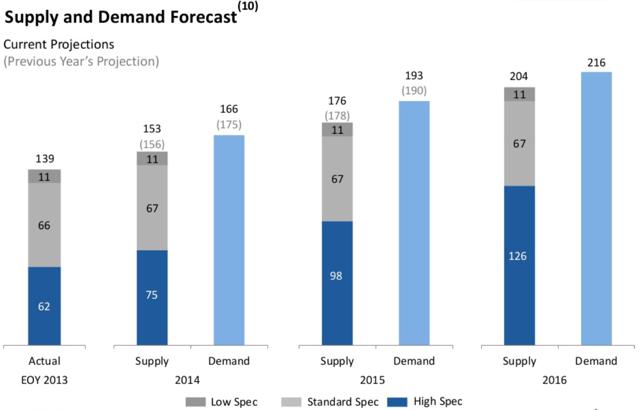 Source: Pacific Drilling
As this chart shows, the supply of ultra-deepwater rigs is expected to be insufficient to meet the demand for said rigs going forward. This will serve to put a floor on dayrates because oil and gas companies will be actively bidding against one another to secure the rigs that they need to develop their respective oil fields.
There are some signs that the current weakness in the ultra-deepwater market segment is coming to an end. As already mentioned, some oil and gas companies have been postponing putting rigs under contract until dayrates have bottomed out. Seadrill also mentioned this fact in its first quarter earnings report. However, the company also stated that over the past few months, oil and gas companies have begun to show more interest in contracting rigs which may be an indication that these companies are starting to think that dayrates have reached their bottoms. If this is correct, then it may be a sign that new contract dayrates for ultra-deepwater rigs either are or will shortly be beginning to increase and this would likely cause increases in the stock prices of offshore drilling contractors.
Disclosure: The author is long SDRL, PACD, NADL.
The author wrote this article themselves, and it expresses their own opinions. The author is not receiving compensation for it (other than from Seeking Alpha). The author has no business relationship with any company whose stock is mentioned in this article.
Additional disclosure: My long position in North Atlantic Drilling is in the Norwegian over-the-counter shares and not the NYSE traded shares.