Many see President Obama's signature achievement as a "socialist takeover", but in reality it is a great opportunity for investors to gain exposure to an emergent healthcare sector. The health care industry is the largest, fastest growing sector in the world. The U.S. healthcare system accounts for more than $2.5 trillion in annual expenditures, which is nearly 20% of the nation's Gross Domestic Product (GDP) According to economists, in the Office of the Actuary at the Centers for Medicare and Medicaid Services (NYSE:CMS), spending is projected to grow at an annual average rate of 5.8% through 2020, which is 1.1% higher than our nation's projected GDP growth. By 2020, healthcare spending is projected to exceed $4.5 trillion.
There is a significant opportunity here to gain exposure to U.S health care companies that will gain more and more clients as Obamacare becomes fully integrated and the baby boomer generation retires and use more benefits.
Companies:
CVS Caremark Corp (NYSE:CVS) is in prime position to take advantage of the Obamacare ruling and the overall growth in the health care industry.
According to Reuters, CVS executives see the Obamacare bill as an opportunity to serve more customers, "whether they are picking up prescriptions, getting them through the mail or stopping by an in-house MinuteClinic for a checkup."
Earlier this year, CVS decided to stop selling tobacco; a move to strengthen its growing appeal as a health option and provider. A core part of this strategy is its expansion of its MinuteClinic services.
MinuteClinic has more than 800 locations in 28 states and the District of Columbia. Nurse practitioners and physician assistants offer health care services that include vaccinations for flu, pneumonia, and hepatitis, routine lab tests, and wellness services such as the "Start to Stop" smoking cessation program.
And while CVS' first-quarter financial report, missed estimates by .02, second-quarter report beat estimates by .03. MinuteClinic however revenue grew by 11% in the first quarter and grew by 24% in the second quarter.
CVS is poised to continue to grow and take advantage of its presence in the health care field.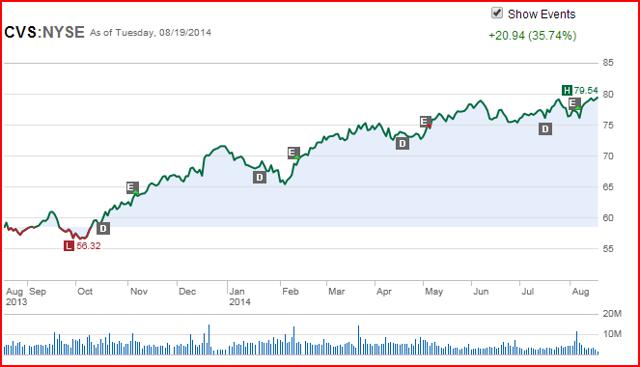 AHS
AMN Healthcare Services, Inc. (AHS) provides healthcare workforce solutions and staffing services to healthcare facilities in the United States. As a health care workforce solutions company, AMN healthcare provides staffing consulting services, and placement of physicians, nurses and allied healthcare professionals into temporary and permanent position.
The Company's clients include acute and sub-acute care hospitals, government facilities, community health centers and clinics, physician practice groups, and several other healthcare settings.
Like CVS, AMN healthcare is in prime position to take advantage of Obamacare and the aging American population. "You've got 10,000 baby boomers becoming eligible for Medicare every day now," CVS Chief Executive Officer Larry Merlo said. The U.S. is projected to experience a shortage of Registered Nurses ((RNs)) that is expected to intensify as Baby Boomers age and the need for health care grows.
According to the "United States Registered Nurse Workforce Report Card and Shortage Forecast" published in the January 2012 issue of the American Journal of Medical Quality, a shortage of registered nurses is projected to spread across the country between 2009 and 2030.
"A shortage creates multiple issues that all come down to the patient," said AMN Healthcare President and Chief Executive Officer Susan Salka. "If you do not have enough clinicians, it restricts access to care. Doctors, for example, either do not take more patients or they take patients, and everyone waits longer."
AMN healthcare's 2013 Clinical Workforce Survey found that 78 percent of hospital executives report a nationwide physician shortage exists, 66 percent believe there's a shortage of nurses, and half think a shortage of advanced practitioners is here.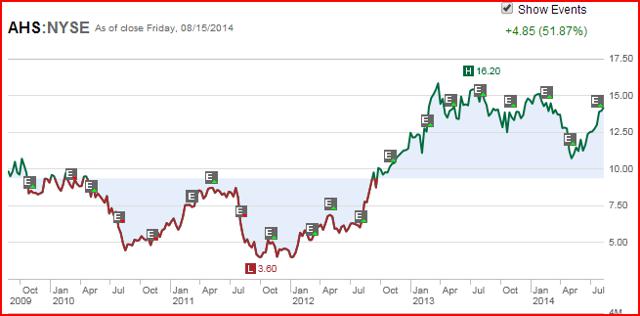 In the fourth quarter 2009, AMN missed on earnings per share by $.01 and it sent the price of the stock down significantly. Again in the second quarter of 2011, AMN missed on earnings sending it near all-time lows. Since 2011, AMN health care has beaten earnings in every quarter.
Hospital operators are reaping their best days in years thanks to millions of new customers under the Affordable Care Act; these hospitals are sure to use AMN healthcare to plug their nurse and other staffing shortages. AMN healthcare will continue to succeed with the funds being sent to state hospital and facilities to pay for expanded Medicaid and for Medicare coverage. If southern states agree to take funding, AMN healthcare will see even greater profits.
Conclusion:
CVS and AMN healthcare are in prime position to take advantage of the growing healthcare sector and the additional customers that Obamacare has provided. I realize that many see President Obama as a liberal, or maybe even a "socialist" president, but please take a second to look at the law and what it stands for. It means more customers for insurance agencies and more money for us.
Disclosure: The author is long CVS, AHS.
The author wrote this article themselves, and it expresses their own opinions. The author is not receiving compensation for it (other than from Seeking Alpha). The author has no business relationship with any company whose stock is mentioned in this article.