With over 25 years of experience investing in shopping centers I have learned the difference between a good, a bad, and an ugly retail center. In fact, prior to the Great Recession I never knew there was such a thing as an ugly shopping center as I built dozens that leased up in the middle of "no-where-ville".
I remember building a shopping center in a rural market around twenty years ago and I had steel in the air before signing the first lease. I don't know who was dumber, me or the banker.
But we all know that times have changed and this period in time we call the Great Recession sparked a whole new definition in terms of how we define quality. I can't imagine why many of the centers that I developed were built - was it tenant demand? banker demand? Consumer demand? or perhaps developer greed?
Whatever the reason, we know that there are hundreds of ugly shopping centers that are planted across the country, many of which have no hope of recovering from pre-recession valuations. In addition, the threat of e-commerce and rising interest rates have further dampened recovery efforts, especially in smaller markets. It's true, banks are now lending to certain small shop (or mom and pop) tenants; however, these non-credit tenants will feel the hardest impact when rates start increasing.
You can see that I speak with a foul tongue when it comes to shopping centers. No, not profanity, but I'm clearly disenchanted with the equity that I lost as a result of bad bets (many I caused) and my critical view of this sector has made me an even more critical investor when it comes to REIT investing.
I'm a Picky REIT Investor
So now you have it, I'm extraordinarily critical when it comes to Shopping Center REITs. I don't have the exact figure but I can tell you that I lost millions of dollars investing in fee-simple shopping center assets. While I believe REITs offer a variety of sound investment attributes, the underlying asset quality is the primary source of repayment and I just cannot stomach losing one more nickel investing in low quality assets.
Today there are around 20 different Shopping Center REITS and of these, I only own two: Kimco Realty (NYSE:KIM) and Retail Opportunity Investment Corporation (NASDAQ:ROIC).

I purchased shares in Kimco in January (see my recent article HERE) and I purchased shares in ROIC on October 9, 2013. Since buying ROIC my shares have returned 20.6% - just beating the peer group average of 19.7%.

ROIC became a REIT in 2010 by soliciting "blind pool" investors to roll the dice on a $400 million war chest. That's right, investors essentially anteed up cash to invest in a start-up REIT with no hard assets. Because of the significant equity requirement to purchase shopping centers in the Great Recession ROIC was able to capitalize on market place inefficiencies (such as higher developer funded projects with higher LTV ratios).
That sounded like a high risk proposition - handing over capital to invest in one of the most speculative asset classes. However it had more than a clever ticker symbol; the CEO and senior-level executives had a track record. ROIC's core management team consists of its current President and CEO, Stuart Tanz, and several other leading shopping center veterans. Tanz was the former CEO of Pan Pacific Retail Properties Inc. (PNP) where, during his nine year tenure, he grew the company's market cap from $447 million to around $ 4 billion. Through a series of consolidative acquisitions, PNP purchased around $2 billion of retail assets (over 18 million square feet) and later sold PNP to Kimco for around $4.1 billion (2006).
As evidenced by the early enthusiasm with ROIC's IPO, Tanz's track record (at PNP) was fundamental to the success of the investment model. During the period of PNP's public ownership, the company provided a 529% total return, compared with 355% for shopping center REITs and 67% for the S&P 500 over the same period.
I was not an initial investor in the "blind pool" platform and it took me a few years to pull the trigger. My reasons for waiting had more to do with my financial position (liquidity) than ROIC's performance. Nonetheless, I planted the first seed in ROIC on October 9, 2013 and thus far I'm pleased with the results.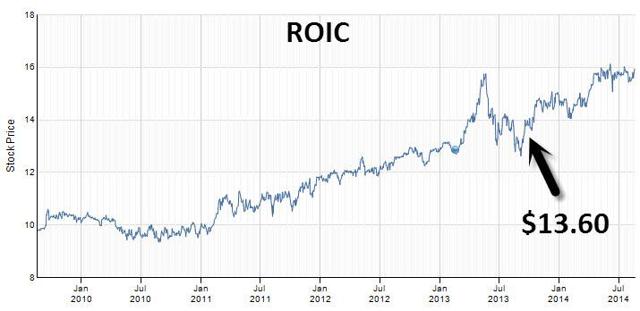 It's now time to revisit this shopping center holding and determine if I'm satisfied with my current exposure. Let's begin.
ROIC: The Cream Rises to the Top
As noted above, since its formation in 2009 (REIT status in 2010) ROIC has adhered to a simple risk-averse strategy of investing in a diverse portfolio of high-quality daily-necessity retail centers. The company has focused on supply-constrained, densely-populated, affluent markets. Most of ROIC's properties are community and neighborhood shopping centers that are anchored by national and regional supermarkets, drugstores and discount stores.
Part of the value proposition for ROIC is based on the fact that a majority of the income generated from the shopping centers is necessity-based. Grocery supermarkets hold approximately 50% of all consumer packaged goods spending (in 2013) with 4.6 average trips per shopping month (it's more like 10 trips a month in my household).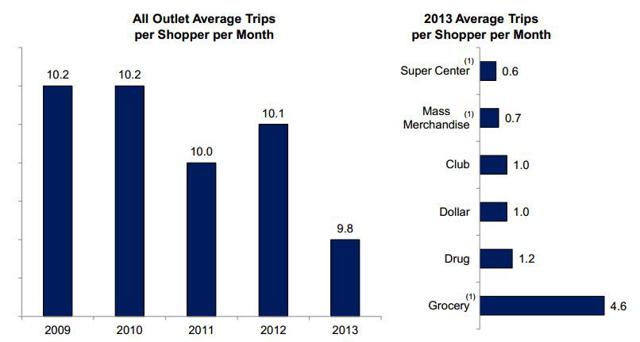 As illustrated below, ROIC's portfolio is predominantly anchored by grocery tenants: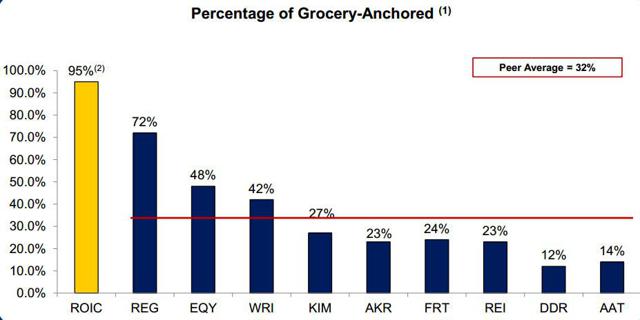 The snapshot below illustrates ROIC's Top 10 Tenants: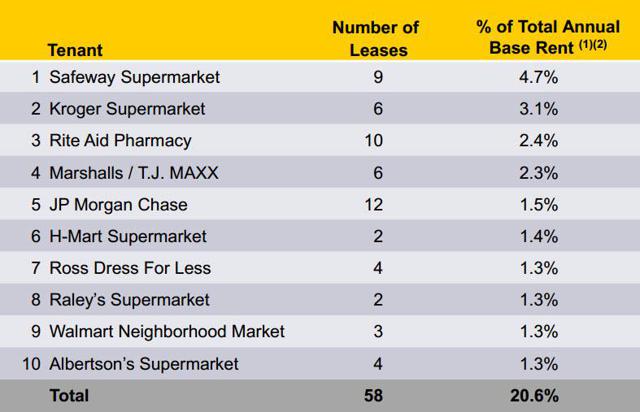 The necessity-based income is evident when you review the chart below - ROIC's portfolio has 95% anchored by grocery tenants: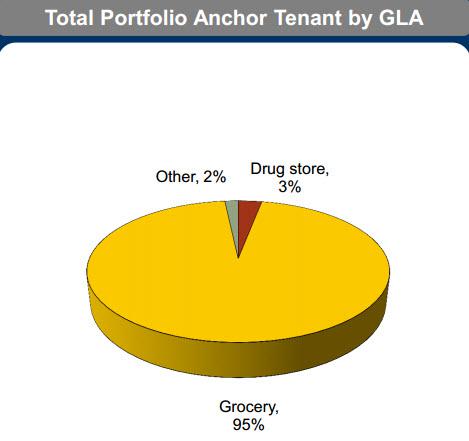 Also, this chart (below) illustrates the retailer reach within ROIC's portfolio - 62% national tenants and 15% regional tenants: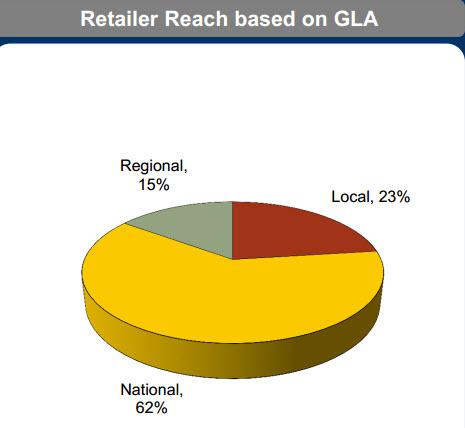 Accordingly, ROIC has minimal major tenant lease expirations: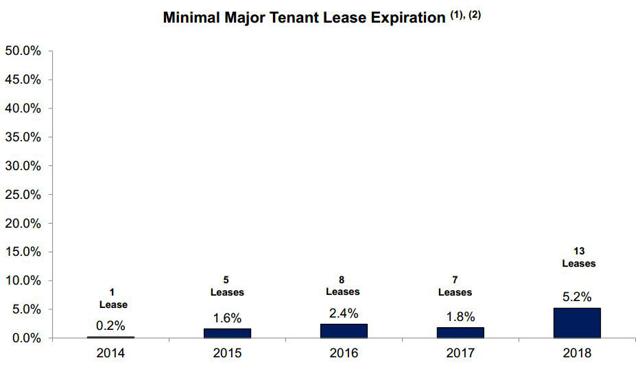 In addition to high-quality income, ROIC has also benefited from its strategic focus on West Coast markets. These high barrier-to-entry attributes include: densely populated trade areas, above-average household income, solid employment growth, retail sales above pre-recession levels, limited new construction, steady and rising occupancy, and strong rent growth. ROIC owns 59 properties and here is a map illustrating the breakdown within the West Coast markets: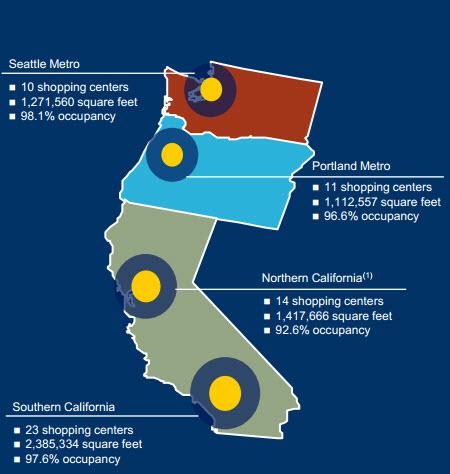 One of my biggest lessons as a real estate developer was to only invest in high-quality markets; that's where property fundamentals are the strongest. Without a doubt, ROIC invests in some of the most attractive markets in the US. The company's average household income level is around $90k (target) and the national average is $62k.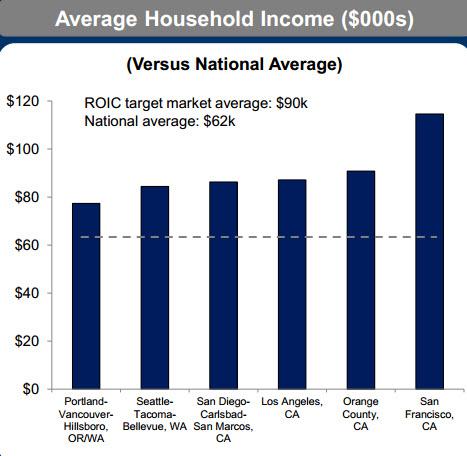 ROIC has the best demographic model in the shopping center sector with average household income of around $85k versus the peer group average of $67k.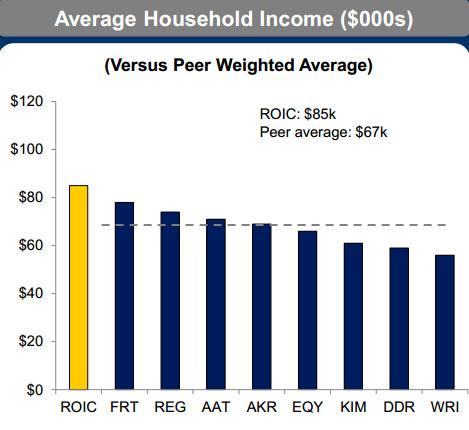 ROIC: Executing at All Cylinders
As we just saw, ROIC has built a powerful portfolio of assets capitalizing on fragmented ownership in core West Coast markets. But let's see how the "cream that's rising to the top" is impacting fundamentals. Here's a snapshot of ROIC's consistently high occupancy:

Now let's visit ROIC's same-center NOI. In the second quarter ROIC's NOI increased by 2.8%, on a cash basis, which represents the 10th consecutive quarter of achieving same-center NOI growth.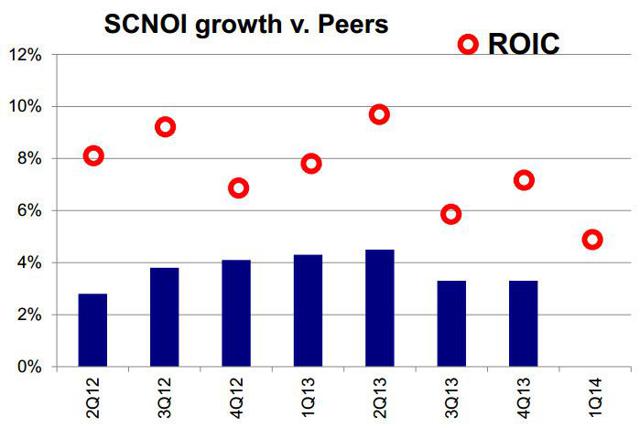 Also in the second quarter ROIC had $36.9 million in total revenues and $9.7 million in net operating income, as compared to $26 million in total revenues and $6.6 million in net operating income for the second quarter of 2013. For the first 6 months of 2014, ROIC had $73.3 million in total revenues and $19.8 million in net operating income, as compared to $50.4 million in total revenues and $12.5 million in net operating income for the first 6 months of 2013.
Net income for the first 6 months of 2014 was $9 million, or $0.12 per diluted share, as compared to net income of $4.8 million, or $0.07 per diluted share for the first 6 months of 2013. ROIC's funds from operations (or FFO) for the second quarter was $17 million, as compared to FFO of $12.7 million for the second quarter of 2013.
FFO per diluted share for the second quarter was $0.21, representing a 16.7% increase over FFO per diluted share for the second quarter of 2013. FFO for the first 6 months of 2014 was $33.6 million, or $0.42 per diluted share, as compared to FFO of $24.2 million, or $0.36 per diluted share for the first 6 months of 2013.
Translating earnings to dividends, ROIC has evolved into a strong dividend contender with a steady and rising stream of dividends:

Compared with the peer group, ROIC has paid out the second highest dividend increases - ROIC averaged 17% growth over 3 years (DDR averaged 48%).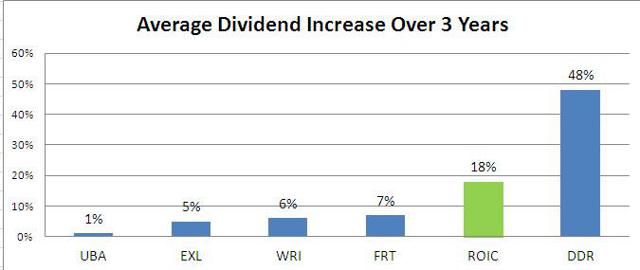 Here's a snapshot of dividend increases for ROIC and the peer group: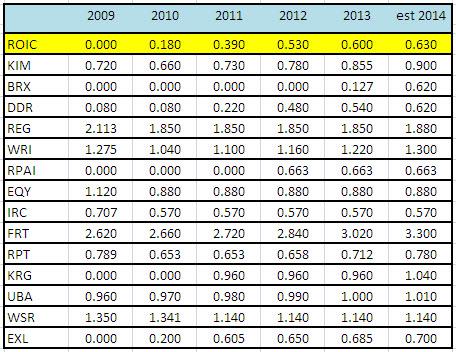 ROIC: Maintaining a Flexible Balance Sheet
ROIC utilizes limited secured debt and generally avoids complicated joint venture transactions. Taking into account the stock offering and warrants exercised, ROIC's total market cap surpassed the $2 billion mark, reaching $2.2 billion as of Q2-14. Here's a snapshot of secured debt / undepreciated book value: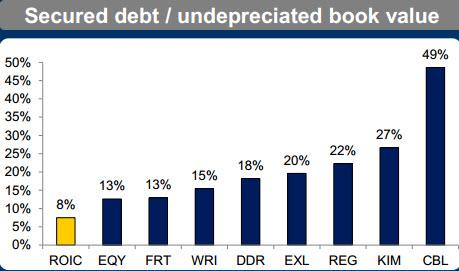 ROIC also lowered its debt ratio during the second quarter, with around $684 million of total debt outstanding, equating to a debt-to-total market cap ratio of 31.6%.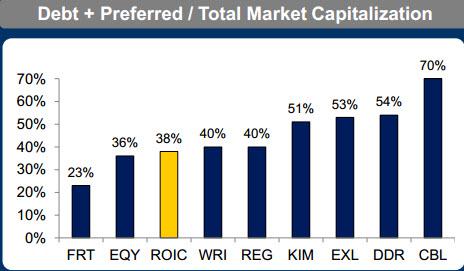 With respect to the $684 million of debt, approximately $160 million is secured debt, $568 million dollars is unsecured and, as of Q2-14, the company had approximately $122 million outstanding on its unsecured credit facility. The company's interest coverage was a solid 3.5x.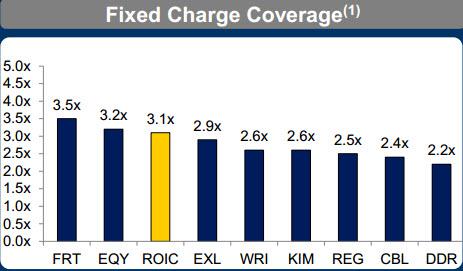 ROIC's unencumbered pool increased during the second quarter, with the acquisition of Fallbrook Center (I will discuss below). As of Q2-14, 87% of the portfolio on a square footage basis, was unencumbered.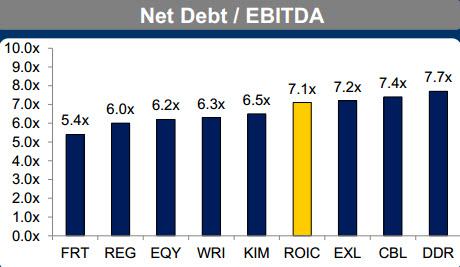 As mentioned above, ROIC recently acquired a $210 million trophy in West Hills, California. Similar to many other deals acquired by ROIC, the company flew under the radar to purchase this off-market gem. The property, Fallbrook Center, contains around 1.12 million square feet and is located in one of the strongest trade areas in the US (trade area: 474k population and $100k HH income). Take a look at this aerial - what amazing density: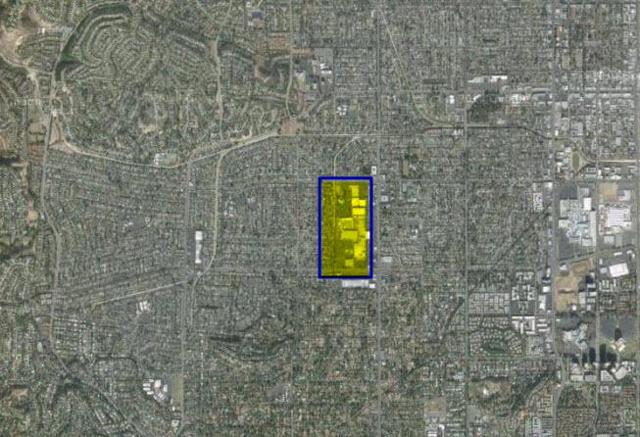 This acquisition features three supermarkets (Ralphs, Trader Joe's, and Sprouts) and a diverse mix of major retailers including Wal-Mart, Home Depot, Target, and Kohl's. This property is 87% leased to anchor tenants with an average remaining lease term of 12 years. This transaction is accretive to ROIC's net income and FFO per diluted share.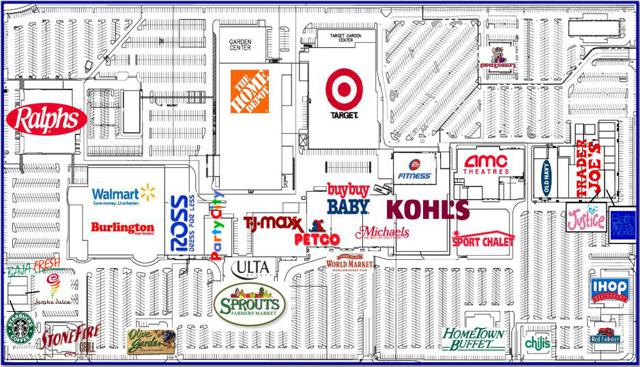 Here's a snapshot of ROIC's Top 10 Tenants (post closing on Fallbrook Center):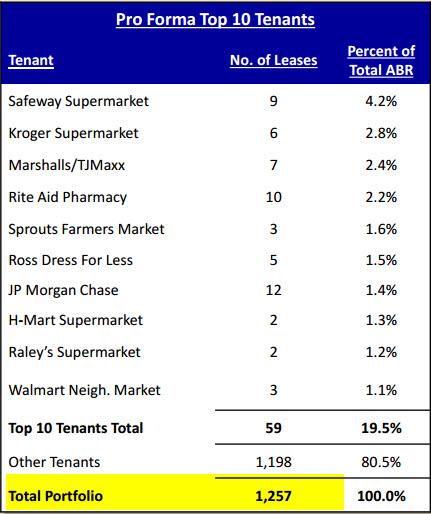 Here's what Stuart Tanz, ROIC's CEO, had to say about Fallbrook on the recent earnings call:
…given the property's expansive, 118-acre site, its diverse mix of space formats from large to small and its strong demographic profile, Fallbrook offers retailers rare access to one of the most sought-after, highly desirable infill markets on the West Coast. As such, demand for space at this center is very strong.
I'm Glad I Have This West Coast Gem in My REIT Portfolio
Yes, I'm glad I have ROIC in my REIT portfolio. The company's strong demand for small shop space continues to drive occupancy from what is already an historic high (96.8%). In addition ROIC is actively adding value through redevelopment, expansions and optimization its tenant-mix. Additionally Tanz (the CEO) will likely continue to source high barrier, off-market acquisitions, given his deep industry relationships and growing reputation among West Coast family owners as a buyer of choice.
Due to ROIC's strategic geographic focus and the lack of new supply coupled with increasing demand for retail space, the company has set the stage for healthy rent growth. In the last two quarters ROIC reported FFO per share of $.21 ($.42 for mid-year) and I expect that the year-end FFO per share range will be above $.86. With a current dividend payout of $.16 per share (annualized $.64) I consider the payout ratio healthy (74%) and indicative of future dividend growth. The current dividend yield is 4.02%.

In terms of valuation, ROIC is trading at the high-end of the peer group with a P/FFO multiple of 18.9x.

With an expanded institutional base, ROIC shares are becoming harder to pick up "on the cheap" and the high-quality asset mix is highly correlated to the current valuation premium. For a new entry price in ROIC, I would wait on a pullback. I can't tell you how long you'll have to wait but I think Mr. Market's attraction to the shares are a tad over-baked.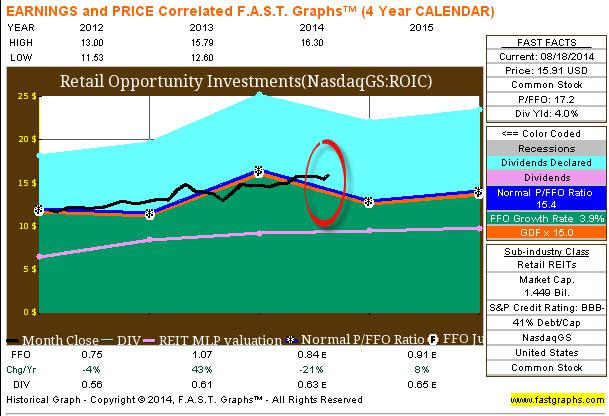 At the end of the day, you get what you pay for and when you invest in ROIC you are getting one of the best shopping center REITs in the world with one of the most investor-aligned management teams (Tanz owns 979,000 shares valued at around $16 million) in REIT-dom. The score cards (earnings reports) are consistent and predictable and the future growth prospects are attractive. Summing it up: I'm Glad I Have This West Coast Gem in My REIT Portfolio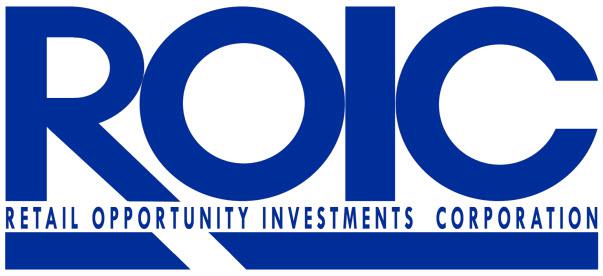 For more information on ROIC and other "SALSA" picks, check out my monthly newsletter: The Intelligent REIT Investor
Source: SNL Financial, F.A.S.T. Graphs, and ROIC Investor Presentation.
Other REITs mentioned: (NYSE:BRX), (NYSE:REG), (NYSE:WRI), (NYSE:RPAI), (NYSE:EQY), (NYSE:IRC), (NYSE:FRT), (NYSE:RPT), (NYSE:KRG), (NYSE:UBA), (NYSEMKT:WSR), (NYSE:EXL), and (NASDAQ:WHLR).
Disclaimer: This article is intended to provide information to interested parties. As I have no knowledge of individual investor circumstances, goals, and/or portfolio concentration or diversification, readers are expected to complete their own due diligence before purchasing any stocks mentioned or recommended.
Disclosure: The author is long O, DLR, VTR, HTA, STAG, UMH, CSG, GPT, ARCP, ROIC, HCN, OHI, LXP, KIM, WPC, DOC, UDF, EXR.
The author wrote this article themselves, and it expresses their own opinions. The author is not receiving compensation for it (other than from Seeking Alpha). The author has no business relationship with any company whose stock is mentioned in this article.