Long Run Exploration (OTCPK:WFREF) is one of my favorite Canadian E&P picks currently. The market has continually shown little love for the company lately which I believe will change in the future. The company has a proven track record of strong production and financial growth which should continue. On August 6th, Long Run reported 2nd quarter earnings along with lots of good news. The company reported strong production growth once again, a dividend increase, and the closing of a very promising acquisition. At this price point, the stock appears extremely attractive and is definitely worth a deeper look.
Since 2010, Long Run has been able to increase production by over 600% from just 3,500 boe/d to over 27,500 boe/d currently. About half of this production was added through strategic acquisitions. This is definitely a key thing to focus on when looking at Long Run. The company has been able to add nicely to organic production growth through drilling as well as invest in more land with production already running.
The company has also divested about $220 million worth of non-core assets since 2012 which has helped maintain a relatively good balance sheet. Currently the company holds about 2.3 million net acres spread mostly between four core areas.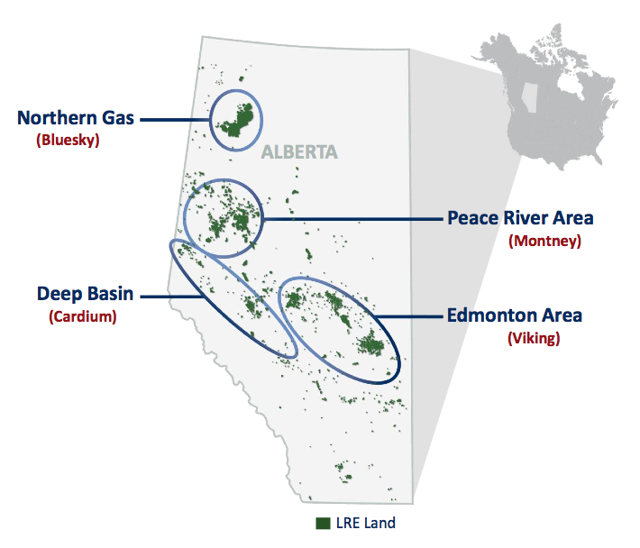 (Source: Long Run presentation)
The company's largest producing land is the Peace River Area. Currently it's producing about 10,200 boe/d, of which ~60% is oil & NGLs. For 2014, the company plans to drill 44 new wells in the Peace River Area and also plans to expand its enhanced oil recovery program in the Q4 there. EOR is a big focus currently for the company and they have initiated it at almost all areas of operations. For those people who do not know much about EOR, it is a recovery process which allows 30 to 60% more of the area's original oil to be extracted.
Long Run's largest land holding is the Bluesky play at its Northern Gas Area. It holds 690,000 net acres with substantial upside. 100% of the production in this area is natural gas and it currently produces 17.5 MMcf/d with an additional 70 MMcf/d processing capacity available. Current overall production is split fairly even between liquids and gas, and the company expects to exit 2014 with it 50-50.
Along with second quarter results, Long Run also announced the acquisition of majority of Crocotta Energy's operations and land. The new land adds 7,500 boe/d to current production, 32.6 MMBoe of 2P reserves, and an extra 150,000 net acres of undeveloped land. Most of the land is situated in Deep Basin Area which the company plans to expand more moving forward. Another key take away is that Long Run acquired good operated infrastructure in the area as well.
It is important to note the company has drilled 70 wells as of the end of quarter 2 with a 99% success rate. Majority of this drilling was focused in the Peace River and Edmonton Areas. In total 98 new wells are planned between those two locations as well as the Deep Basin for 2014.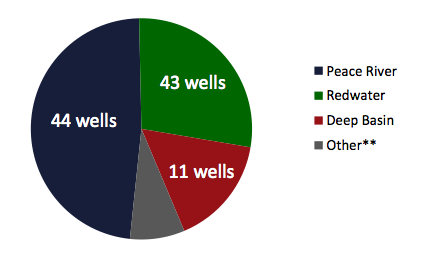 (Source: Long Run presentation)
In January of this year, the company implemented a monthly dividend of $.0335 CAD. In June, it was announced the dividend would be increased 5% to $.0035 CAD. As the company grows more I would expect the dividend to increase as again as well.
Long Run has an excellent risk management position as well. Right now 70% of natural gas production is hedged through the remainder of 2014 and 30% is already hedged for 2015. 65% of oil production is hedged for the rest of 2014 and for 2015 20% of it is hedged as well.
With the acquisition, guidance for the year has been hiked for both FY 14 and FY 15. Long Run expects to average 32,100 boe/d for 2014 and for 2015 expects to average 43,000 boe/d, a 34% increase. Any time an E&P raises guidance, it is a great sign. The company is letting you know that it is doing better than even they expected and that it expects to continue that trend.
For the 2nd quarter, the company reported EPS of $.16 CAD and are forecasted to post EPS of $.40 CAD for FY 14. Revenue for the year is forecasted to be $632 million CAD which would be a 33% increase from last year and for FY 15 the forecast is another 24% increase to $785 million CAD.
Analysts are also fairly bullish on the company with 11 having buy ratings and 5 having hold ratings. For the Toronto listing, which is about $5.20 a share currently, the average price target is $7.00 which points to a substantial 35% upside.
In conclusion, Long Run had a fantastic second quarter. Raising the dividend 5%, and acquiring Crocotta were both stellar moves by the company. Production has continually increased nicely and the company holds an extremely good land position. Going forward, Long Run looks to be in a great place and should do exceptionally well in the future.
Disclosure: The author has no positions in any stocks mentioned, and no plans to initiate any positions within the next 72 hours. The author wrote this article themselves, and it expresses their own opinions. The author is not receiving compensation for it (other than from Seeking Alpha). The author has no business relationship with any company whose stock is mentioned in this article.
Additional disclosure: Always do your own research before investing.
Editor's Note: This article discusses one or more securities that do not trade on a major U.S. exchange. Please be aware of the risks associated with these stocks.