By Mike Yamamoto
H&R Block (NYSE:HRB) is falling sharply after losing a key contract but is drawing long-term call activity from traders who apparently believe that the stock will recover next year.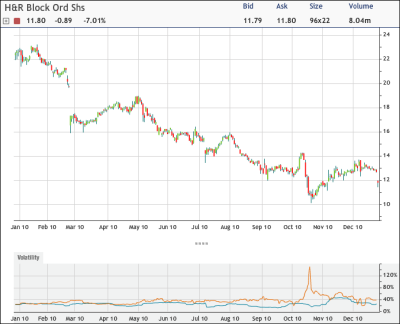 optionMONSTER's Heat Seeker system shows that nearly 4,500 January 2012 12.50 calls traded in a 10-minute period this morning for $1.85 and $1.90. The volume dwarfed both the average daily volume of just 25 calls and the open interest of 890 contracts at that strike.
HRB is down just over 7 percent in midday trading to $11.80. The tax-preparation company closed last week at $12.69 but gapped lower at the open this morning.
The stock fell in the pre-market with the announcement that regulators are not allowing U.K.-based bank HSBC (HBC) to offer "refund anticipation loans" to H&R Block's clients. HRB, which typically offers immediate loans until refund checks come in, said it will still provide loans through other means.
For the calls bought today to turn a profit, HRB would need to gain some 22 percent by expiration 13 months from now. The company is scheduled to release its next earnings report on March 7.

Disclosure: No position