This is a follow-up to my first article, Mobileye N.V. - Ushering In A New Era Of 'Autopilot' And Autonomous Driving, and assumes that the reader has either read that or is familiar with Mobileye (NYSE:MBLY).
On Monday, the Obama administration announced that it will begin drafting legislation requiring new safety technology in future cars and light trucks that enables them to warn of potential dangers and preemptively to avoid collisions.
A research report released by the National Highway Traffic Safety Administration estimates that just implementation of Left Turn Assist (LTA) and Intersection Movement Assist (IMA) could prevent 592,000 crashes, saving 1,083 lives per year - that would be more than a fifty percent avoidance of crashes that would otherwise occur. While the primary focus of the report is vehicle-to-vehicle communications (V2V), not necessarily the same technology as Mobileye, government and industry officials see the two technologies as compatible. In fact, if the technology really catches on roadways and traffic lights could start communicating with cars, notifying drivers of traffic jams or potential hazards ahead.
Transportation Secretary Anthony Foxx called the vehicle-to-vehicle technology "the next great advance in saving lives. This technology could move us from helping people survive crashes to helping them avoid crashes altogether - saving lives, saving money and even saving fuel thanks to the widespread benefits it offers."
Inflection Point in 2016 - 2017
Recently, the European NCAP increased its 'active safety' weight for a 5-star rated vehicle to 20% from 10%. The implication of this is that 5-star rated vehicles now require lane departure warning and/or autonomous emergency braking (for mid to high speeds). In 2016, autonomous emergency braking for 'pedestrians' becomes required. RBC Capital estimates that ~60-70% of the Western European fleet is 5-star rated, so presuming automakers keep marketing new vehicles with 5-star ratings, adoption rates should be meaningful. In 2017, those same requirements become mandatory for vehicles with a 4-star rating (~90%). So by 2017, the European automotive market will be rich with vehicles including ADAS features. Same with the United States, as evidenced by the announcement on Monday.
Regardless of the exact timeline of how the market develops, it's apparent that consumers want ADAS features, which should drive automaker adoption. RBC Capital surveyed 530 U.S. vehicle owners regarding their interest in ADAS features.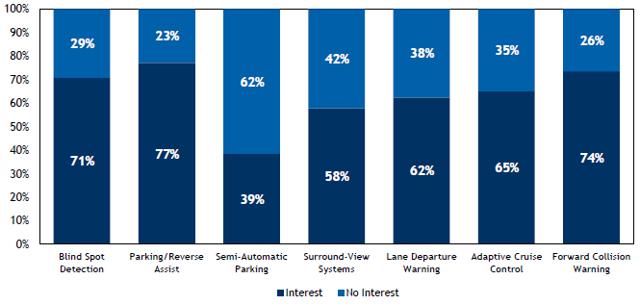 Source: RBC Capital Markets
If you look at past penetration curves of select safety features in the U.S., it's apparent that ADAS features are still in their infancy for market adoption.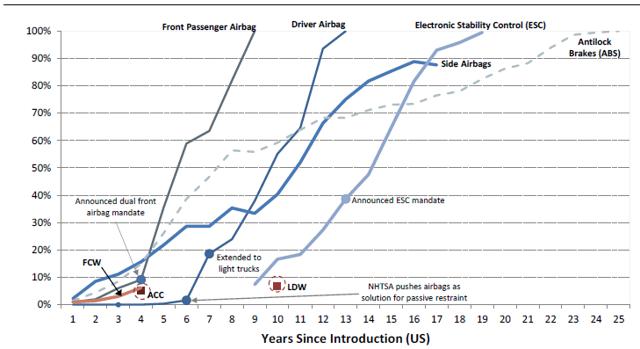 Source: RBC Capital Markets
Given the building empirical evidence on the efficacy of this technology, increasing government support and regulatory changes, and growing consumer demand, we should see strong penetration of ADAS technology by the end of the decade.
RBC Capital forecasts that by the end of the decade, 80% of vehicles produced in Europe, 55% of vehicles produced in North America, and ~20% of vehicles produced in Asia will be fitted with a camera-based ADAS solution. Note, our penetration rates are versus regional production, not sales.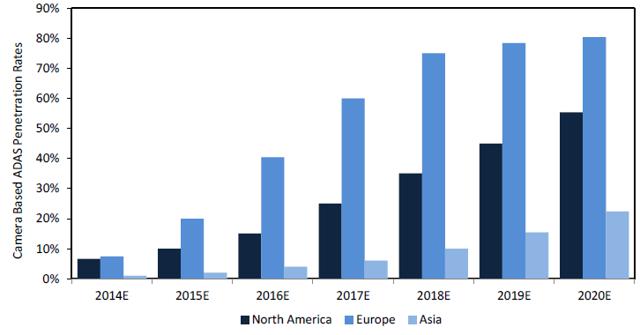 Source: RBC Capital Markets
Competitive Advantage
Product development for new vehicles generally takes about three years and quite often the automaker would work with Mobileye for a couple of years prior to that. Once the vehicle or series enters production, the average life for production run is about six years.

Source: Company reports
Mobileye has stated to have won over 88% of the RFQs and that this rate has been consistent for the past seven years. Given the lead-time, the company should experience strong market share for the foreseeable future. Not only do automakers recognize and trust Mobileye, but the company is far ahead of the competition on chipsets and algorithms.
Undoubtedly, the company's strongest asset and competitive advantage versus other camera-based ADAS technology is its 15 years of R&D, and test and real world experience that has yielded millions of miles of road experience data in more than 40 countries, at all times of day, in multiple scenarios across hundreds of vehicle models. The company's expansive datasets allow for optimization of its proprietary algorithms and patented technology. The company can also fully validate safety functions, critical to avoid false-positive actuations, such as an inappropriate AEB actuation.
All of these factors lead me to believe that Mobileye has a distinct and apparent competitive advantage over the competition, particularly with its dataset, which puts it conservatively five years, but potentially closer to eight years ahead of its nearest competitor. This is assuming that the company can win a similar number of RFQs, and maintain healthy market share. RBC Capital forecasts an 80% clip, and market share declining to 68% by 2020.
Autonomous Driving
Mobileye is the only real pure-play for investors looking for ADAS and autonomous driving exposure. Current ADAS features are the building blocks for autonomous driving, which management believes long-term revenue growth will be driven by.
While the larger revenue opportunity is still a number of years away, Mobileye has already demonstrated autonomous driving capabilities using multifocal arrays. The company put together a 'trifocal sensor', essentially three of its sensing kits with an ASP ~$150. Relative to the competition, namely Google (NASDAQ:GOOG), the Mobileye solution for autonomous driving is not only the most cost effective, but also the most flexible. The company states in its prospectus that it has design wins from two OEMs to launch hands-free-capable driving at highway speeds and in congested traffic situations in 2016, and is in development programs with six more OEMs for a potential 2018 launch.
Peripheral demand metrics suggest that autonomous driving will be a real game-changer in the automotive industry. IHS Automotive forecasts that total worldwide sales of self-driving cars will grow to 11.8 million in 2035, 7 million of which with both driver control and autonomous control, and 4.8 million that only have autonomous control; in total, there should be ~54 million SDCs in 2035. They expect essentially all vehicles to have some autonomous capability sometime after 2050.
Analyst estimates forecast that autonomous driving penetration could approach 3.5% by 2029, which would translate to ~$200 million in autonomous driving revenue alone.

Source: RBC Capital Markets estimates
Mobileye believes its total addressable market for autonomous driving is $15 billion (100 million vehicles at ~$150 ASP). Granted, while more research and innovation is certainly required, the opportunity presented with autonomous driving is extremely compelling as there is a very long runway for growth which should keep multiples high.
Attractive Business Model
Mobileye operates a highly scalable business model and doesn't carry too many assets on its balance sheet. It subcontracts its manufacturing and then sends it off to the automaker for assembly. Moreover, with $81M in 2013 sales the company is already profitable, and has strong free cash conversion (77% in 2013). The model provides the opportunity for a lot of leverage, and Mobileye is targeting to eventually achieve 50%+ net profit margins. Strong free cash flow should continue as capex should be minimal, primarily data storage.
- Gross margins: Long-term gross margin target of 75-78% of revenue. Mobileye is pretty much there and it's reasonable to assume it will maintain this.
- Research and development: The company's long-term R&D target is 7-9% of revenue. 2013 was 21%. Since this is the foundation of the company, investors can continue to expect significant R&D investment. However, with revenue growth expected to grow rather aggressively as the industry starts adopting this technology, leverage should occur, and R&D should fall in-line with company expectations by 2020.
- Sales and marketing: The company's long-term sales and marketing target is 2-4% of sales. This was 8% in 2013, down to 5% in 1Q14. Resources devoted here should mainly be to support aftermarket sales. Given that the majority of the growth is on the OEM side (which is also significantly larger dollar wise), significantly consolidated leverage looks good.
- General and administrative. The company's long-term general and administrative target is also 2-4% of sales. Company was at 7% in 2013 and already down to 3% in 1Q14.
Price Target
RBC Capital Markets has given Mobileye an 'Outperform' rating and a $43 price target. This assumes topline grows at 48% CAGR through 2020. This assumes 39% camera-based global ADAS penetration, Mobileye market share of 68% and a Mobileye ASP of $42. Gross margins at 75%, R&D/revenue at 9.7%, sales and marketing/revenue at 2.1%, and G&A/revenue at 2.5%. This yields 2020 EPS of $2.70 2020E.
Equity researchers at Dougherty & Co. have also assumed coverage and have set a 'Buy' rating and a $45 price target on the stock.
When the SEC enforced 25-day quiet period on underwriter analyses on MBLY concludes on August 25th, expect a lot of new coverage and potentially an influx of new buyers yet to hear about this fantastic company.
When I have more time myself, I too will perform my own valuation calculation. In the meantime, the assumptions laid out by RBC look very reasonable to me.
Some may argue that Mobileye's post-IPO valuation is too high, however I would argue that they haven't given enough emphasis to value of future growth given the compelling industry metrics I've presented.
Bottom Line
Mobileye presents tremendous opportunity for long-term share appreciation. I must reiterate, MBLY is the only real pure-play for investors looking for ADAS and autonomous driving exposure.
The news coming out of the Obama administration is an extremely positive development for ADAS systems in the U.S., and is a big reason why shares rallied ~10% yesterday.
Growth metrics are extremely encouraging, which bodes very well for Mobileye given its projected five to eight year advantage on the competition. Holding a virtual monopoly with no near-term competition, I find the risk/reward scenario very compelling.
Mobileye has established deep industry relationships and has a strong technology portfolio; its dataset in particular is unlike anything that other companies have. Mobileye is already planning for the future in autonomous driving, and has successfully demonstrated these capabilities.
If there is any truth to the Tesla (NASDAQ:TSLA) rumor I discussed in my first article, look for shares to hit a new 52-week high. In the meantime, that may happen anyways as the underwriters to start to push Mobileye and drive investor interest when their lock-up ends.
*If you like what you've read here please click the "+Follow" button and subscribe to my real-time alerts. I just started using the StockTalk function which I find is an excellent resource to communicate real-time trades that I'm making, due diligence that I'm conducting and article alerts.
Disclosure: The author is long MBLY.
The author wrote this article themselves, and it expresses their own opinions. The author is not receiving compensation for it (other than from Seeking Alpha). The author has no business relationship with any company whose stock is mentioned in this article.