Consumer goods makers struggled following a kick in the shins by athletic shoe maker Nike (NKE), which reported earnings that were a touch weaker than expected.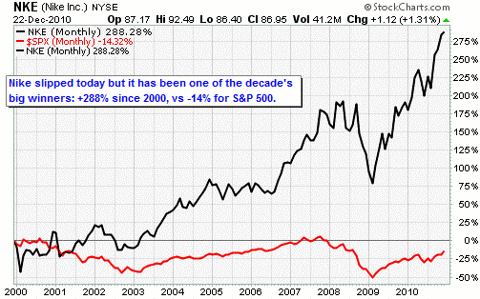 Check out the Nike chart and think about this: The stock has been so powerful that if you had bought the top tick of NKE shares for each annual rally of 2000-2010 you would still be well ahead now. That's the power of a brand. Apple Inc. (Nasdaq: AAPL) has it. The Coca-Cola Company (NYSE: KO) has it. Amazon.com Inc. (Nasdaq: AMZN) has it. Buying the top brands in a consumer society, especially on big declines, will always work.

So what happened to Nike in the past quarter? When you look at why NKE failed to exceed expectations as much as bulls expected you get a quick lesson in the interconnectedness of markets today. Shares fell 5.8%, the biggest drop since March 5, 2009, the day before the bear market low, due in large part to concerns of a slowdown in orders in China and emerging markets.

This is more a reflection of the clampdown on credit in China than it is a reflection of demand. The company did not say so explicitly, but the rising price of raw materials and the narrowing of credit availability probably made it harder for Chinese retailers to stock Nikes in the past quarter. If that's true, then a lot of the themes that we've been talking about are starting to come together. Higher prices virtually always curb demand, whether you're talking about crude oil or sneakers. This could be a very serious headwind for U.S. exporters heading into next year.
Disclosure: None