CNP Compagnie Nationale a Portefeuille (OTC:CNAPF) is a $6.7 billion market cap, Belgium-based holding and investment company that has no following in the U.S. Also known as NPM-CNP and NAT CNP, the firm is the result of 55 years of investments led by 84 year-old billionaire Albert Frere and his family. CNP is one of the components of the Brussels stock index, BEL 20. CNP is divided between direct and indirect stock holdings, and listed and non-listed positions.
The philosophy of the family is to position their investment as one of strategic oversight rather than micro managing daily operations. This is accomplished through either ownership of sizeable positions of publicly traded shares or by majority ownership in non-traded companies while maintaining current management. Approximately 60% of their assets are in the energy and minerals sectors, with another 12% in cash net of debt.
The investment thesis of owning CNP is much like a closed end fund run by the very successful Frere family, where the current above-average discount to adjusted net assets, or Net Asset Value (NAV), equates to buying the firm's listed holdings at market price plus their net cash and getting their private holdings for free. NAV as of 12/22/10 was $67.00 while shares in Europe traded at $48.50.
Approximately 75% of CNP's assets are direct or indirect holding of listed shares and 25% of assets are private holdings. The current market price discount to NAV is 26%.
While Europe-based, the majority of CNP's listed holdings are global companies with sizeable international businesses. The largest holdings, direct and indirect combined, as of Sept 30 include:
Total SA (NYSE:TOT) – 32.8% of NAV or $21.98 per share. Total is a French-based international oil company with a market cap of $120 billion, and operations in 130 countries. Integrated in exploration and production, downstream refining, and petrochemical manufacturing, Total is one of the major global oil concerns. Cash, Net of Debt – 12.5% of NAV or $8.38 per share.

Transcor Astra (Private, 80% owned) – 8.4% of NAV or $5.63 per share. Transcor is an energy services company that distributes and trades oil and natural gas. Transcor also owns and leases oil tankers, storage facilities, and pipelines. Annual revenues are about $100 million and the company reports its value of about $600 million.

GDF Suez (GDFZY.PK) – 7.3% of NAV or $4.90 per share. GDF Suez is a leading energy company with interests across the utility spectrum and carries a market cap of around $80 billion. Mainly focused on electricity and natural gas, GDF Suez is the primary utility for France and Belgium, and is the world's largest utility company.

Imeyrs SA (OTC:IMTSF) – 6.5% of NAV or $4.36 per share. Imeyrs is a minerals mining and processing company with operations in 47 countries. The company provides specialty minerals used in ceramics, refractories and abrasives, along with pigments for paper manufacturing. Imeyrs has a market cap of $5.2 billion.

LaFarge (OTCPK:LFRGY) – 6.0% of NAV or $4.02 per share.LaFarge is a major producer of cement, aggregates, concrete and gypsum. LaFarge is positioned as one of the top three global leaders in each category. Market cap $17.5 billion
Combined, these assets have a current value per share of $49.27 which is about where the market values the entire company.
The balance of CNP's assets include ownership in a wine and spirits company; a media company; share ownership in Suez Environmental, a water company; share ownership in Iberdrola, a major Spanish electric utility; and an investment / private bank providing wealth and asset management services.
As some of CNP's assets are controlled by the company, accounting takes on a bit of a complicated appearance. CNP reports both according to accounting standards referred to as Consolidated IFRS and to a proforma approach referred to as Restricted Consolidation. Management prefers the more user friendly Restricted Consolidation for investor comparisons.
Management has a stated policy of returning profits to shareholders through dividends and share buybacks. The current dividend is $1.10, and has grown by 5.7% on average over the past four years. Current yield is about 2.2%. NAV has grown by 6.7% annually over the same timeframe.
Over the past few years, management has been buying back shares. More importantly, unlike many U.S. share buyback programs where purchased shares are recycled to satisfy expiring management stock options, shares bought by the company are being retired, efficiently reducing share count. Current shares outstanding are 105 million, down from 120 million previously.
Now the fun begins. CNP is part of a web of indirect stock holdings described here (from the company website) CNP is 21% owned by BNP Paribas (OTCQX:BNPQY), the large French bank; 45% is owned by Frere-Bourgeois, which is controlled by the Frere family; and 28% by other shareholders including retail investors.
Much of CNP's indirect traded share positions are held through an investment in GBL, another investment company. GBL is the owner on record of the assets. Pargesa (OTCPK:PRGAF), also an investment company, owns 50% of GBL. CNP owns jointly with Power Corp of Canada a 54% interest in Pargesa. More info on Pargesa can be found in a previous article here.
Most investors are unaccustomed to indirect holdings as a preferred investment vehicle. U.S. mutual funds typically directly own the shares of the companies within their fund. CNP's maze of multiple layers of ownership with different business partners, each having the potential for conflicting interests and goals, adds a bit more risk than a plain vanilla mutual fund owning the same listed assets. The advantage of CNP's structure is the ability of management to leverage its influence when the investment partners agree.
CNP's non-bank sponsored ADR shares started trading on the U.S. pink sheets in April 2010. However, liquidity is very small with only an average of 100 shares a day trading over the past 6 months. Some days CNP does not trade and when it does, daily volume has been less than 1,000 shares. In the spring, there was a flurry of activity with 80,000 shares trading between 4/15 and 4/17 at $53 and again with 45,000 shares trading between 6/8 and 6/15 at $45. In Europe, the average daily volume is about 50,000 shares. Multiple limit orders to buy and sell will be required and adds a bit of risk in entering and exiting. Longer-term investors may not be as concerned. Many investors may have access to European exchanges through their broker, and if so, would be a preferred method of trading due to liquidity issues.
A 5-yr chart of NAVn (top chart) and share prices (bottom chart), in Euros, is below: (Click to enlarge)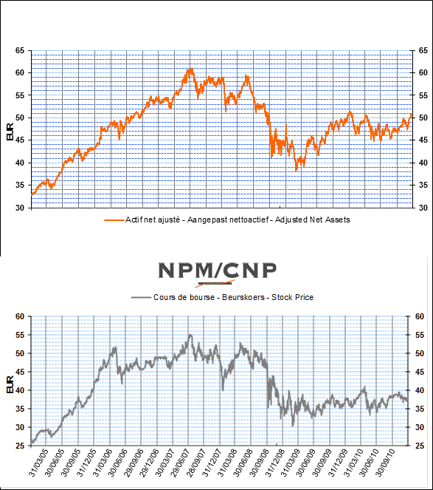 Click to enlarge
The average 3-year NAV discount is 14%, with a range of -28% to +6%. The current 26% discount to NAV is close to the bottom of the 3-yr average. This above-average discount provides additional capital gains for investors. A return to the average discount would equate to a $57 share price, or about 15% above its current price.
Company website (review "Shareholdings" and "Finance")
Third quarter results, plus a breakdown of assets on page 5.
Ten year performance history
CNP has returned an average of 12% annually to shareholders over the past 10 years. Future dividend growth of 5% to 6% and NAV growth of 6% to 7% would equate to the same long term returns as during the previous decade. Adding this steady growth potential to its current undervaluation should provide long-term investors with adequate returns based on a low profile of overall risk.
As always, investors should conduct their own due diligence, should develop their own understanding of these potential opportunities, and should determine how it may fit their current financial situation.

Disclosure: I have no positions in any stocks mentioned, and no plans to initiate any positions within the next 72 hours.