I'm always on the lookout for activist investors and their latest targets. One company that is being targeted by activist investors is Rentech (NYSEMKT:RTK) and its spin-off, Rentech Nitrogen Partners (NYSE:RNF).
Activist hedge fund Dolphin Limited Partnership III has laid out a comprehensive plan that it wants management and the board to undertake to boost shareholder value. Dolphin has been working on its plan for the past 18 months. Dolphin III wants Rentech to spin off its wood fiber processing business into an MLP. Dolphin III also identifies steps Rentech can take to boost the value of its 59.8% stake in Rentech Nitrogen Partners. All told, if RTK were to implement the recommendations, RTK would be worth $3.63 a share. This would be a 50% increase from today's prices.
However, there are a lot of "what-ifs" with its proposal. For one, it's counting on an efficient sale of RNF at $30/unit. With units trading at just below $15, that's quite an asking price. Second, Dolphin III is valuing the wood fiber business at $1.63 in a spin-off. There is value in the division, as Blackstone Group's credit arm invested $150 million in RTK to expand the wood fiber business. Blackstone also got two board seats for its investment back in April.
Dolphin III laid out its plan in a press release. In it, the activist hedge fund said:
"With an expeditious spin-off of the wood fiber processing businesses, the strategic alternatives process should explore: (1) methods to efficiently recombine the remainder of RTK (23.25 million RNF units, its General Partner and sizable federal and state NOL's) with RNF to create a more sizable and liquid MLP; (2) repurchasing RNF units to capitalize on the severely depressed price (currently a significant discount to the replacement value of its facilities); and (3) a sale to a strategic acquirer."
The biggest problem that I see is that Dolphin III has been trying to get changes made at the Rentech entities since October 2012. Its proposals have fallen on deaf ears. I will say this time could be different, as Dolphin III has a much stronger case this time around. Both Rentech entities are trading substantially below their previous highs.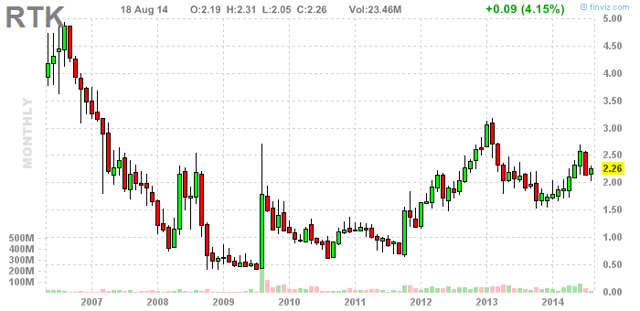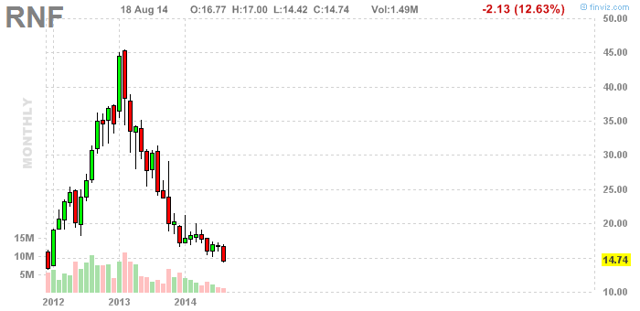 The root of the problem looks to be the structure of the two entities and poor decisions by management. RTK relies on distributions from RNF. Management, however, has invested those distributions in areas outside the nitrogen fertilizer business. In other words, RTK is taking the money from RNF and investing in other areas that do not benefit RNF.
Dolphin III sees the structure of the two entities as a problem. RNK's East Dubuque plant in Illinois is in the heart of the Midwest corn belt. This is the largest market in the US for the direct application of nitrogen products. Being close to customers and also natural gas makes the plant one of the premier facilities in the industry and an ideal acquisition target for a competitor. If RTK and RNF simplified their ownership structure, it would make the business much more attractive to a buyer.
RNF is also the largest producer of synthetic granulated ammonium sulfate fertilizer in North America. Its Pasadena, Texas plant was purchased in 2012 for $158 million. The target market for this plant is Brazil, which is the world's largest user of this type of fertilizer. With strong demand from Brazil, this plant is a prime asset for a would-be acquirer.
Latest results
First off, RTK continues to expand it fiber business. In May, RTK acquired New England Wood Pellet for $45 million. New England Wood Pellet is the largest producer of wood pellets for the US heating market. It has three wood pellet facilities in the northeastern part of the US that produce about 240k tons annually.
On the earnings call, CEO Hunt Ramsbottom said "we are pursuing a number of new projects and acquisition opportunities in the pellet and the chipping businesses to complement our existing fiber assets. I don't have anything specific to announce today, but we are getting close on several fronts."
Furthermore, RTK is building two new plants in Canada that are progressing on schedule. One will begin producing pellets at the end of the summer, and the other one in the fall. RTK will be able to ship pellets from its terminal at the Port of Quebec in Q4. The pellet storage and infrastructure was designed for RTK, and will be able to handle 1 million metric tons of pellets annually.
In terms of the nitrogen business, the Illinois plant is outperforming the Texas plant. The Illinois plant will generate EBITDA of $100 million this year, up from $85 million last year. This was due to strong demand for ammonia shipments and a favorable growing season in the Midwest for farmers.
The Texas facility, on the other hand, is facing margin pressure from rising ammonium sulfur prices. Global supplies are tight due to production issues in Egypt, Algeria, Trinidad, Qatar, Libya, and Ukraine. The facility will likely post an EBITDA loss of $10 million this year.
Bottom line
Rentech and Rentech Nitrogen Partners are certainly a unique situation. Dolphin III announced its most recent proposals back in June, when shares were trading at $2.43. They're at $2.26 today. I do see value in the wood fiber business, and Blackstone getting on board is certainly a positive sign. I think the structure between RTK and RNF could be simplified, and a sale of the two plants would then likely occur. Whether that occurs or not is anyone's guess. Judging by the past actions of current management, I find that unlikely. I do think shares are undervalued, and at around $2.26, they look to be a good buy with minimal downside, in my opinion.
Disclosure: The author is long RTK.
The author wrote this article themselves, and it expresses their own opinions. The author is not receiving compensation for it (other than from Seeking Alpha). The author has no business relationship with any company whose stock is mentioned in this article.