By Brandon Matthews
The two largest S &P percentage gainers in 2010 were Netflix (NASDAQ:NFLX) and F-Five Networks (NASDAQ:FFIV). Deservedly so, as both have garnered the attention of Wall Street and the mainstream media as a result of their individual performances. Nevertheless, a stock that both Wall Street and the mainstream media love to hate would have taken the # 2 spot if it were included in the S & P 500. I'm talking, of course, about Sirius XM Radio (NASDAQ:SIRI).
[Click all to enlarge]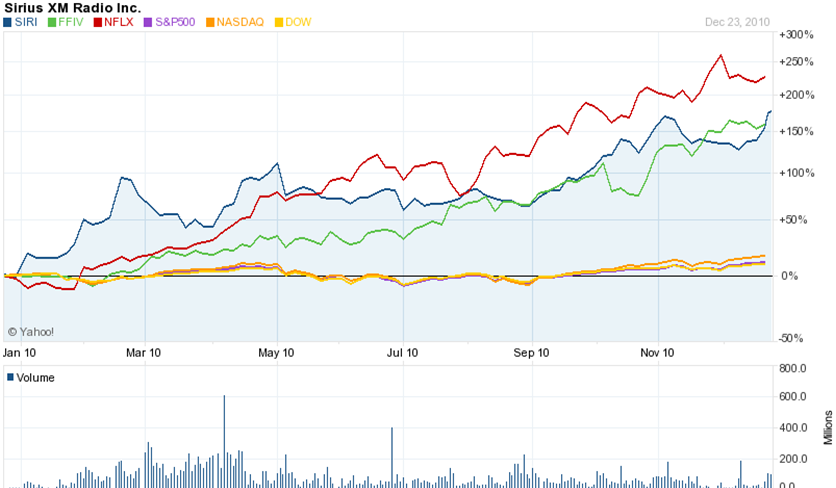 It's hard to believe that Sirius XM continues to be overlooked and at times scoffed at by the so-called smart money. The merged company is now just a little more than two years old, and you would be hard-pressed to find a stock to equal Sirius XM's performance. Over the last two years, Sirius XM has more than doubled the returns of Netflix and F-Five, and all have left the major indices in their dust.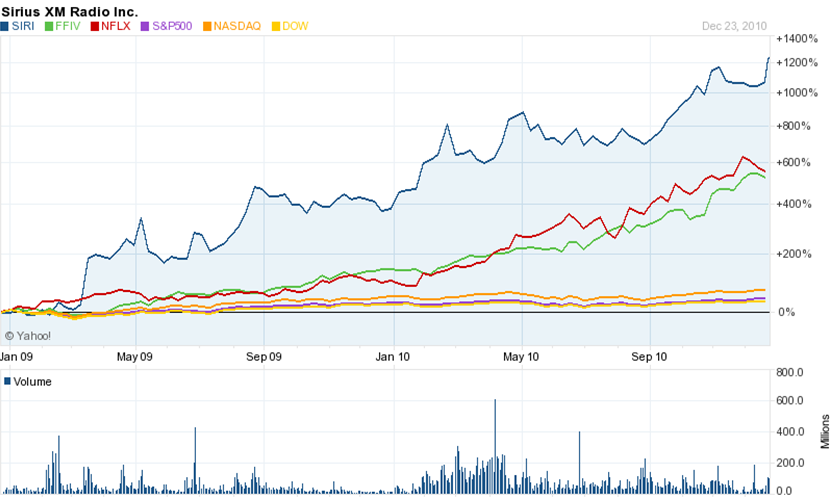 It's interesting that the media is now promoting NFLX and FFIV, after each has gained substantially. Never missing an opportunity to blow his own horn (and yes, I enjoy the same indulgence on occasion), Jim Cramer highlighted the fact that he picked NFLX and FFIV on his CNBC "Stop Trading" segment, without a mention of his failed sell calls on Sirius XM. It's interesting, because stocks that outperform in one year usually underperform the next. The Dogs of the Dow portfolio is devoted to this theory.
When looking over any company-issued financial information, the Securities & Exchange Commission requires a warning that "past performance is not indicative of future results." They do this for a reason. Past performance should not be used when deciding on any investment. Focus should be on future opportunities, probabilities and risks. In looking forward to 2011, opportunities are present that may make this coming year the best one in Sirius XM's history.
One constant criticism that Sirius XM has faced is the size of its float, made more acute by Liberty Capital's (LCAPA) 40% preferred equity stake. The fact that Sirius XM is able to sustain such a high number of shares speaks volumes to the demand and investor interest in owning the stock, past and present. There are not many companies that could pull this off, and the resulting equity price per share becomes misleading. Simply put, people want to own Sirius XM stock.
When Sirius XM shares hit $1.00, several analysts suggested the company was fairly valued; at $1.25, some suggested it was overvalued. After Friday's $1.61 close, they are befuddled. Part of the reason is that they only look at past performance to model future performance. Their best computer modeling programs will not allow them to factor in future events and catalysts.
The easy part is looking at an automotive recovery as a positive catalyst for Sirius XM in 2011, which will in turn result in accelerated subscriber growth, increased revenue, increased earnings and increased free cash flow. At the end of the day, Sirius XM will perform according to its EBITDA growth.
Like all media companies, Sirius XM is valued on EBITDA, or more accurately, EV/EBITDA. EV is short for enterprise value. When a media stock is trading at high EV/EBITDA multiples, it is said to be overvalued. The probability that Sirius XM shares will continue to rise is based on its ability to grow EBITDA enough to lower its EV/EBITDA multiple. The company is growing EBITDA at such a high rate that analysts are clearly underestimating 2011 EBITDA projections. This is an opportunity for 2011 that is being missed by most.
The second opportunity lies in the enterprise value itself, a point absolutely being overlooked. Enterprise value is the total of a company's market cap, plus debt, minus cash. Cash increases and debt reductions force a higher market cap to equal the same enterprise value. In other words, as cash increases and debt is reduced, the stock price is forced higher.
In 2011 (and 2012, for that matter), Sirius XM will be building its cash reserves as its capital expenditures fall and profits grow. It must do this to meet an $800 million debt obligation in 2013; current cash flows support its ability to do so, which in turn has led to several credit upgrades. As the company increases its cash position, it will first show up as cash on the balance sheet. That cash will reduce the enterprise value, which in turn warrants an increase in the price per share.
Sirius XM also has an outstanding 7% convertible bond in the amount of $550 million, which is convertible at $1.875 per share. As those exchangable notes are converted to common, $550 million in debt can be theoretically wiped off the books. While some may worry about a dilutive effect, further analysis suggests that because the common stock was likely shorted against these bonds, a conversion will simply cover the existing short positions.
Of course the holders of these bonds might be content with a 7% pretax return, but my feeling is that they would rather have the cash to reallocate and build their own cash reserves. As interest-rate hikes come into play in 2011, 7% on a corporate bond may not look so attractive. Looking ahead, Sirius XM is poised to deal with both halves of the EV/EBITDA equation in a way that will benefit its investors and once again provide positive surprises to the analyst community in 2011 and beyond. The "lottery ticket" that was Sirius XM has paid off investors handsomely, and in my opinion the next payment will be even larger.
Disclosure: I am long SIRI.