By Julian Murdoch
Precious metals have had a heck of a year, even the non-gold metals. Especially those, in fact: As of December 23rd, silver prices had risen 73% for the year and platinum up 17%; palladium, the surprise winner, had increased a shocking 84%.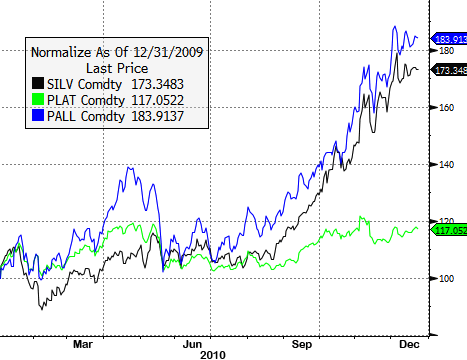 Let's look at the so-called "white metals" one by one, shall we?
Silver
Never have more investment options been available to silver investors. There's just one small problem: they all look like clones.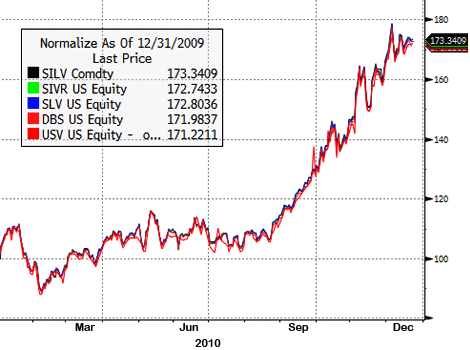 Silver's only outliers are the ProShares Ultra Silver ETF (NYSEARCA:AGQ), a leveraged fund up 153% year-to-date, and the Sprott Physical Silver Trust (NYSEARCA:PSLV). PSLV, which has only been live since November 1st, started behind the game, but in just two months it's already increased 26%. (Neither are pictured on the above chart.)
Year-to-date performance for the other four ETFs is so close to physical silver that picking a winner among the funds becomes more of an individual preference.
If you want a fund that holds bullion and not futures, for example, then ETFS Silver Trust ETF (NYSEARCA:SIVR) or iShares Silver (NYSEARCA:SLV) could be the fund for you. Generally, both track the price of traded silver, although extreme buying or selling pressure can knock them out of whack with silver's spot price, as happened back in early November: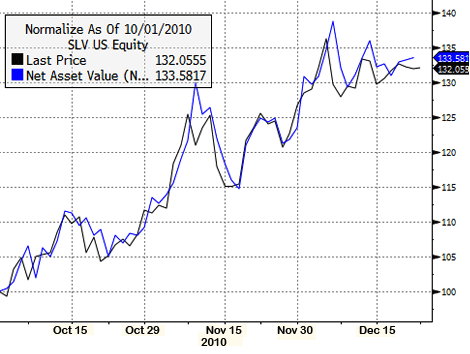 Notice in early November that when silver zigged, SLV zagged.
Sometimes bullion-backed funds can be lag a few percentage points off the price of the metals they track on a given day. To avoid being on the wrong side of the swing, check the intraday NAV for the ETF before making a trade,so you're sure you're getting a fair price.
If you'd rather invest in silver futures, then you have two options as well: the E-TRACS UBS Bloomberg CMCI Silver ETN (NYSEARCA:USV) and the PowerShares DB Silver Fund (NYSEARCA:DBS). Of the two, USV has the lower expense ratio, at 0.40 percent. But remember that USV is an ETN, whereas DBS is an ETF; ETNs carry with them particular counterparty risks and tax implications that ETFs do not.
Platinum and Palladium

Often investors lump platinum and palladium together, but considering palladium is up 84% for the year while platinum only rose 17%, old assumptions no longer hold. The divergent success of the ETFS Physical Platinum Shares ETF (NYSEARCA:PPLT) and ETFS Physical Palladium Shares ETF (NYSEARCA:PALL) is a case in point: PPLT has risen 7%, compared to PALL's 72% rise.
At the same time, however, PPLT and PALL offer a great example of how timing can affect returns. Although both funds launched on Jan 8th, 2010, missing out on just one week of performance, each fund still lags spot price returns for its underlying metal by around 10%.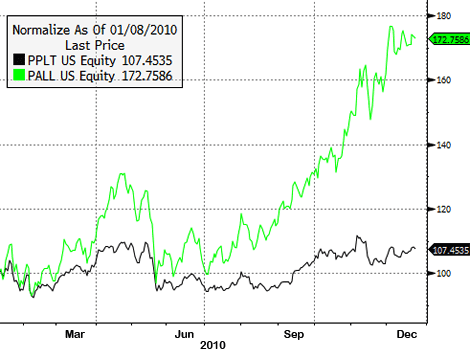 In terms of exchange-traded vehicles, PALL remains the only game in town for palladium, but platinum offers two additional options aside from PPLT: the E-TRACS USB Bloomberg CMCI Platinum ETN (NYSEARCA:PTM), and the iPath DJ-UBS Platinum Total Return Sub Index ETN (NYSEARCA:PGM).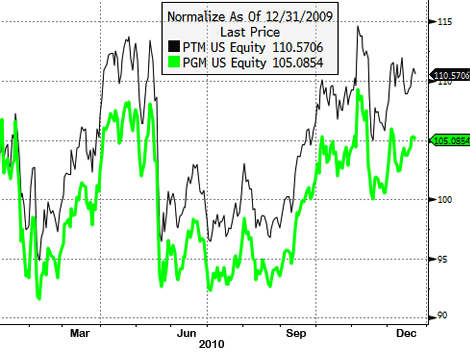 Both vehicles are ETNs, but PGM tracks an index holding a single futures contract, while PTM tracks a basket of contracts. PTM's additional diversification pays off to the tune of an extra 5 percentage points in returns.
Thinking Beyond Pure Exposure
Beyond these pure plays, three additional funds offer exposure to the white metals. The PowerShares DB Precious Metals (NYSEARCA:DBP) holds about 20% of its assets in silver, with the rest in gold. ETFS Physical Precious Metals Basket Shares (NYSEARCA:GLTR) offers exposure to platinum and palladium as well. And now, there's even an option for investors interested solely in white metals: The new ETFS Physical White Metal Basket Shares ETF (NYSEARCA:WITE), which launched on December 3rd.
Additionally, two equity-based options await investors looking to track silver, platinum and palladium miners.
The First Trust ISE Global Platinum Index Fund (NASDAQ:PLTM) tracks an index of public companies that are active in the mining of the platinum group metals, such as Impala Platinum Holdings Limited (OTCQX:IMPUY), Johnson Matthey Plc (OTCPK:JMPLY) and MMC Norilsk Nickel JSC (OTCPK:NILSY) (the ETF's top three holdings, as of December 22nd). PLTM is up 11% year-to-date, as of December 23rd.
Meanwhile, the Global X Silver Miners ETF (NYSEARCA:SIL) is up 67% since its inception in April — a ten percentage point advantage over silver during the same time period.
With all of the various ways to play white metals, it pays to weigh your options carefully and decide which funds best fit your existing allocation. But all things considered, it's pretty safe to say that if you were in white metals this year, your portfolio should've sparkled indeed.
Disclosure: No positions