The economic recovery in Europe and the US has inspired renewed interest in the staffing industry, which historically witnesses higher growth at the beginning of economic recoveries. This assertion is validated by the earnings reports of most of the big staffing names such as Manpower Group, Inc. (NYSE:MAN).
Despite isolated difficulties in France, Manpower's total revenue rose 5.6 percent year-on-year to $5.3 billion in the second quarter ended June 30, 2014. This growth was largely driven by healthy recovery in the overall European job market. During the quarter, Manpower's earnings per share increased 28.6 percent year-on-year to $1.35 a share, beating Wall Street's estimate of $1.33 a share. ManPower, which primarily focuses on blue collar jobs, is coming from a period of stress that culminated in job cuts and office shutdowns in 2013. Its recovery therefore signals that the broader staffing industry is finally recovering after an extended period of crushing under an anemic economy. Furthermore, Manpower expects to sustain its recovery. It issued a guidance of between $1.46 and $1.54 earnings per share for Q3. This is not only higher than earnings in Q2, but also higher than analysts' consensus guidance of $1.45 a share for Q3.
Besides Manpower, other major staffing companies have also recorded sizeable gains, signaling that the recovery has cut across the broader staffing industry. Higher demand for skilled workers helped Robert Half International, Inc. (NYSE:RHI) in the second quarter. The staffing company reported second quarter 2014 earnings of 55 cents per share, which was 19.6 percent higher than the prior-year quarter adjusted earnings of 46 cents. Just like Manpower, Robert Half International expects its growth to persist. The company projects earnings in the range of 55-60 cents per share for Q3, up from 48 cents earned in the year-ago quarter.
Despite the impressive performance in the overall staffing industry, there were some pockets of weakness. Kelly Services, Inc. (NASDAQ:KELYA) reported GAAP income of $2.8 million or 7 cents per share versus $10.0 million or 26 cents per share in the year-ago quarter. Ironically, the firm's sales revenue during the period increased 3.2 percent year-on-year to $1.41 billion, indicating that its weak performance was prompted by higher costs rather than weakness in the wider staffing industry.
Naturally, the staffing industry's recovering fortunes have attracted increased interest from investors. While there is a lot to go by for short-term swing traders, long-term investors are finding it hard to get a good deal. The recent pullback in most staffing stocks has not sufficiently suppressed valuations to justify establishing long-term positions. Moreover, most staffing companies don't have a strategy to adapt to the vagaries of the staffing industry, especially in the UK. The UK staffing industry is highly fragmented, with an estimated 15,000 companies. Furthermore, the top ten barely account for a third of total revenue, signaling that the intense fragmentation is greatly diluting individual market shares and eroding economies of scale. This, as expected, makes it hard for long-term investors to identify a good deal.
Acquisition strategy
Given the acute market fragmentation in the staffing industry, a company that adopts an acquisition strategy is more likely to deliver the best value for investors in the long term. This is because size attracts economies of scale, which allow firms to put a firm lid on costs. The benefits of a low-cost model cannot be sufficiently stressed, especially in the staffing industry where sales are directly contingent on the broader economy.
One staffing company that has adopted a unique acquisition strategy is Staffing 360 Solutions, Inc. (OTCQB:STAF), a small cap player. Just like Robert Half International, Staffing 360 Solutions also focuses on skilled labor, suggesting that Staffing 360 Solutions could also tap into the growing global demand for skilled workers that drove Robert Half International's strong second quarter. Moreover, Staffing 360 Solutions' relative small size gives it wider scope to grow compared with its bigger competitors. This, along with its unique acquisition strategy, which is aimed at meeting its publicly stated goal of $300 million in annual revenue, means that investors who buy and hold on to the stock are more likely to make great returns in the long term.
What is unique about Staffing 360 Solutions' acquisition strategy?
Besides allowing Staffing 360 Solutions to build a sizeable market share and gain cost advantages relative to the broader industry, the company's acquisition strategy allows it to build a presence in some of the fastest growing areas of the industry such as cybersecurity. While the company also focuses on other high margin white collar jobs in finance, accounting, legal and IT, among others, cybersecurity is of critical importance in light of recent incidents. Cybersecurity is quickly becoming one of the biggest headlines around the world. High profile incidents such as the data breach at Target and NSA spying scandals have fueled the need for cybersecurity professionals almost exponentially. A study by Burning Glass International, which was quoted on the Wall Street Journal, says that demand for cybersecurity talent had grown more than 3.5 times faster than demand for all other IT jobs over the past five years.
This expected uptick in demand for cybersecurity professionals inspired Staffing 360 Solution's 2013 acquisition of Cyber 360 Solutions, a Wakefield, Massachusetts-based company that focuses on cybersecurity. Staffing 360 Solutions has also made four other acquisitions in separate high-margin fields over the past year.
In addition to maintaining a laser focus on professions that have high demand, Staffing 360 Solutions also has two of the most important characteristics that a company adopting an accretive acquisition strategy needs - an eye for undervalued acquisition targets and strong financial partners.
With many public staffing companies trading at around 12x EBITDA, the company targets acquisitions around $20 million in the 4x to 5x EBITDA range. This effective arbitrage from private to public valuations not only allows Staffing 360 Solutions to unlock instant value, but also contributes to efficient resource utilization, allowing it to secure more growth per unit dollar.
Staffing 360 Solutions also has reliable and strong financial partners. It recently expanded its credit facility up to $15 million with Wells Fargo Bank N.A. In addition, Staffing 360 Solutions recently announced the successful uptake of $4 million in convertible bonds in July, which represents another key milestone in its consolidation strategy. What is even more encouraging is that the company has had success in the past in achieving conversions, signaling that its newly issued convertible bonds may also be converted to equity.
"As of the final closing of the Private Placement Offering, all of the investors in certain 12% Unsecured Convertible Promissory Notes (the "Notes") that were issued in connection with that certain bridge offering for an aggregate of $1,655,000, as disclosed on the Company's Current Report on Form 8-K filed with the Securities and Exchange Commission on December 12, 2013 (the "Bridge Offering"), elected to convert all of the respective Notes, plus accrued interest, into Units at the same terms of the Private Placement Offering. This resulted in the aggregate issuance of an additional 1,727,058 shares of Common Stock to the Note holders," read the company s SEC filings, indicating that investors have previously chosen to convert their debt into equity.
The conversion of debt into equity not only increases Staffing 360 Solutions' capacity to take on more debt for future acquisitions, but it also reinforces confidence in the stock's long-term potential as investors would only have converted their debt into equity if they had faith in the stock's ability to deliver in the long term.
Through continued acquisitions, Staffing 360 Solutions expects to hit the $300 million mark in annualized revenue in the mid-term. Its projections for this year certainly show that it is on the right track. With just $557,000 in revenue for the fiscal year ended May 2013, the company projects $32.1 million in revenue for the quarter ending in November, 2014. The chart below gives clearer insight.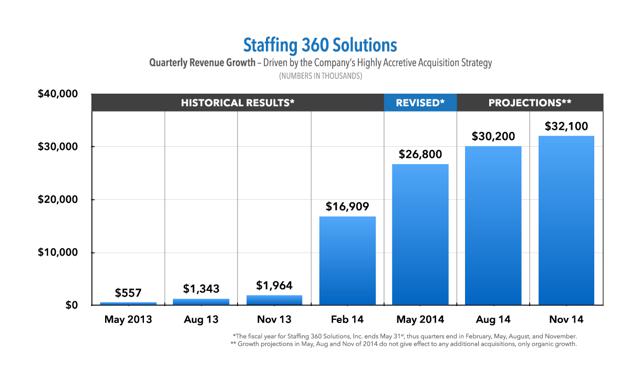 High growth market
If Staffing 360 Solutions continues executing its acquisition strategy in the same compelling fashion, there is no reason why it should not attain its publicly stated goal of $300 million in annualized sales. This is not only because acquisitions will allow it to derive higher sales from a bigger market presence, but also because of its deliberate focus on key markets. Although Staffing 360 Solutions' primary operations are in the United States, the world's largest staffing market, it has strategically been focusing attention on Europe. This is because as a region, European countries are recording sustained recovery. Sensibly, this recovery has been accompanied by demand for temporary jobs.
Swiss staffing bigwig, Adecco, expects the economic recovery in Europe to sustain demand for temporary workers. This is something that Eurociett, the European Confederation of Private Employment Agencies, has stressed out before in a study. Companies tend to hire temporary workers at the start of a recovery when they are reluctant to commit to full-time hiring. This is because temporary workers provide the much needed flexibility for employers. A higher demand for temps in Europe is a shot in the arm for Staffing 360 Solutions, which has doubled down its bet on UK.
Conclusion
Despite the rosy outlook, an acquisition strategy - especially one that depends on capital injection from external sources - doesn't come absent risks. Its success is heavily dependent on the level of liquidity in the debt market. For now, the Fed's benchmark rates remain at near zero, which is good for borrowers. But for how long will this hold? Unemployment has shown steady declines over the past few months and economists believe that wage inflation could soon start creeping in. If this happens, the Fed could revise interest rates upwards sooner and more aggressively than expected, making credit expensive for Staffing 360 Solutions. This could slow its acquisition strategy, which has to this point been driven largely by external capital injection. Moreover, small cap stocks are the one's usually hit hardest by withdrawal of liquidity from the market.
Notwithstanding, Staffing 360 Solutions' investors have shown that they have faith in the company's consolidation model. "Continuing our relationship with Staffing 360 through our recent investment of $4 million provides another strong alternative investment opportunity for our clients," said Christopher Bowman, Founder of Gentry Wealth Management, which is the firm that invested in the July $4 convertible bond offering mentioned earlier in the article. "We believe strongly in Staffing 360 Solutions' management team and their proactive consolidation model as they execute on their publicly stated objective of achieving $300 million in annual revenues in the next 24 months," he added.
Disclosure: The author has no positions in any stocks mentioned, and no plans to initiate any positions within the next 72 hours. The author wrote this article themselves, and it expresses their own opinions. The author is not receiving compensation for it (other than from Seeking Alpha). The author has no business relationship with any company whose stock is mentioned in this article.
Editor's Note: This article covers one or more stocks trading at less than $1 per share and/or with less than a $100 million market cap. Please be aware of the risks associated with these stocks.