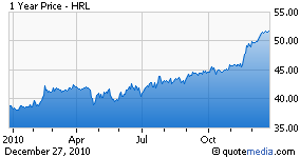 We upgrade our recommendation on Hormel Foods Corporation (NYSE:HRL) from Neutral to Outperform based on the expectations of an increase in market demand and food prices in future. The gradual market recovery, which has been witnessed in fiscal 2010, is expected to show significant results in the coming years. Hence, the first quarter and fiscal 2011 Zacks estimate went up to 85 cents and $3.19 per share, respectively.
Moreover, stock-split, which is going to take place in fiscal 2011, is also expected to enhance shareholders' confidence on the stock. On December 15, Hormel authorized a one-for-two stock split.
Shareholders of record as of January 31, 2011, will receive two common shares for each common share they currently own. The common shares after the split will confer equal rights and benefits, including dividends, capital interest and future capital remuneration compared with the other common shares issued by Hormel. The approval of the above will be confirmed on January 31, 2011, at the annual general meeting.
In addition to organic growth opportunities, Hormel is also well positioned for acquisitions to strengthen its growth profile based on its track record of successful acquisition and integration of businesses over the years. Moreover, given the company's strong balance sheet with no long-term debt burden, we expect acquisitions to play a key role in the company's growth going forward.
During fiscal 2010, Hormel wiped off its entire long-term debt burden of $350 million and reclassified into current maturities. Hormel, at present, has sufficient $467.8 million cash and cash equivalent and marketable securities to meet its debt burden of $350 million. Thus, the company has strong liquidity position and has the financial flexibility to pursue better acquisitions.
Hormel's recent transaction includes the acquisition of Don Miguel Foods Corp., one of the leading providers of branded frozen and fresh authentic Mexican flavored appetizers and snacks. We expect Don Miguel to help Hormel penetrate into convenience stores, club stores and supermarkets. Hence, the stock currently retains its Zacks #1 Rank (short-term "Strong Buy" rating).
Disclosure: No position