Meg Whitman's Hewlett-Packard (NYSE:HPQ) is set to report today after the market closes. As companies like Intel (NASDAQ:INTC) have caught some confidence under the pretense that the market for PC computers has bottomed, Hewlett-Packard has also found itself inching its way upwards.
While analysts are predicting a small revenue decline for this quarter, the PC division is expected to grow slightly. Analyst consensus, according to Yahoo Finance, is for earnings of $0.89 on revenue of $27.01 billion. This compares to the $0.86 on revenues of $27.23 billion the company posted last year.
The one year chart looks a brilliant milestone, but zooming out we can see that the last 5 years for Hewlett-Packard show the company's low point just prior to 2013, and its walk back up to where it now trades in the mid $30 region.
Those that have been in the stock since late 2012 have more than doubled their money.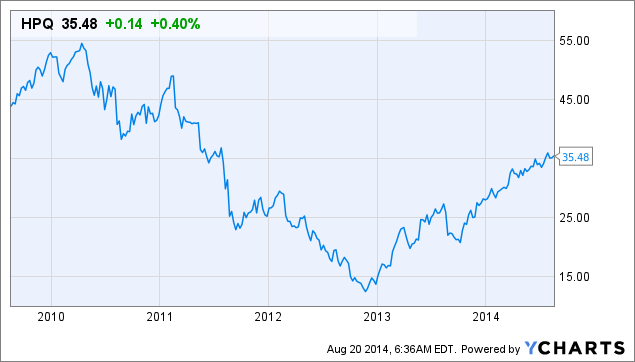 The company has been working its way through a major overhaul that begun in 2012. Since then, the goal has been to strip the company down to its necessary items, eliminate costly expenses having to do with advertising, marketing, and research and development.
When the company reported last quarter, it said they were going to lay off somewhere close to 45,000 employees by the end of next year. Savings from this overhaul are expected to push $3.5 billion per annum.
In terms of servers, HP is going to try and reprint the 1% growth it found last year in this sector. Cloud revenues are in focus for HP's services division. In terms of printers, what HP is the most well known for in most households, analysts are expecting a slight decline (<3%) in this sector, mostly due to compressed pricing among competition.
As we already stated, the company looks to post gains in PC amidst the PC computer market finally hitting a bottom. HP had posted declines in this sector for the previous 2 years.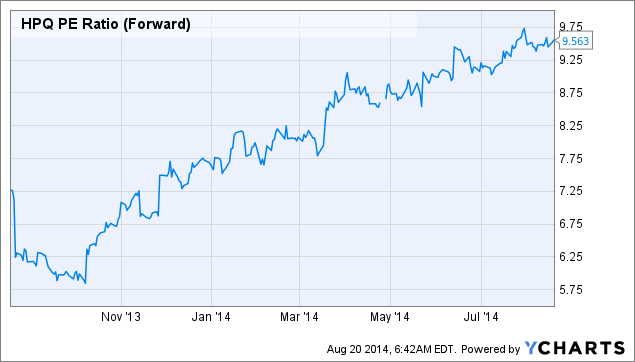 HPQ PE Ratio (Forward) data by YCharts
In terms of valuation, the company is still under a forward P/E of 10x, continuing to make the name attractive. It's trading at around 7x ttm FCF.
Meg Whitman seems to have done a fantastic job in setting this company on the right track to reinvent itself. It's now up to Hewlett-Packard to take the last few steps and execute in the coming 4-6 quarters. Today's report will give us valuable insight as to continued potential for growth for this story.
While a great trade would have been to get in a year and a half ago, I believe that if the company begins to show signs of growth in all of its sectors, the stock price could do as much as tack on 50%. That is, of course, pending the economic climate holding up.

The Peel's Feel:
This is going to be a tough name not to purchase today, leading into earnings. After the morning begins, we're likely to run the numbers again on HPQ, as my analysis is only on the brief research I've done on the name so far this morning.
I'm going to pitch the idea of potentially building a starter position in the name to the family office today, and we'll see what they come back with. Any pull back in the share price today during market hours would make a buy even more attractive here.
Disclosure: The author has no positions in any stocks mentioned, and no plans to initiate any positions within the next 72 hours.
The author wrote this article themselves, and it expresses their own opinions. The author is not receiving compensation for it (other than from Seeking Alpha). The author has no business relationship with any company whose stock is mentioned in this article.